Behind-the-scenes at Billericay Town as the controversial seventh-tier side aim to make FA Cup history
The Isthmian League Premier Division side are determined to reach the iconic third round of the FA Cup but must first see off Leatherhead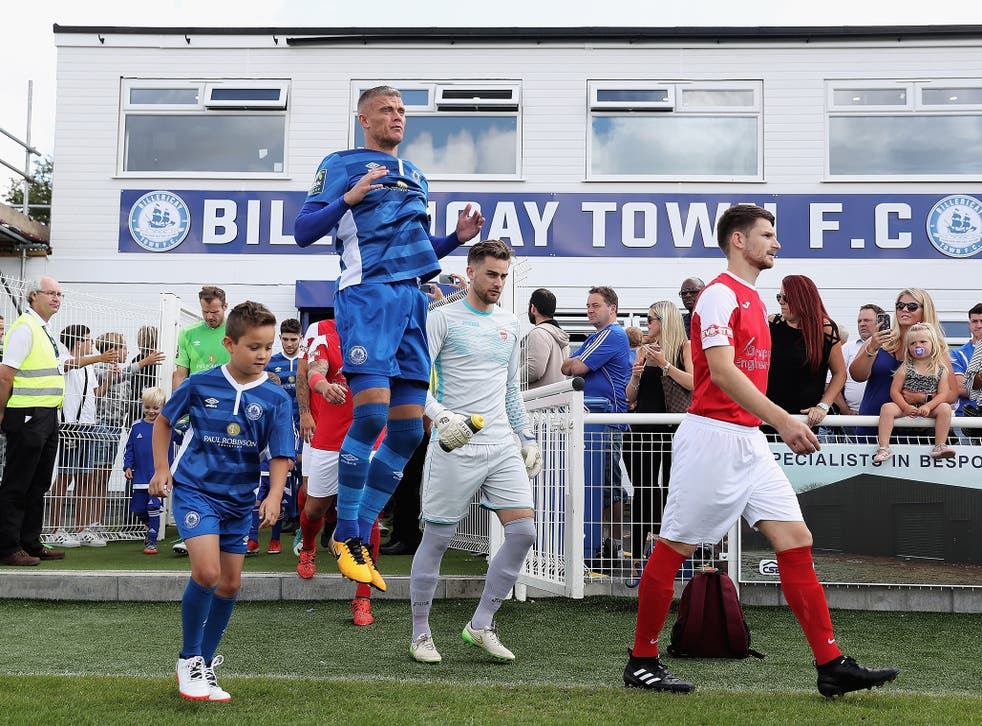 Seventh-tier Billericay Town are targeting the iconic third round of the FA Cup but must first beat Leatherhead in the first round proper and progress further than they have in their history.
Local businessman Glenn Tamplin took over the club as owner and manager in December last year and has added Premier League experience to the squad with Paul Konchesky, Jamie O'Hara and Jermaine Pennant all on the books.
Tamplin's ownership has attracted criticism for the amount of money pumped into the club and his outlandish remarks on social media, including crass suggestions that haters should jump from a building or throw themselves in front of a train.
The FA has warned Tamplin for his behaviour, but the millionaire says he does not regret his actions. "I don't want to look back at the past," said the born-again Christian.
"I am human, and I am always learning and looking to the future rather than back at the past…I'm not afraid to speak my mind and be nothing but 100 per cent honest and open."
For the future, Tamplin vows to get Billericay into the Football League in five years and sees the FA Cup as a chance to show off the progress the Essex club have made. "It will be a testament as to how far we have come already in such a short space of time.
"Sunday is a very winnable tie and it would be great to progress further. I truly believe that we can reach the third round if we play at our best and hope for a home tie if we get through Sunday."
Billericay have never gone beyond the first round of the FA Cup whereas their opponents on Sunday, Leatherhead, who also play in the Isthmian League Premier Division, reached the fourth round in 1975 and lost to Leicester City.
But Billericay are blessed with a wealth of FA Cup experience in their ranks, with Pennant and Konchesky both playing in finals. The latter scored in the 2006 final for West Ham against Liverpool but missed his penalty in the shoot-out which Rafa Benitez's side went on to win.
Konchesky, 36, joined Billericay in March this year and says he's as motivated as ever despite playing at a much lower level. "If you can't get up for an FA Cup game, no matter what league or what round it's in, then I think you're in trouble.
"The FA Cup is massive in anybody's football career and we want to get into that next round and it would be a great achievement for us."
Konchesky has played under Alan Cutbishley, Iain Dowie, Alan Pardew, Roy Hodgson and Nigel Pearson, and says his current boss, Tamplin, has the affection of all the players.
"He's a good guy and a good motivator and the players love him."
Another high-profile player is Louie Theophanous who is a popular face, but not because of the level he's played football at.
Theophanous is Cristiano Ronaldo's body double and appears with him for Nike adverts.
"It's a nice little earner on the side," he said. "Whether it's in Spain or it's in England you go and work on the campaigns for a few days just getting all the shots and stuff like that."
"He (Ronaldo)'s always on the shoots with us. Loads of times working with him, especially the ones in Madrid. It's good fun, I've done a lot with him now so it's got to the stage where you have banter and stuff like that."
Closer to home, he says he enjoys working under Tamplin and appreciates his honesty. "It's good fun. He's straight up and tells you exactly as it is and exactly how he feels, nothing is hidden.
"All the players have bought into it. The club's ambition it's got is such an ambition and he's backed up everything he's said so far."
Tamplin's right hand man on the side line, Harry Wheeler, beat Andre Villas Boas' record of being the youngest person to obtain a UEFA A-Licence when he qualified aged 23.
Wheeler, unlike Tamplin, admitted he was not as set on the FA Cup and insists promotion is a priority.
"We've got a main objective to get promoted in the league. How many more rounds can we go in the FA Cup, we don't know. At the same time, is it important to us? Of course it is. Sunday's massive especially for the exposure of the club and Glenn's worked so hard and promised everything to the lads and he's delivered so it's for them to repay him a little."
Wheeler, who became joint manager in April this year, believes the club doesn't deserve its controversial label.
"We apply ourselves very well, you ask any of the players it's one of the most professional environments they've been in, including at the top level. We're run very well, we coach them very well and we look after them.
"People didn't like Manchester City or Chelsea when the first got money. People didn't like Ebbsfleet when they got the money and we're used to that. That will die down over time and I think that people who aren't sure and they come to watch a game and see how we play and what the ground is like, they end up being a fan as well."
Join our new commenting forum
Join thought-provoking conversations, follow other Independent readers and see their replies