FA Cup replays are key to the magic, vital for smaller clubs, and must be kept on, says Danny Higginbotham
INSIDE FOOTBALL: They may win it a lot, but the FA Cup does not belong to the big Premier League teams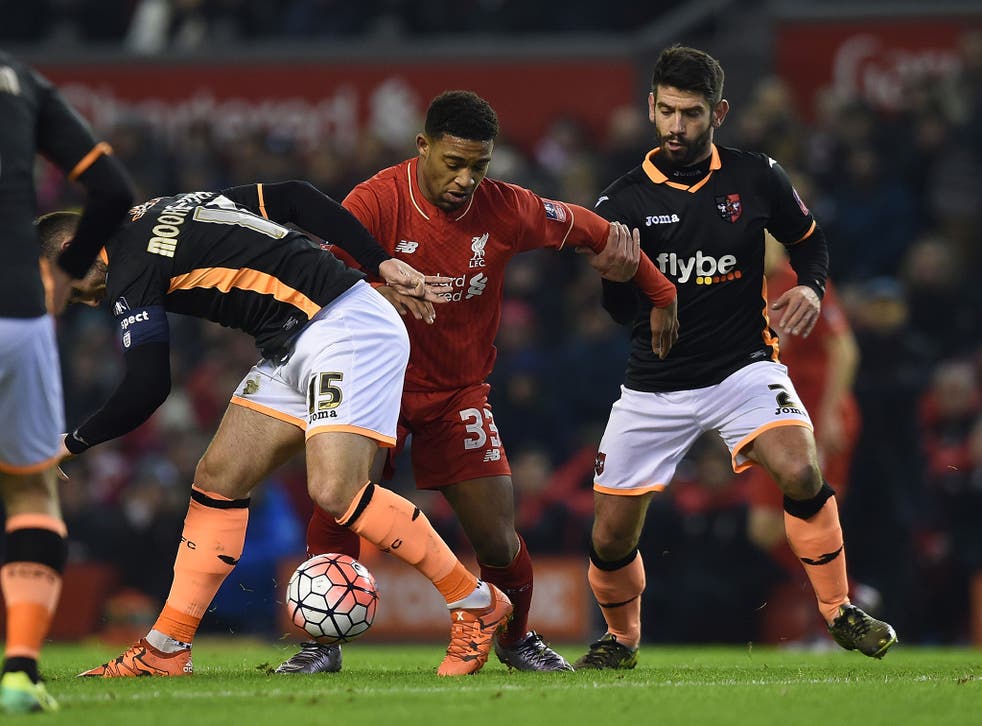 I was disappointed to read in the Independent this week that the big Premier League teams are trying to do away with FA Cup replays, and settle every tie over one match.
Replays go to the heart of what the FA Cup is all about, which is rewarding smaller clubs with a chance to play against the best, providing memories that will last forever, and money to stay alive. Cup replays are part of the fabric of the English game, and to do away with them would be to miss the whole point of the competition.
I know the big Premier League teams tend to win the FA Cup, but it does not follow that the trophy belongs to them. The FA Cup certainly does not start in January when they all join in. It does not even start with the first round in November, but with the preliminary rounds all the way back in August.
The FA Cup means more to those sides than it does to the big clubs who tend to compete in the showpiece final at Wembley. Those smaller teams work so hard, trying to beat superior opposition and work their way through the competition. If they eventually draw a big club, and hold them to a draw, the least they deserve is another shot, with all the attention and money that brings.
There were two fantastic examples in this year's competition. Eastleigh drew at home with Bolton Wanderers and so got to play up at the Macron Stadium, and nearly won there. Exeter City drew a 2-2 thriller with Liverpool and were rewarded with a trip to Anfield their side will never forget. Those players deserved those replays, the chance to play at those prestigious grounds, rather than just settling the tie by penalty shootout that weekend.
Those games are a moment in the sun for lower-league players, but the argument is not just emotional. The fact is that good clubs down our football ladder are going to the wall because they do not bring enough money in. A big Cup game or two can provide enough in gate receipts and TV money to keep a smaller club afloat. We cannot cut that support off.
This is why the big clubs need to realise the responsibility they have to the whole football pyramid in England. They cannot claim that Cup replays are a tiresome inconvenience when they are all so quick to go on lucrative pre-season and post-season tours, to Asia and the US. If their players are tired, they should look closer to home, rather than trying to cut down the money-making opportunities of teams who live in a different world financially.
But I fear that many Premier League teams, with foreign owners, are increasingly detached from the importance of the FA Cup. They don't understand its history or what it means to the whole of the English game, not just the teams who happen to compete for it in April and May. It is not just a showcase, it is a story, one that runs all the way through the season, through all levels of the game. And the incentive of winning a replay is an indispensable part of that.
If top clubs don't think they have a responsibility to the smaller sides, they should take a look at themselves. So many players have played in the Premier League recently who started in non-league and worked their way up. Jamie Vardy, Charlie Austin, Yannick Bolasie, Harry Arter, Grant Holt, Chris Smalling, Rickie Lambert, Michail Antonio and many more have climbed all the way up the football ladder. It is only fair that some money should pass down the other way.
Lower-league sides can't beat big boys at their own game
Speaking of the FA Cup, I was thinking recently why there have not been so many upsets in it this year. I wonder if in part it is because the lower-league teams are trying too hard to be like the Premier League sides.
Traditionally, lower-league sides upset big teams by dragging them down to their level. That is how Shrewsbury Town should try to beat Manchester United at the Greenhous Meadow on Monday night, for example. That means affecting the opposition's mentality, so that they don't want to be there, defending lots of long balls, with tackles flying in and not much time on the ball. If it's a battle, you might win. If it's a football match, you won't, because the big teams just have far more technical quality.
But this is changing now, with League One and League Two teams improving their pitches, and adapting their style. Pitches used to be a real leveller at some grounds, but – full credit to the groundsmen – many of them are now as good as in the top flight.
This is because the teams want to get the ball down and play intricate, lovely football. Which is good, but they cannot expect to beat Premier League teams at their own game. As our lower-league teams move away from bullying, physical, ugly football, they make it harder for themselves to beat teams who have always played in the more elegant way.
Our Europa challengers need a more realistic schedule
Liverpool, Manchester United and Tottenham Hotspur's players all flew back from Europe on Friday after their Europa League games on Thursday night. Spurs play on Sunday, United play on Monday, and Liverpool have the weekend off, but I do not feel we are doing anywhere near enough to help our teams who are playing in this competition.
Travelling back from Europe after a Thursday night game, to prepare yourself for a Premier League match on Sunday, is a nightmare. You cannot do any real recuperation on the Friday, after arriving back in the early hours of the morning. Saturday is the only day to prepare, but that is when the DOMS (delayed onset muscle soreness) hits, and the players start to tighten up far worse than they did on the Friday.
If you're playing away on the Sunday, you have to travel that Saturday night, while your body is still recovering, and you are nowhere near ready for the Sunday game.
We had this at Stoke City in 2011. One Thursday we went to Dynamo Kiev, came back and lost 4-0 at Sunderland on the Sunday. Then we went to Maccabi Tel Aviv, came back and lost 5-0 at Bolton Wanderers.
I think the Europa League is a great competition and I want to see our teams do well in it. But they are being forced to prioritise now. How can we avoid this for next season? Make sure that every Premier League game after a Europa League Thursday is at home, on Sunday or Monday, to minimise travelling after landing back in England late.
Join our new commenting forum
Join thought-provoking conversations, follow other Independent readers and see their replies