Ferguson no match for Chelsea this time
Preston NE 0 Chelsea 2: Sir Alex's advice unable to help Preston's new manager as Anelka and Sturridge see Cup holders ease through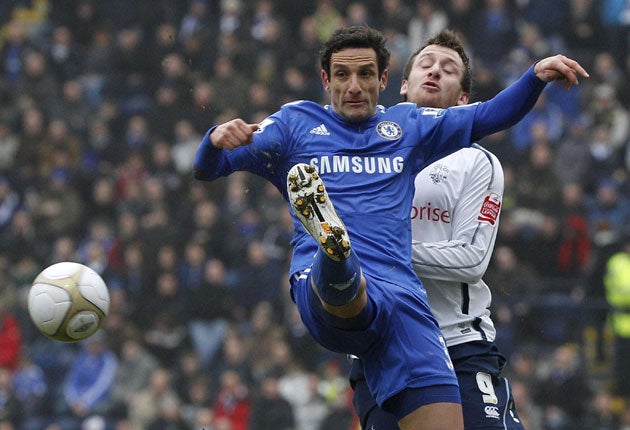 A misty Lancashire lunchtime and an opposing manager called Ferguson held no terrors after all for the FA Cup holders, who sauntered into the last 16 of the competition despite leaving out half a dozen of the players who had demolished Sunderland the previous week. For much of the time it must have felt like a training game in leafy Surrey as Chelsea knocked the ball around among themselves while doughty locals bellowed "hit him!" or "get stuck in!"
Preston, 17th in the Championship, had to get close enough first and rarely managed that. Darren Ferguson's new team were reduced mainly to counter-attacking, the irony being that Chelsea's opening goal from Nicolas Anelka came from just such a break of their own. They never lived as dangerously as Liverpool had done here in the third round a year ago, when Fernando Torres did not make the tie safe until the final minute. Yesterday Chelsea's second, from Dean Sturridge, arrived right at the start of the second half and effectively killed a game that was already looking destined for the grave.
Sir Tom Finney's proud old club now have only two wins in 13 games to their name, the start of that run having caused the panic-stricken sacking of Alan Irvine. His successor said he had consulted Sir Alex about Preston's potential but not about playing Chelsea. It was difficult to see what difference any further insight would have made, given the gulf in quality between the two sides and Ferguson Jnr was happy enough with his new team, who had suffered a 4-2 defeat in his first match at Bristol City. "No complaints," he said. "I thought we gave Chelsea a game. They're a fantastic team with world-class players. Our players had taken confidence from the first half but two minutes later the whole place is deflated."
He may want them to play more football but Preston's few opportunities tended to come from deep crosses beyond the far post. Not until John "Beats" Parkin came on after an hour did they go more direct. When Neil Mellor, once of Liverpool, joined him for the latter stages, it was like a heavyweight tag team charging at John Terry and Alex, who were only briefly discomfited.
"A very professional performance," said Ray Wilkins, doing media duty for Carlo Ancelotti. "We scored at good times in the game. Preston get the ball in the box with a bit of quality."
Chelsea's first goal followed a rare Preston attack. Deco took possession and fed Michael Ballack, who in turn put Anelka in to score his 11th goal of the season past a goalkeeper unsighted by his centre-half Sean St Ledger. That should have been the second goal but Mike Dean, the referee, had denied them 10 minutes earlier. Frank Lampard was clattered as he slid a pass to Yuri Zhirkov, whose cross was turned in by Florent Malouda as Dean whistled for the original foul. By waiting only a few seconds, the official could have allowed justice to be done.
Malouda was on at that early stage as a substitute for Juliano Belletti, who had injured a knee. Deco, having started wide on the left of a 4-1-2-3 formation, dropped back to become the holding man, but Preston rarely looked capable of taking advantage. Their what-if moment came just before half-time. The right-back Michael Hart lofted a long ball into the penalty area, where Hilario, not as tall a goalkeeper as Petr Cech, had to stretch to the full to push it out; Darren Carter could do no better than slice it high and wide.
Any encouragement that the home team and a capacity crowd could derive from a near-miss was squashed within two minutes of the restart. At Bristol City, Preston conceded three goals from set-pieces and now there was another; Malouda swung over a corner, Terry's header was pushed out by Andy Lonnergan and Sturridge, the scorer of two goals in the last round against Watford, grabbed another.
Chelsea were not inconvenienced by taking off Lampard and replacing him with Joe Cole, who is desperate for a run of games in World Cup year. There will be plenty more opportunities for him as Chelsea embark on a run of five games in 15 days.
Attendance: 23,119
Referee: Mike Dean
Man of the match: Anelka
Match rating: 6/10
Join our commenting forum
Join thought-provoking conversations, follow other Independent readers and see their replies