How video analysis helped take Lincoln City to the top of the league and in reaching distance of FA Cup history
Exclusive: National League side Lincoln hope their 'freakish' approach to detailed video analysis will help them record a significant cup upset against Burnley on Saturday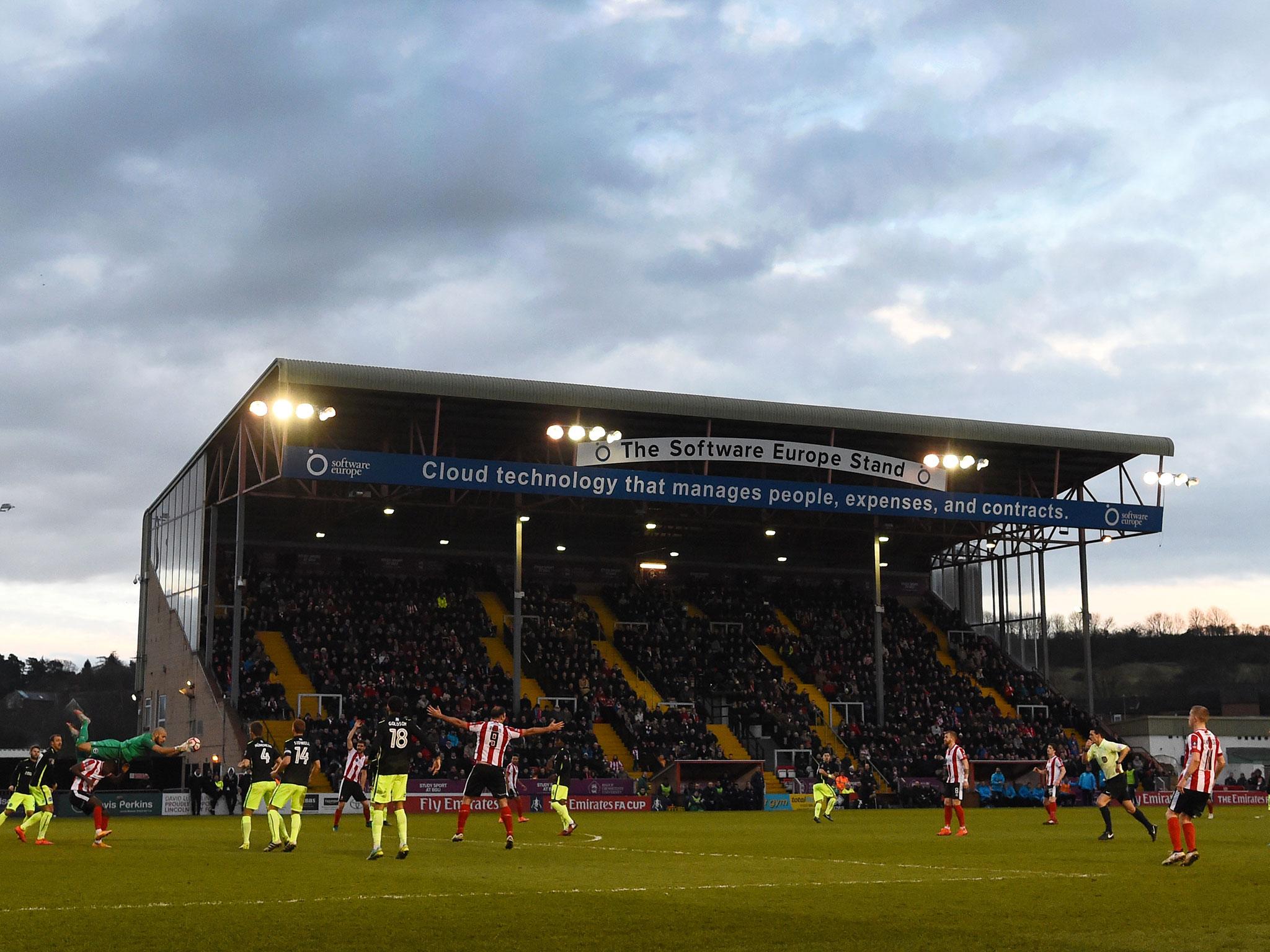 Lincoln City of the National League knocked out Championship sides Ipswich Town and Brighton and Hove Albion in the previous two rounds of the FA Cup and now stand on the verge of reaching the last eight for the first time in the club's storied 133-year history. Just don't mention the magic of the cup. Those who rush unimaginatively to ascribe the club's success to that oft-used cliche risk doing Danny Cowley's team a grave disservice.
Because every minute detail in Lincoln's fine run of form, which has seen them rise to the top of the National League while reaching the fifth round of the FA Cup for the first time since 1887, has, in fact, been exactingly planned. Whisper it quietly, but this season there has been a minor revolution in the application of video analysis in football at the rather unlikely location of Sincil Bank, which has provided the foundation of the club's remarkably rapid improvement.
Perennial underachievers — a record 104 seasons spent languishing in the Football League without reaching the top tier is just one of the club's unwanted distinctions — something clicked at Lincoln when, towards the end of last season, the club appointed Cowley from part-timers Braintree Town. Two Cowleys, in fact, as Danny's brother, Nicky, was appointed assistant manager. And the brothers also brought with them a uniquely progressive attitude to performance analysis, inspired by their usage of a video review tool called Hudl.
The collective impact cannot be doubted. A return to the Football League, after six seasons spent in the fifth-tier, is finally in sight. And on Saturday, the club travel to Premier League club Burnley for a money-spinning Cup tie, aiming to become the first non-league club to reach the quarter-finals since the FA Cup adopted its current structure in 1925. There is a growing sense that something special is brewing.
"I would say that the video analysis we conduct using Hudl has certainly played an important part in our cup run, as well as our position in the National League," says the club's Performance Analyst, Glenn Skingsley, while making the long drive from his home in Braintree up to Lincolnshire ahead of the Burnley game. Skingsley worked with the brothers at the Essex club before deciding to join them at Lincoln, balancing his new part-time role with a full-time job as an IT quality manager.
"Look, it may only be 1% of the reason behind our recent success — or it may be a lot more — but we really believe that the analysis we've performed before matches has helped the team an awful lot," he says. "And if you ask the players I know that they would agree. We've got players at the club who have played to Championship and League One level, and they reckon the analysis we provide is far more comprehensive than the kind they received at those clubs."
Listening to Skingsley speak passionately about the rigorous level of video analysis he presides over — "we are quite freakish when it comes to the analysis and our preparation," he readily admits — and it is easy to forget that Lincoln are a fifth-tier club operating on a shoestring budget. So just how is this level of forensic analysis possible? The answer is the type of technology the club make use of, an American video platform called Hudl, which markets itself as 'performance analysis for every level'.
'For every level' is the key takeaway, as Matt Cook, from the Hudl's UK Football team, explains. "There's a big difference in the UK between the professional side of things and then the lower leagues," he says. "Sport tech products have traditionally been focused almost exclusively on elite level football, but our strategy is focused on how we take this kind of behaviour, and ingrain it in the attitudes of clubs from the National League down."
Matt Mueller, the General Manager of Coaching Tools at Hudl, elaborates. "The beauty of Hudl is that we can scale with whatever your team wants to do, depending on the needs of the team and the budget. If you want to use it simply for self-analysis, you can do that. But if you want to use it for deep analysis purposes across a number of matches, that option exists, too."
The platform is deceptively simple to use. Lincoln record every one of their matches and upload that footage to the Hudl platform, where upon automated statistical reports are instantly generated. The match can then be broken up into playlists — corner-kicks might be the focus of one, for example — which are then presented to the players, either in video debrief sessions or remotely. These can then be easily tagged with comments or illustrations, Monday Night Football style, to assist in self-improvement.
Essential to the product's popularity at Lincoln is that the players and coaches can access it remotely, freeing up valuable time to be spent out on the training pitch. "We can even look at which players have been actively using the service, and who has been watching their clips," notes an approving Skingsley. "And we've found that the strikers particularly enjoy using the service to watch their clips whenever they've scored a goal."
In the US, this culture of video analysis isn't particularly new. Indeed, "it's been available for a very long time" according to Mueller, who explains how 8mm vintage reel-to-reel tapes were used to educate young American Football players as far back as the 50s. "The NFL is very statistics heavy with a strong analytical culture. But it's something we're starting to see a lot more of in football," he continues.
Hudl are understandably proud of Lincoln's success, and have hopes that it can inspire something of a cultural change in British football. "The stats around visual learning compared to auditory learning are massive," adds Cook. "65% of people are visual learners, and for those giving lessons not incorporating video, 100% of those lessons are being given in an auditory way. So there's so many stats which speak about the benefits of using video. And that's something progressive football coaches in the UK are increasingly interested in."
Despite this compelling argument, Lincoln City remain — statistically speaking — an anomaly in their approach to video analysis, certainly at National League level. "It's not really common for other teams in this League to have performance analysts," remarks Skingsley, who explains that it's Lincoln City's total commitment to detailed analytical sessions that marks them out as different.
"We know that a few other clubs are interested in video analysis and are registered with Hudl, but I think they only use it sparingly. Whereas even the team at Hudl have told us that they are amazed how much we actually use the service, which is absolutely to the Nth degree. I think it's unlikely that anybody uses the service like we do."
So should Burnley be worried? Skingsley certainly thinks so. Lincoln sold their their allocation of 3,200 tickets almost immediately and Sean Dyche, impressed with the noises he has heard coming out of the club, has already promised his side will take nothing for granted against their non-league opposition.
And Lincoln's video preparation hasn't only been limited to their own players. "We know that they have the joint-third best home record in the Premier League this season," admits Skingsley. "But then we also know that they have picked up only one point away from home in the League all season.
"So you have to ask yourself what it is that they've been doing so differently when they have played away? We have a few ideas on that, and the boys are very well prepared on that front. It should be a very interesting battle."
To find out more about Hudl visit https://www.hudl.com/en_gb/
Join our commenting forum
Join thought-provoking conversations, follow other Independent readers and see their replies