'I wanted to kick him a few times' – Zola relishing Mancini showdown
Fierce Italian rivals on the pitch for club and country meet as managers in FA Cup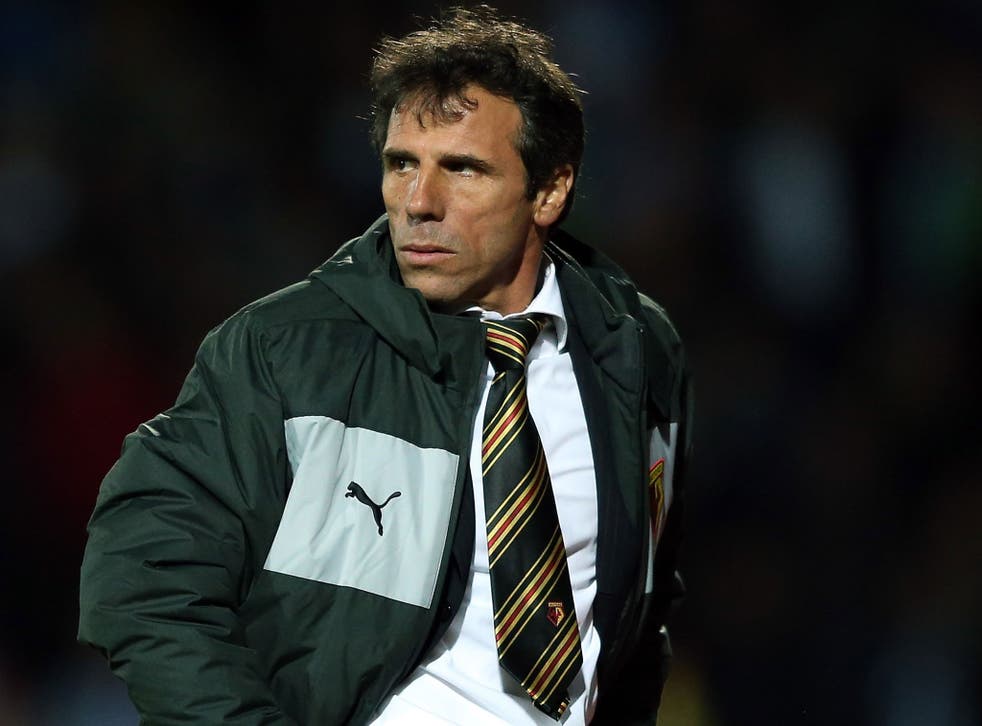 An old Italian rivalry will resume tomorrow at the Etihad Stadium. This time the stake is not the Scudetto or a starting spot for the Azzurri but a place in the fourth round of the FA Cup.
Roberto Mancini and Gianfranco Zola's latest battle may not quite have the prestige of the duels between Sampdoria and Napoli 20 years ago, but tomorrow's game between Manchester City and Watford will still mean the world to these two ferocious competitors.
Before Zola left Parma for Chelsea in 1996 he was a regular adversary of Mancini in Serie A, and has fond memories of their battles.
"To play against, he was a pain in the backside, to be honest," Zola recalled ahead of the meeting with City. "He was so good, so talented and such an intelligent player."
Napoli, featuring Zola as understudy to Diego Maradona, were the Italian champions in 1989-90. The next season, though, Sampdoria – with Mancini, Gianluca Vialli and Attilio Lombardo – seized the title from them. In one of the decisive games, Sampdoria won 4-1 in Naples, Mancini scoring a barely plausible right-footed volley from the edge of the box.
"He scored an unbelievable goal against us at Napoli, one of the best goals I've ever seen," Zola remembered. "But as well as being a fantastic player, he has always been a great competitor. That's why you always had a lot of respect for him and Vialli – and you hated them at the same time. I wanted to kick him a few times when he was playing. We are competitive, he is competitive and I am competitive too, so I want to win."
Mancini and Zola did not just battle for club honours, though. They also fought for inclusion in the Italian national side. Arrigo Sacchi had so many talented forwards to choose from that it made the competition very difficult indeed.
"I've had some good moments with him in opposition, but I've also had some painful moments because I played in an era when the competition for places in the Italian national team was so fierce it was crazy," Zola said.
"As well as [Alessandro] Del Piero, [Roberto] Baggio, Mancini, [Beppe] Signori, [Francesco] Totti and others, it was a tough period to make the Azzurri because Arrigo Sacchi preferred the 4-4-2 system and only two of us could play.
"I remember his last cap for Italy – Mancini was quite upset when he came off and I was quite upset too, because I was only on the bench. I think he may have had a problem with Sacchi, but after that game he was not selected any more.
"It was tough on him because he was a fantastic player, but it was also tough on Sacchi to pick the right combination. I always got on OK with him, except when we played against Sampdoria – because him and Vialli were difficult to handle."
It was not always obvious to Zola, though, that the brilliant individualist Mancini would go into management.
"It was a surprise to me that he became a manager," Zola admitted. "I knew he was good, I knew he was intelligent and thought a lot about the game, but normally players like him, who interpret the game in a different way, you don't expect them to go into management. Sometimes, the imaginative, creative and flair players don't always make the best managers.
"He was quite a character. He had his own beliefs and his own character. But on the pitch, sometimes those personalities do things that other people wouldn't do. To the majority of people they might seem strange, but in their eyes it is normal."
Mancini, of course, has his own character to deal with in Mario Balotelli. Zola, speaking on Wednesday before news emerged of today's latest incident, said he would love the challenge of working with his young compatriot.
"I think it would be a great challenge for me, that is how I see it," he said.
"He has got an unbelievable quality and that is what has to be the starting point. The secret of management is being able to handle players like him."
Italian jobs: Mancini and Zola
Roberto Mancini
As player 738 games, 201 goals. 36 Italy caps, four goals. Serie A titles (1991 Sampdoria; 2000 Lazio); Italian Cups (1985, 1988, 1989, 1994 Sampdoria; 1998, 2000 Lazio); Cup Winners' Cups (1990 Sampdoria; 1999 Lazio).
As manager Serie A titles (2006, 2007, 2008) Internazionale; Italian Cups (2001 Fiorentina; 2004 Lazio; 2005, 2006 Inter). Premier League title (2012), FA Cup (2011) Man City.
Gianfranco Zola
As player 715 games, 216 goals. 35 Italy caps, 10 goals. Serie A title and Italian Cup (1990) Napoli. Uefa Cup (1995) Parma. Cup Winners' Cup (1998), FA Cup (1997, 2000), League Cup (1998) Chelsea.
As manager No trophies: West Ham (2008-10; Watford 2012-).
Join our new commenting forum
Join thought-provoking conversations, follow other Independent readers and see their replies