Maurizio Sarri says Kepa Arrizabalaga incident was a 'big misunderstanding'
Kepa Arrizabalaga refuses substitution: John Terry accuses Chelsea goalkeeper of lacking respect after ignoring Maurizio Sarri
The Chelsea goalkeeper was asked to come off but refused to leave the pitch at the end of extra time
John Terry accused Chelsea goalkeeper Kepa Arrizabalaga of not showing Maurizio Sarri any respect after refusing to come off in Sunday's Carabao Cup final against Manchester City.
Having gone down with an injury twice late in extra time, Kepa's number was up with penalty hero Willy Caballero ready to come on. However, the Spanish goalkeeper refused to come off and won a tense stand-off with his manager, who displayed his fury on the sideline.
"Once your number goes up you have to come off and show a bit of respect," said the former Chelsea captain Terry, speaking on Sky Sports. "Deal with that after. That's the last thing the players want.
"It's certainly not the end of it it's clouded a good performance. It's taken the shine off a good performance, it's disappointing. We'll see what happens."
Kepa got his way and should have done better to stop Sergio Aguero's penalty in the subsequent shootout, but did not get a strong enough hand to a tame effort. However, he made a crucial save to deny Leroy Sane to put Chelsea back on level terms after Jorginho's effort was saved.
Player ratings from Chelsea vs Man City

Show all 22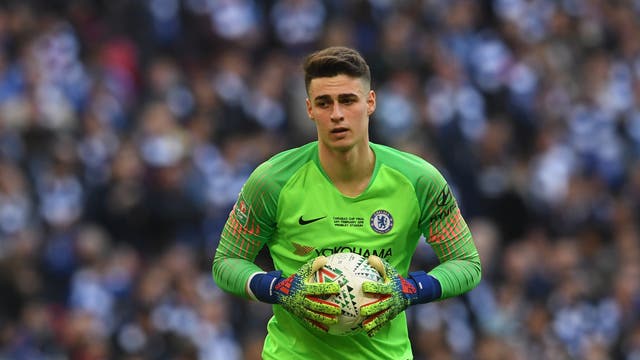 The save was in vain, though, as David Luiz then hit the post and Raheem Sterling scored the winning penalty in emphatic fashion.
The Chelsea manager insisted that the angry exchange was a result of a misunderstanding and was keen to quickly diffuse the situation. "It was a big misunderstanding," he said after the match. "I wanted Caballero on the pitch but the goalkeeper wanted to let me now he was in condition to go to the penalties.
"It was a misunderstanding. Kepa was right, but in the wrong way he conducted himself.
"I want to talk with him as he needs to understand we can get in trouble, especially with you (the media)."
Sarri's next move will be closely watched and Terry says he has a difficult situation to deal with after he almost walked down the tunnel. "I think in a tough place, I'm surprised he didn't come on and force him off.
"I would expect the manager to deal with it immediately.
"It'll be interesting how the 48 hours pan out, I thought it was going to be it. There's managers that will have come on and make him come off.
"Is it a tactical time wasting one to force penalties? We don't know the conversations."
Terry added: "This could have been a platform to kick on.
"That overtakes the whole game. It puts a big cloud over the performance. Where does that leave the rest of the Premier League players?"
The long-serving Chelsea captain was lost for words when asked what he would say to the goalkeeper after the game if he was in the dressing room. "I'm not sure (what to say) It's tough one for the players on the pitch. You have to go off. It's a difficult for the players, it's not their responsibility. It'll be interesting if he plays the next game."
Winning captain Vincent Kompany, who played with Caballero in the 2016 League Cup final shootout win against Liverpool, said his former teammate may have been more difficult to score past.
"I know how good Willy is on penalties, last time we won against Liverpool he won the pens and if he comes on that's another mind game. We had the confidence to score the penalties," he said.
"I've never seen that. I wish I could do that every now and then."
Join our new commenting forum
Join thought-provoking conversations, follow other Independent readers and see their replies