Lampard defines true class that sinks dogged Everton
Chelsea 2 Everton 1: Hiddink ends his stay with trophy as Chelsea shrug off letting in fastest goal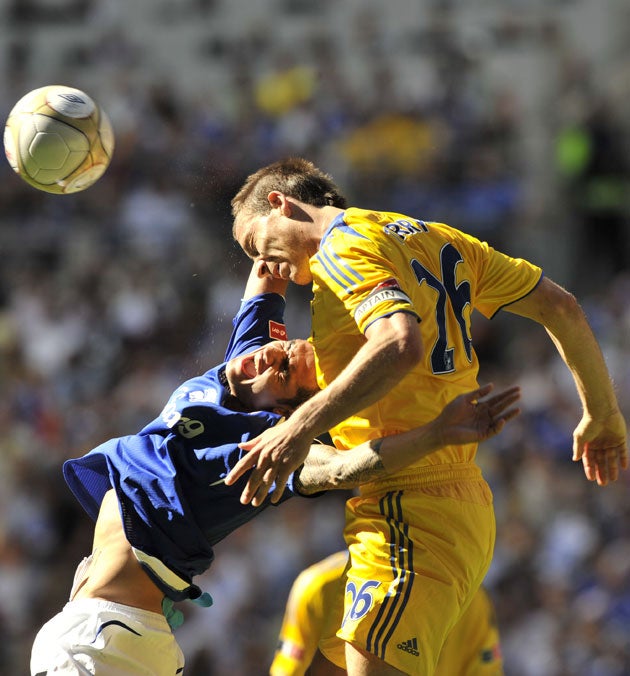 Yellow was the colour at a brilliantly sunny Wembley yesterday as Chelsea, in their second strip, deservedly won the FA Cup after the shock of conceding the fastest goal in the 137-year history of the final. Louis Saha's stunning effort after 25 seconds was the high point of the afternoon for Everton by a long way, one that they rarely threatened to approach. Chelsea were level within 20 minutes through Didier Drogba's header, and Frank Lampard, second only to Florent Malouda as their leading performer, won an enjoyable game that would almost certainly have touched headier heights were it not for the debilitating heat.
Like father like son. In 1980 Frank Lampard snr had scored one of his rare goals to beat Everton in a semi-final replay, then claimed a winners' medal for West Ham as underdogs in the final against Arsenal. There was to be no victory against the odds or recent history here. There rarely is these days in the final, which has been won 19 times in 22 years by one of the acknowledged big four clubs.
So Everton, fifth in the Premier League, superbly supported on the day but dogged rather than inspirational, sought in vain a first victory in 23 games against Chelsea, 21 of them under David Moyes. They had a weak link in Tony Hibbert at right-back, targeted throughout the 45 minutes he was allowed on the pitch; all the more so once he had been booked early on for a cynical foul on the outstanding Malouda.
Apart from allowing Saha one threatening header in the second half, John Terry and Alex were untroubled in defence, allowing Ashley Cole, who has now won five winners' medals, plenty of scope for supporting Malouda down the left. In midfield Lampard had help-mates in Michael Essien and John Obi Mikel, the latter preferred to Michael Ballack.
In temperatures that touched 41 degrees C at pitch level, Petr Cech would have been delighted that his captain won the toss, enabling him to defend the one penalty area in the shade, but before the goalkeeper had time to reflect on his good fortune there was a ball to be picked out of the net. When Steven Pienaar, supplied by Leighton Baines and just onside, knocked over a cross from the left, it was not dealt with and the tall Belgian Marouane Fellaini produced a more telling header than any defender, nodding down for Saha. The former Manchester United and Newcastle man, who missed four previous Cup finals for various reasons, hit a superb left-foot shot as the ball sat up for him and Cech was not close to saving it. As well as arriving in barely half the time of Roberto di Matteo's Cup final effort for Chelsea in 1999, the speed of it all even eclipsed the quickest final goal on record, by one Bob Chatt of Aston Villa as long ago as 1895.
Would Chelsea sulk and go into their shell? Not a bit of it. Hibbert received his yellow card as Malouda went past him and from then on a constant stream of passes was sent diagonally into the area behind him. Drogba pulled one of them back for Michael Essien, in the position from which he hit his stunning goal against Barcelona at Stamford Bridge; this shot had similar power but less accuracy.
Before a quarter of the tie had been completed, an equaliser arrived from an entirely predictable source. Nicolas Anelka and then Lampard moved the ball to the left once more, where Malouda had time to measure a cross. Drogba reacted better than any of the four lurking Everton defenders. Joleon Lescott was outjumped by the Ivorian, thus extending a remarkable run at Wembley: a goal in every one of his five appearances here.
As well as replacing Hibbert with Lars Jacobsen for the second half, Moyes swapped Tim Cahill and Fellaini, who had been the further forward of the two. It was past the hour-mark before Cech was given work to do, holding Cahill's drive without difficulty. Everton did, however, enjoy a period of more sustained possession, something they had not been granted at any earlier stage. At the height of it, Saha lost all the yellow-shirted defenders to head a fine cross by Baines narrowly over the bar.
With 18 minutes to play, however, Lampard's moment arrived. Anelka moved the ball forward to him in what looked an innocuous position some 30 yards from goal. One deft turn left Phil Neville lurching the wrong way and with his supposedly weaker foot, the England midfielder hit a wonderful shot that Tim Howard touched but could not stop.
Malouda, twice, could have ensured a more relaxed final spell for Guus Hiddink's men. He chipped over after a neat move then hit a magnificent drive from 35 yards off the underside of the bar that television replays indicated was over the line before Howard grabbed it. Whether the assistant referee should have seen that, even in the shaded goal, was debatable. Fortunately it did not matter. Nor did Lampard's harsh yellow card for simulation when he went down over Pienaar's outstretched leg; nor Anelka's miss in added time when sent clear by the excellent Lampard.
"Lucky Guus" as his Dutch nickname has it? Not yesterday. Lucky Chelsea to have obtained his services for even three months.
Attendance: 89,391
Referee: H Webb
Man of the match: Malouda
Match rating: 7/10
Man-for-man marking: Chelsea
PETR CECH 6/10
Caught cold by Saha's record- breaking goal. From then on he must have been hot in his helmet. Came out bravely to dive at the feet of Everton forwards. But still looks as dodgy as his awful orange shirt when he comes for crosses. Easy save from Cahill.
JOSE BOSINGWA 7/10
Dangerous on the overlap. The Portuguese also did the donkey work in defence even though he had his hands full up against Pienaar and Baines. Brilliant run in second-half stoppage time was ended only by ugly foul by Baines, a yard outside the penalty area.
ALEX 7/10
The big Brazilian was never quite happy with the aerial threat of Fellaini. Fortunately for him, the Belgian spent most of the match helping out his over-worked defence. Sadly, we never got a sight of his howitzer free-kicks.
JOHN TERRY 7/10
Chelsea's collosus at the back. After a sloppy opening minute, Terry led Chelsea to a memorable victory. His spirit typifies the side. The captain's distribution at times was not as accurate as it should be.
ASHLEY COLE 8/10
Proved he is England's best left-back with an energetic shift. Chelsea's history man fluffed a wonderful chance just before half-time, hitting a monstrous slice into the crowd. Now has five winners' medals, equalling the all-time record, and at 28 he has plenty of time to add several more to his collection.
JOHN OBI MIKEL 6/10
Picked ahead of Germany's captain Michael Ballack, and repaid the manager's decision with a solid performance. Booked for dissent in the second half following a foul on Saha. Rarely gave the ball away, which used to be his Achilles heel.
MICHAEL ESSIEN 6/10
Not quite his usual powerhouse self. Performed his defensive duties with the diligence and energy we have come to expect but rarely imposed himself on the game. Dodged a booking after a nasty foul on Fellaini. Withdrawn after an hour for Michael Ballack who was quietly efficient.
FRANK LAMPARD 8/10
What a goal. Slipped, but recovered in an instant to score from 25 yards. Orchestrated Chelsea's comeback. Mercilessly exploited Hibbert's unease with a conveyor belt of pin-point passes to Malouda. It was a particularly brilliant pass to Malouda in the 20th minute that led to Drogba's equaliser. Was booked late on for diving.
NICOLAS ANELKA 7/10
Amazing work-rate from the Frenchman. Few players who have just won the Golden Boot will have done as much "dirty work" as Anelka. A totally unselfish performance from the man with more clubs than Tiger Woods. Attempted lob dropped over the bar from 20 yards. Fired over in stoppage time.
DIDIER DROGBA 7/10
Great theatre, as always. At his best to rise powerfully above Lescott to score with his head after 20 minutes. Still managed plenty of rolling around on the Wembley turf in mock agony. Surely enough to convince Roman Abramovich to keep him this summer.
FLORENT MALOUDA 9/10
Not since the days of Sir Stanley Matthews has a winger enjoyed so much freedom at Wembley. Great cross for Drogba's goal. Robbed of a goal when explosive shot from 30 yards hit bar and appeared to bounce over the line.
Man-for-man marking: Everton
TIM HOWARD 6/10
Not all that much to do, but then again he didn't manage to make a save when it mattered. Exposed for the first goal. Got his fingertips to Frank Lampard's power strike after 72 minutes. No chance with Florent Malouda strike which hit the crossbar and appeared to bounce over the line.
TONY HIBBERT 4/10
Will go down as one of the classic cup final chokes. The right-back was unlucky to be booked in the eighth minute for a trip on Malouda but then became too frightened to tackle anyone. Gave the gleeful Malouda far too much space. Replaced by Lars Jacobsen at half-time who steadied the Everton ship.
JOSEPH YOBO 5/10
Disappointing. Only in the side because of Phil Jagielka's untimely injury. Outpaced by Nicolas Anelka in the 60th minute for a chance that flew over. Too often let Chelsea play their passing game around him.
JOLEON LESCOTT 6/10
One crucial mistake, but a costly one. The England man was at fault for Chelsea's opening goal, beaten to the ball by Didier Drogba. Recovered well and held his own against Chelsea's striker.
LEIGHTON BAINES 8/10
One of Everton's better players. His presence in attack led to Louis Saha's cracking opener. His precise delivery from set plays was always a danger. Burst forward to tee up Saha after 67 minutes but the Frenchman headed over from close range. Booked for a late foul on Jose Bosingwa.
LEON OSMAN 6/10
No doubting his industry and endeavour, but he could have given poor Hibbert a bit more protection from the rampaging Malouda. Caught out at times by Chelsea's quick passing moves. Clattered into Lampard a few times to let him know he was there. Dan Gosling relieved him for the final seven minutes but there was not to be another Cup wonder goal by the teenager.
PHIL NEVILLE 7/10
Made several telling tackles to stop Everton being overrun. Received a caution for a foul on Mikel. Beaten by Lampard's quick feet which allowed the Chelsea man the space he needed for the winning goal.
TIM CAHILL 6/10
Surprisingly quiet. Everywhere he went he was shadowed by someone in a yellow shirt, usually Mikel. Chelsea manager Guus Hiddink knows him well from his days Down Under, and ensured the danger was minimised. One shot, straight at Cech.
STEVEN PIENAAR 7/10
Effort was second to none, on the left of midfield. At times he was Everton's most threatening player. His cross led to Saha's goal. Floated a brilliant pass to Marouane Fellaini in the 15th minute that just evaded the forward's touch.
MAROUANE FELLAINI 7/10
Great touch for a man with such big hair. Powerful presence at both ends of the pitch. Pushed back to defensive duties by Chelsea's greater composure in possession. Almost scored a spectacular own goal on 69 minutes, from a low cross by Malouda.
LOUIS SAHA 7/10
Made FA Cup final history with his goal after just 25 seconds – a magical strike to beat Cech from 20 yards. But he missed a great headed chance after 67 minutes from a superb cross by Baines that could have changed the result. Replaced by James Vaughan on 76 minutes who failed to make an impact on Chelsea back four.
Mark Fleming
Join our commenting forum
Join thought-provoking conversations, follow other Independent readers and see their replies