Claudio Ranieri believes FA Cup win can provide Leicester with confidence to push on in Premier League survival fight
Ranieri has endured a difficult month at the club but believes Wednesday's win can provide the Foxes with the confidence to turn their season around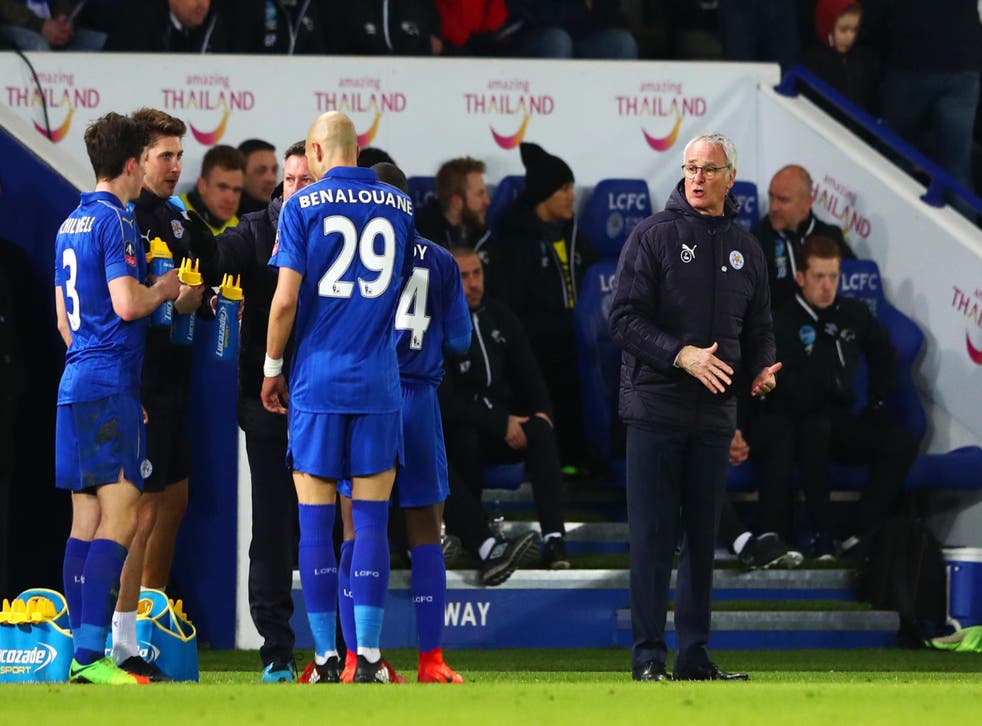 Claudio Ranieri believes that Leicester's fourth-round FA Cup victory over Midlands rivals Derby can provide his side with a much-needed confidence boost as the Premier League champions continue to fight for survival.
On an evening that provided plenty of thrills and spills as the game wore on, the Foxes' talent and determination shone through as Ranieri's men required extra time to beat the Rams 3-1.
Andy King's second-half header was cancelled out by a fortuitous Abdoul Camara free-kick, subsequently sending the game into extra-time. A goal each from star man Demarai Gray and substitute Wilfred Ndidi, coming in either half of the additional 30 minutes, sealed the deal for the Foxes.
When asked how important tonight's win was, Ranieri replied: "For me, no, it's important for Leicester. When I speak I speak for Leicester. It's a very important this victory, to go through the cup, and also to get confidence.
"You saw tonight was a difficult match. When we scored we started to play better, and when we score again we keep more of the ball very well.
"We need a little more support for ourselves. I want to say thank you to our fans because they support a lot."
The Italian's name was repeatedly chanted throughout the night following a difficult couple of weeks in which the 65-year-old has fallen under increasing scrutiny for his side's meek performances in the league.
In a bid to alleviate mounting speculation of changing room unrest and talk of a 'crisis' at the King Power Stadium, the club's Thai owners released an official statement earlier in the week declaring their "unwavering support" for the manager.
Ranieri was grateful for tonight's show of faith from the Leicester fans, admitting: "Yes that's nice for me because that means we are strong together. I ask every time that they support, not for me but for the players because they fight on the pitch, and sometime fight too much without result. But always they give the maximum - that's important."
But Ranieri admitted that, if given the chance, he would swap tonight's win for three points from Sunday's Premier League clash with fellow relegation contenders Swansea.
"Yes, yes," he confessed. For us, [it is] the main match of the season, one of the main match because we have to do result."
"I hope this match can help us to improve our Premier League season. It's important to keep going."
Derby County manager Steve McClaren was graceful in defeat but expressed his apprehensions over the FA Cup's current structure and the need to play replays.
"It was a completely different game [to last time], different teams. But they're still Premier League champions and I'm proud of my players."
McClaren was naturally disappointed by the result, having denied Leicester victory for 90 long minutes, but speaking after the game the former England manager urged the Football Association to take a look at the competition.
"We've got a lot of games in the championship," he said. "Our main focus is a play off place. We didn't need this replay. I don't think Leicester needed this replay.
"And I think maybe the FA has to look at this competition and say 'let's have just one tie' because nobody wanted this replay.
"Instead of having replays, suggested having just one game settled by extra time and penalties on the night."
Join our new commenting forum
Join thought-provoking conversations, follow other Independent readers and see their replies