Kelechi Iheanacho continues hot streak to beat Southampton and send Leicester to FA Cup final
Leicester 1-0 Southampton: A second-half strike sends the Foxes through to face Chelsea at Wembley
Miguel Delaney
At Wembley
Sunday 18 April 2021 20:37 Comments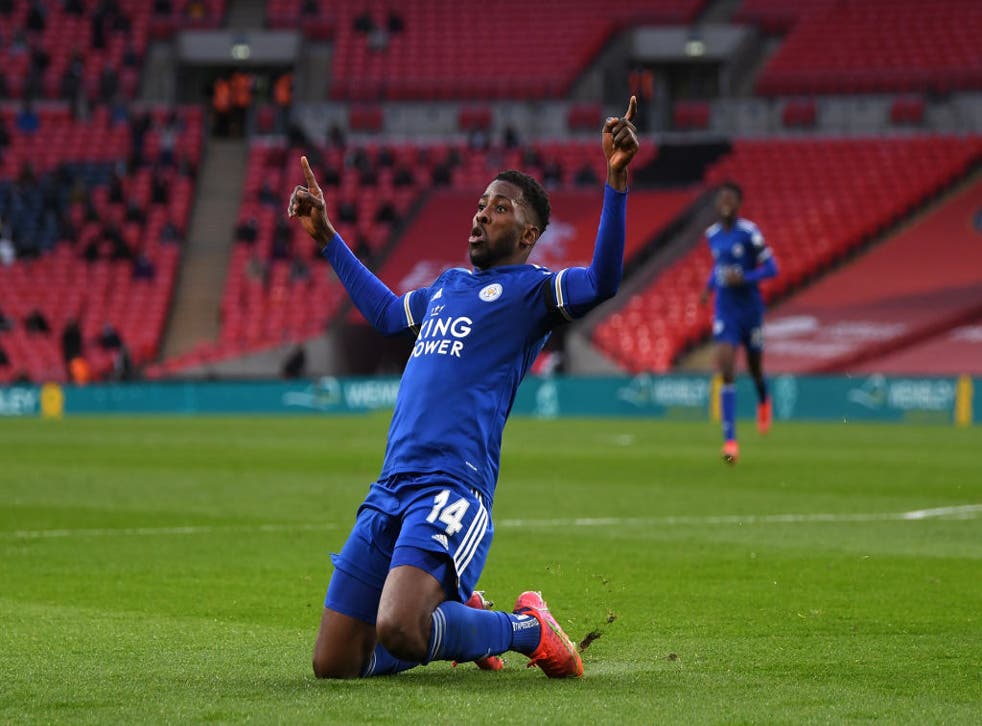 A smattering of all that is good about football, on a day that otherwise showcased everything wrong with the sport.
Leicester City had fans at Wembley to celebrate reaching their first FA Cup final since 1969, after a resolute 1-0 win over Southampton, but the return of supporters wasn't the only reason this date may go down in history.
The enriching presence of a crowd might also coincide with the launch of something that may exclude so many parties from elite football, with the leaking of plans for a European "super league".
It was why there was something almost bittersweet to Kelechi Iheanacho's supremely improvised winner. A win like this would usually be seen as a landmark moment for an upwardly mobile club like Leicester, and another big step as they try to smash so many big ceilings.
They may now find it completely closed off. They are precisely the kind of club these plans will keep out.
Leicester still had so much to celebrate, as Brendan Rodgers is now one game from his first English trophy. That could be seen in his joyous reaction. That of course shouldn't be forgotten, on a day that would have created memories for the lucky few that were here.
The Southampton supporters might not feel that way, and their campaign now takes on a different complexion. Ralph Hassenhuttl had invested so much in this cup run, at the cost of a league campaign that initially showed such promise.
It feels the impetus of the German's early days at the club are now waning and, despite the achievement of getting to an FA Cup semi-final in this modern era – with so many wealthier clubs with grander, greedier ambitions – he might come under new pressure.
The Southampton supporters of course weren't going to show any grievance. There was only gratitude, and appreciation.
The presence of fans ensured even inconsequential moments had a momentousness to them.
Moves that would have meant nothing amid the sterility of an empty stadium suddenly had stakes, if only from the murmur of excitement that went around the fans.
The football, in short, was enriched.
The timing of that couldn't have been more pointed, and there was a greater symbolism to almost every moment and player.
Take Vardy.
He has long been seen as perhaps the best player outside the big six, having admirably stayed at Leicester. That is a career that would be even more difficult in a world that has some kind of super league, because of the obvious necessity for the best players to be on the right side of the elite.
Vardy has displayed a creditable persistence in so many ways, and that applied to his very performance here.
Lesser players may have wilted after the misses he was responsible for, especially given his run of form.
The 34-year-old only has one goal in 18, and none in 10, a profligacy that could be seen in his first half-chances.
For one, the striker was sent to streak through on goal in that way that manner that seems the vintage Vardy goal. It wasn't the vintage Vardy finish, as he took it too far wide and chipped it over Fraser Forster, but also over the bar.
For the next, the striker was even closer in, but could only head over the bar.
Again, the soundtrack of supporters reacting made something memorable over moments you would think Vardy would rather forget.
It is nevertheless clear he doesn't dwell on them.
Vardy's sense of purpose and assuredness remained. He displayed in the most assertive manner shortly after half-time, just dismissing the Southampton defensive line with another burst. This time, rather than shoot, Vardy tried to serve the forward that has been making up for his absence of goals. Iheanacho still had a lot to do, but got a little bit of luck. His initial first-time shot was going wide but blocked back into his path, for the striker to then set the road to the final.
Leicester were in front.
Southampton had been punished for having their defensive line so far on the front foot. It hadn't yet had anything close to a reward. They hadn't had anything close to a chance.
That began to change, with Ibrahima Diallo firing a superb volley just over.
It was as close as they got.
Leicester and Rodgers are that bit closer to silverware, to potentially mark a new era for the club since that transformative 2016 title win.
The timing of that could end up hugely ironic, and unfortunate.
It seems wrong to dwell on it, though, because it is days like this that football should really be about.
Register for free to continue reading
Registration is a free and easy way to support our truly independent journalism
By registering, you will also enjoy limited access to Premium articles, exclusive newsletters, commenting, and virtual events with our leading journalists
Already have an account? sign in
Join our new commenting forum
Join thought-provoking conversations, follow other Independent readers and see their replies