Eden Hazard's brilliant goal sends Chelsea past Liverpool and into League Cup fourth round
Liverpool 1-2 Chelsea: Daniel Sturridge put the home side in front but Emerson bundled in an equaliser before a moment of inspiration from the Belgian Hazard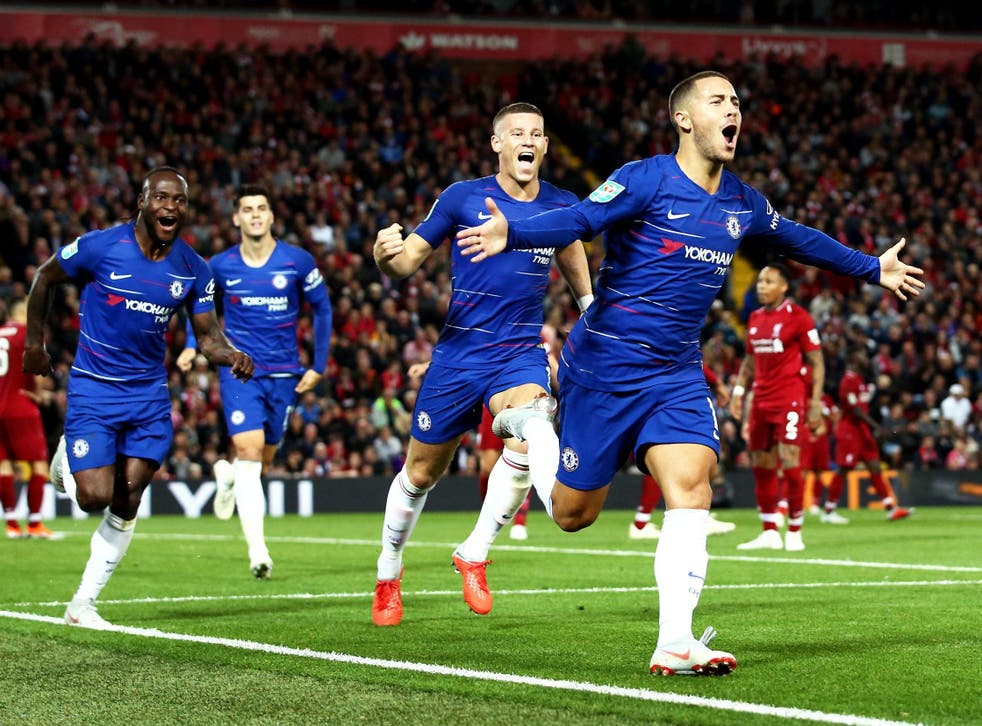 It is more than likely that when these clubs dine together again in the west of London on Saturday night, the only players that started here but present at the table there will be James Milner, Sadio Mane, César Azpilicueta and Mateo Kovacic.
What this absorbing cup tie revealed was not which appetite runs deeper in terms of squads and rather that a team containing Eden Hazard has the capacity to consume the other even when you do not see it coming.
The Belgian's winning goal here late in a second half that Liverpool dominated was jaw-dropping. It would be inaccurate to say Jordan Henderson, Fabinho and Naby Keita had tried to stop him because they were not really there as he swanned past. He would turn Alberto Moreno inside out twice before accelerating. Anfield could not have witnessed many shots as ferocious the one that followed.
Liverpool vs Chelsea player ratings

Show all 22
A fabulous result, then, for Maurizio Sarri who must surely recognise the possibilities in this competition, especially with some of those clubs you'd expect to be there come final day already exiting.
For Liverpool, the only positive to take from this defeat is that they will not face a two-legged semi-final in January, a month they have struggled in since Jurgen Klopp became manager.
For him, it was a missed opportunity because the League Cup presented the chance of silverware early in the season, injecting Liverpool with enormous confidence. Would they have been better primed for a Premier League title challenge with the experience of already winning a trophy?
Klopp's team selection, however, did remind to some extent how far Liverpool have travelled under his guidance. Liverpool's defence had a very pre-Virgil van Dijk feel to it, though it was a defence which in reality had been named together from the start of a match in the fullness of time only once and that was nearly two years ago, though that night a 4-2 victory over Crystal Palace was closer and more dramatic than it needed to be.
It was not so long ago that Nathaniel Clyne, Dejan Lovren, Joel Matip, Alberto Moreno and the goalkeeper Simon Mignolet, indeed, represented Liverpool's first choice back five, albeit in some form of arrangement with a couple of other individuals not around anymore.
In total, both managers had made eight changes from the weekend and initially, Chelsea's midfield guile was more prominent than Liverpool's graft. Ross Barkley, playing a game on Merseyside for the first time since leaving Everton, was picking up some good spaces largely because Chelsea's defence was not being pressed in the same way it might be otherwise.
It did not help Liverpool either that debutant Fabinho was not quite up to speed with his surroundings; too slow when he needed to be faster in possession and too fast when he needed to think a little bit more with a later shooting opportunity that was shanked into the air.
Klopp had already instructed Xherdan Shaqiri to work harder by the time Mignolet had saved twice early on from Álvaro Morata, though it was fair to conclude that the Spaniard's finishing was not at the level you would expect from a £60m striker.
Keita's finishing was a lot more convincing but his shot, pumped towards Willy Caballero from 20 yards, was just about saved by the Argentine after Liverpool sprang a familiar counter attack. Moments later, a Mane header from a Shaqiri cross was almost powerful enough to secure a lead but again, Caballero used his fingertips.
More Liverpool chances would arrive in the second half. Sturridge missed an open goal but only after Caballero had sent him in a direction he would have preferred not to go. Mané was not sharp enough in reacting to another gift and again, Caballero was there. Liverpool kept coming. They were in control now and Fabinho, a lot more convincing. When one of his passes led to another Keïta drive before he was once again denied by Caballero, but this time Sturridge was on hand to pounce and with a bicycle kick, Liverpool were finally ahead.
There was uncertainty about Chelsea's equaliser when it came because of the contribution of VAR, though in the end it was judged that Morata and Emerson, the scorer, were onside. There was no doubt about Chelsea's winner, however, with Liverpool's players chasing Hazard's vapour trail into the night. He had been introduced for Willian. It is fair to say that Hazard is quite a substitute to have.
Register for free to continue reading
Registration is a free and easy way to support our truly independent journalism
By registering, you will also enjoy limited access to Premium articles, exclusive newsletters, commenting, and virtual events with our leading journalists
Already have an account? sign in
Register for free to continue reading
Registration is a free and easy way to support our truly independent journalism
By registering, you will also enjoy limited access to Premium articles, exclusive newsletters, commenting, and virtual events with our leading journalists
Already have an account? sign in
Join our new commenting forum
Join thought-provoking conversations, follow other Independent readers and see their replies