Liverpool's record signing Virgil van Dijk climbs highest to knock Everton out of the FA Cup on dream debut
Liverpool 2 Everton 1: The Dutch defender capped his first appearance for Jurgen Klopp's side with a match-winning header in the final minutes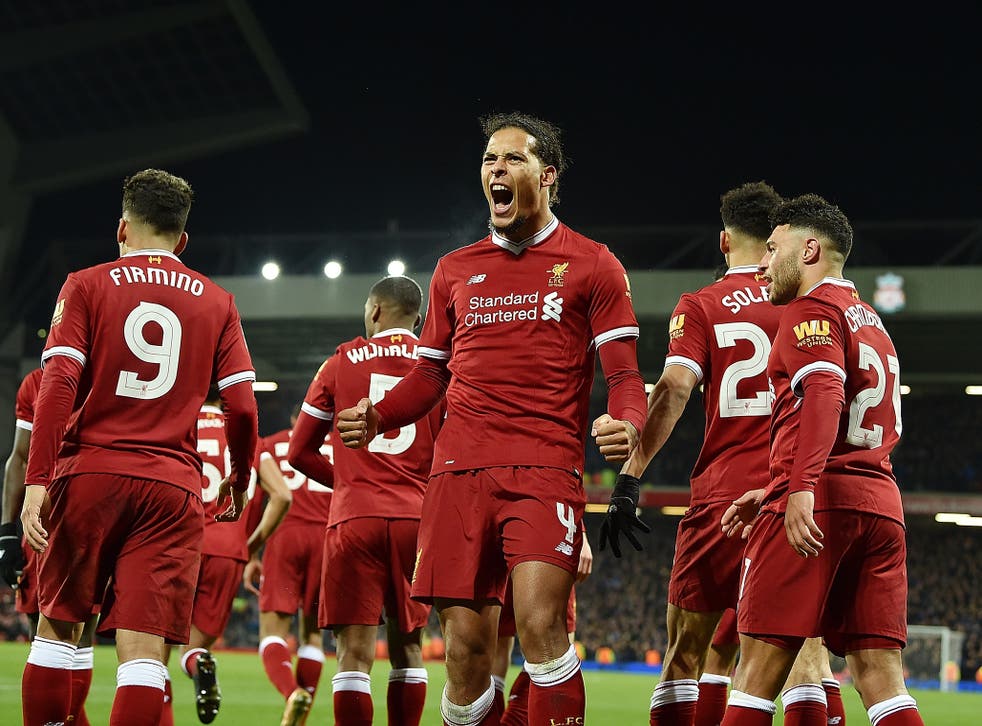 Fear and loathing on Merseyside. A bitter night where lip-readers and pitch-side microphones might be needed to assess what Roberto Firmino really said in anger to Mason Holgate, one where Sam Allardyce identified Wayne Rooney's path towards self-destruction and decided to withdraw him humiliatingly early before what felt like an inevitable red card; one, indeed, where Virgil van Dijk powered Liverpool into the FA Cup fourth round by scoring on his debut, just as Everton thought they had claimed a replay.
This was not a result Liverpool necessarily deserved and so, there can be no better way to win a derby. When Van Dijk rose highest to meet Alex-Oxlade Chamberlain's corner with just six minutes remaining, the roar that followed blew from the guts of the Kop, a stand that surely now has a new hero to worship. It means Everton's wait for a trophy will stretch into a 24th year.
There was always a sense that only two outcomes were possible here. The most likely would be determined by Liverpool and how well they played; how clinical they could be, whether they would avoid the complacency that crept into their game last month when these sides met in the league, a complacency that swept across the watching crowd and possibly impacted upon the result. It nearly happened again.
"The one thing we won't be doing is coming here and playing open and expansive football," Allardyce warned. The second outcome involved a dogged performance from Everton, one that would require a solid start to encourage frustration inside Anfield; it would need their players to concentrate and hang in there; to be absolutely ruthless whenever a rare opportunity came their way. This nearly happened as well.
Everton were not open and they were not expansive but they were more open and expansive than they were in December's draw. It had been a surprise decision of Allardyce's to partner Rooney and Dominic Calvert-Lewin in attack and then Yannick Bolasie on the right wing, with the Congolese clearly given the instruction to run at Andrew Robertson as much as possible. The first half hour was low in quality but Everton appeared to have the slightly more convincing plan.
Liverpool, of course, were without Mohamed Salah and Philippe Coutinho and they were struggling to build momentum. Adam Lallana and Firmino were trying but having poor games, while Oxlade-Chamberlain was not receiving the necessary level of service to trouble Everton's weak link, Cuco Martina.
An error from Holgate's shifted the mood. It was the type of decision you might expect from a 21-year-old in his earliest days as a centre back. As Allardyce said last month when Dejan Lovren was punished for fouling Calvert-Lewin at the same end: "You use your hands, the referee's got a decision to make." Lallana's fall was dramatic. But Holgate had halted his quick turn. James Milner scored the subsequent penalty.
Suddenly, there were fouls everywhere. Holgate particularly was losing control of his senses, pushing Firmino over the advertising hoardings. Firmino was incandescent, chasing the defender and releasing a volley of expletives. Holgate appeared to think one of the words used was unacceptable. Referee Bobby Madley was on top of the incident but it is not his fault he does not speak Portuguese. Then again, neither does Holgate.
Everton's equaliser had not been coming exactly but a series of crosses into Liverpool's box had caused concern before. Rooney was gone by then, replaced by Ademola Lookman after he avoided a second booking in the 50th minute. Only Phil Jagielka will be able to explain why he was Everton's furthest player forward when a counter-attack was sprung. He served Gylfi Sigurdsson and it became 1-1.
Jürgen Klopp had explained that van Dijk was "fresh" but not "fine-tuned," before leaving a request for patience: "I hope that especially all the people of Liverpool accept that the best things will come." With his clinching moment, it is difficult to see how it can really get any better than this.
Register for free to continue reading
Registration is a free and easy way to support our truly independent journalism
By registering, you will also enjoy limited access to Premium articles, exclusive newsletters, commenting, and virtual events with our leading journalists
Already have an account? sign in
Register for free to continue reading
Registration is a free and easy way to support our truly independent journalism
By registering, you will also enjoy limited access to Premium articles, exclusive newsletters, commenting, and virtual events with our leading journalists
Already have an account? sign in
Join our new commenting forum
Join thought-provoking conversations, follow other Independent readers and see their replies