Wigan hero Will Grigg claims beating Manchester City was bigger upset than 2013 FA Cup win
Wigan defied the odds to beat City in the FA Cup once again on Monday night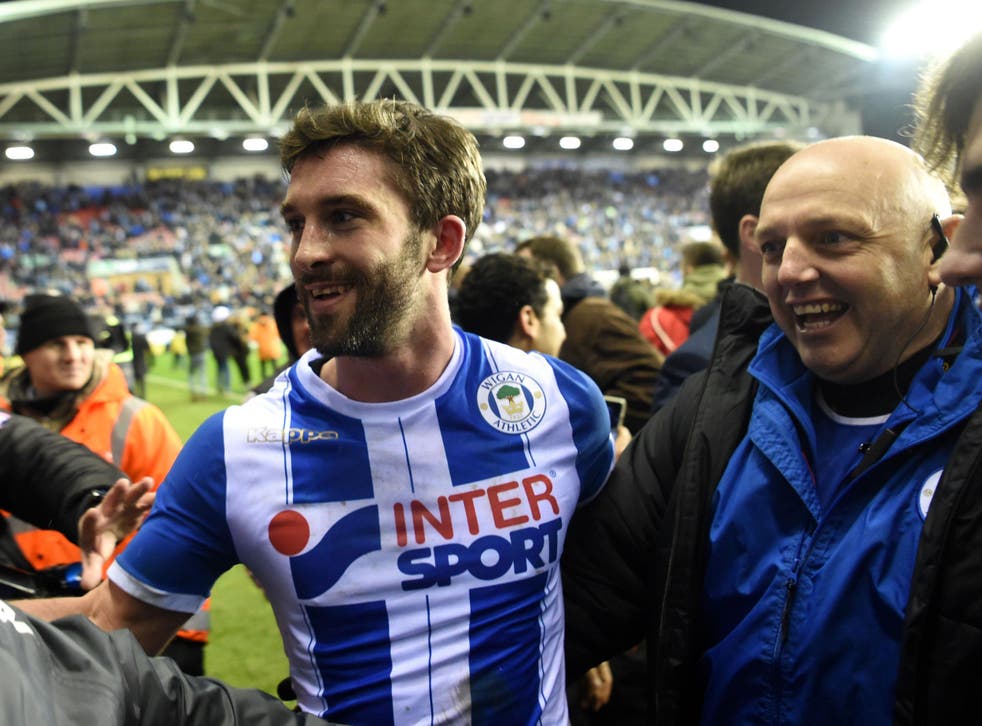 Will Grigg believes Wigan Athletic's pulsating FA Cup fifth round victory over Manchester City was an even greater triumph than beating the same opponents in the 2013 final.
Wigan defied the bookmakers' odds five years ago to beat Roberto Mancini's City at Wembley and lift their first major trophy, in what remains the most momentous day in the club's history.
On Monday night however, Paul Cook's current iteration came close to matching their predecessors' feat by knocking a superior City side out of the same competition, courtesy of Grigg's composed finish in the closing stages.
Post-match clashes at Wigan vs Manchester City

Show all 7
Whereas Wigan were still a Premier League club at the time of the 2013 triumph, they now find themselves in the third tier of English football and were widely expected to suffer defeat against the top flight's runaway leaders.
When asked whether the widened gulf between the two clubs made this most recent victory even bigger, Grigg was in no doubt. "Yeah, I think we're a League One team and they're probably the best team in Europe at the moment," he said.
"We knew it was going to be a difficult game tonight, but we had a game plan and stuck to it. You've got to have a little bit of luck against teams like that and we got that tonight. To a man we were unbelievable."
Grigg added: "It's got to be the biggest [upset] in a long time. They are absolutely flying at the moment, and the quality of players they've got, they're an unbelievable side, scoring goals for fun. For us to beat them on our patch is something special."
Sergio Aguero hits out at Wigan fan after Manchester City FA Cup defeat
The Northern Ireland international's goal itself was an excellent finish, sweetly struck after a mistake by City right back Kyle Walker allowed Grigg to slip through one-on-one, despite Walker's best efforts to catch him.
Grigg appeared to slip slightly as he made the attempt but that only helped to arc the ball around goalkeeper Claudio Bravo.
"I hit it perfectly, unbelievably, exactly how I wanted to," Grigg joked when discussing the goal. "No, I took that extra touch and it got away from my body a little bit. It was a clean enough strike and I knew if I got it close enough to the corner, the 'keeper would have no chance.
"It's probably my most special in terms of the opposition. I've scored against Premier League teams before, but the calibre of their side and the whole about City at the moment, makes it pretty special."
Wigan will play top-flight Southampton at the DW Stadium in the next round and Grigg believes Monday's win means Wigan have every reason to be confident of another upset.
"We feel we can beat anyone at the moment," he said. "We'll go into that game full of belief."
Join our new commenting forum
Join thought-provoking conversations, follow other Independent readers and see their replies