Manchester City striker Sergio Aguero escapes retrospective action following 'five seconds' of anger unleashed on David Luiz
Aguero appeared to deliberately put his studs into the Chelsea defender
Simon Rice
Tuesday 16 April 2013 11:51 Comments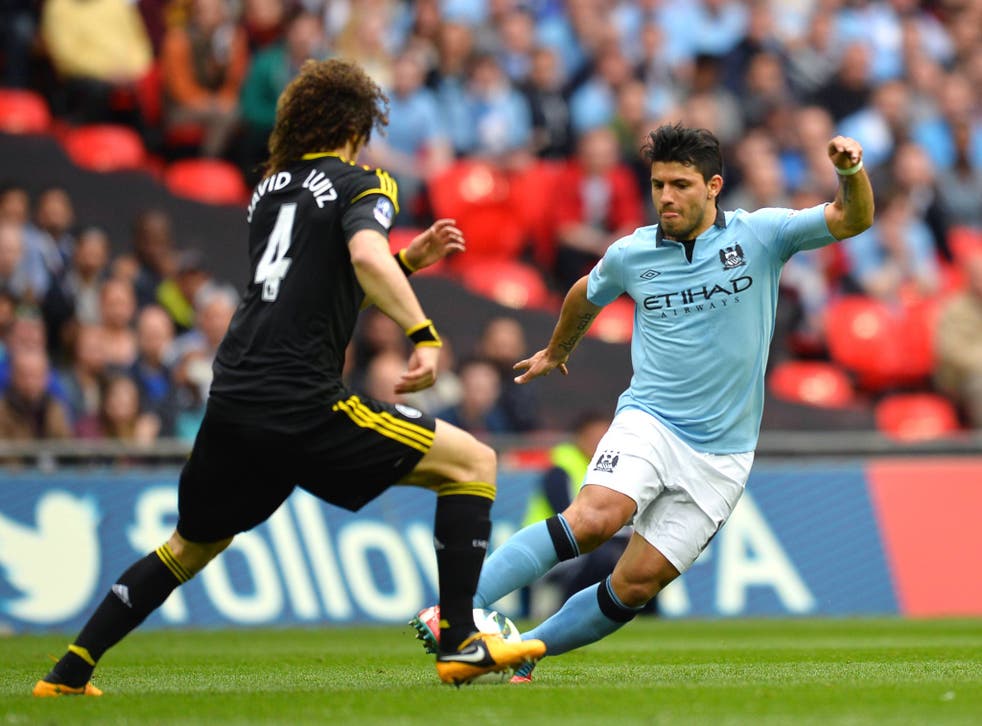 Manchester City striker Sergio Aguero will not be retrospectively punished for the 'five seconds' of anger which saw him put his studs into Chelsea defender David Luiz.
The incident, which occurred in the second half of City's FA Cup semi-final victory over Chelsea, saw the Argentina international make a two-footed stamp in which he ran his studs down the back of the Brazilian's legs.
The FA announced the striker would not be punished this afternoon following confirmation that referee Chris Foy had at least seen part of the incident and acted on it during the match - Chelsea were awarded a free-kick.
Despite the incident warranting a red card at the time, under current FA rules only off-the-ball incidents or those viewed as "exceptional" - which would, for example, warrant more than a three-match ban - are dealt with retrospectively.
Speaking after the game, Luiz appeared to demand an apology from his fellow South American.
"Aguero is a great player and I think he needs to be honest with himself and say, 'I don't like to do bad tackles, I don't like to do that'. I forgive everyone in my life, people are happy when Aguero is scoring goals, doing things in the game. Many people have said to me, 'Sorry this is not me and not good for the football'. Many kids see the game, watch the game and want to see good things and not bad things," he said.
The 25-year-old said he would have apologised, had he delivered such a tackle. "Of course, I would apologise to everyone," Luiz said. "I want just to show people good things. Both teams tried to win, both created opportunities and tried good things, Sometimes in the games people have five seconds, be angry and do things you don't like to do. I think that.
"I never saw Aguero do bad tackles on other players. I think it was five seconds [of anger] and I forgive him. I didn't speak to him after the game. I have a good heart, I don't like to beat [up] some people."
Manchester City manager Roberto Mancini claimed he had not seen the Aguero challenge on Luiz. "I need glasses! I didn't see," he said. "If I'd seen it, I'd say. But Sergio did take a lot of challenges. The referee was there... if Sergio did something wrong. I remember, because it was in front of our bench, David Luiz did a tackle against him, but I didn't see what happened [next]."
Register for free to continue reading
Registration is a free and easy way to support our truly independent journalism
By registering, you will also enjoy limited access to Premium articles, exclusive newsletters, commenting, and virtual events with our leading journalists
Already have an account? sign in
Join our new commenting forum
Join thought-provoking conversations, follow other Independent readers and see their replies