Manchester United's Nemanja Matic calls for VAR to speed up as Jose Mourinho sidesteps Paul Pogba talk
Instead of facing an in-depth inquisition into his relationship with Pogba, Mourinho was able to wax lyrical about the pros and cons of the officiating experiment
Ian Whittell
Sunday 18 February 2018 18:06 Comments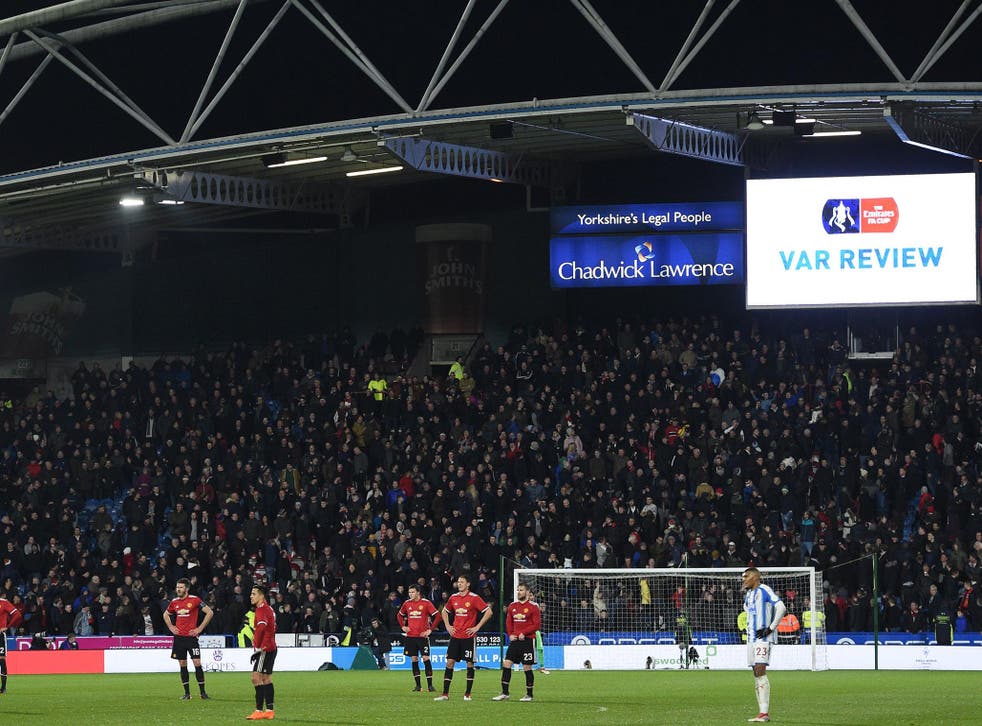 The latest controversial chapter in the introduction of the video assistant referee system into English football continued as Manchester United eased into the last eight of the FA Cup at the John Smith's Stadium – a fact which must have suited Jose Mourinho perfectly.
Instead of facing an in-depth post-match inquisition into the status of his relationship with Paul Pogba, who ruled himself out of the fifth-round tie on the morning of the game, Mourinho was able to wax lyrical about the pros and cons of the officiating experiment.
The incident that caused yet more furore about the video replay system came when Juan Mata scored a second "goal" for United on the stroke of half-time only for VAR Neil Swarbrick, in a London studio, to spend more than two minutes determining that the United midfielder was offside.
"We just saw, we are not sure it was offside but OK, the referee has made a decision, they saw it on TV," said United's Nemanja Matic. "We just waited for the referee's decision. We knew that he waited for the people to see it on TV, to analyse it.
"It was a little bit strange because you have to wait two minutes to see what happened, but it's OK. Sometimes it's good, sometimes it's not. I like it. I think it will be better for football, they just have to do it a little bit quicker because we waited so long for the decision."
Matic's view seems to echo the general consensus thus far about the system – admirable in its intent, its utilisation has to become more streamlined and effective.
Mourinho, however, also made an important point that the match official Kevin Friend appeared to break the FA's own protocol that says VAR should only be used in cases of "clear and obvious error," which the Mata goal obviously was not.
Little wonder, however, that the United manager was happy to spend most of his post-match interviews engaging in a debate over the merits of VAR, skilfully avoiding the more pressing matter of Pogba.
The only in-depth analysis Mourinho would offer post-match concerning l'affaire Pogba was to explain in painstaking detail that he had planned to field the club's record signing wide on the left of a midfield three – the position the player supposedly insists is his best and which has led to his reported current dissatisfaction.
"Just as a curiosity, it was Michael Carrick who replaced Paul," explained Mourinho. "Paul was going to play on the left side as a number eight in a 4-3-3 and Matic was going to play as a number six and Scott McTominay was going to play as a number eight on the right.
"Then when the doctor told me Paul was not feeling good to play, we moved Matic to the left, which is not his favourite position and Michael to his traditional number six."
Limited as Pogba may have been in the role he has been asked to perform by his manager this season, he still remains an accomplished potential force, despite an obvious drop-off in his form in recent weeks.
United still have aspirations to compete for the FA Cup and Champions League – not to mention the vital task of also finishing in the top four of the league – and the prospect of doing so without a fully-engaged Pogba is certainly a daunting one.
Similarly, as he prepares for Wednesday's Champions League last 16 visit to Sevilla, Mourinho must also hope that Romelu Lukaku's two superbly-taken goals at Huddersfield, from stunning United counter-attacks, herald a strong end to the season from the 21-goal Belgian.
Two goals against David Wagner's struggling side, of course, only served to reinforce the notion of Lukaku as "flat-track bully" – ninth-placed Everton are the highest-placed club against whom he has scored this season.
But, after Lukaku opened the campaign with 16 goals in 13 games for club and country, United can only hope that he ends it in a similar manner.
"He is very important for us," said Matic. "He is our first striker and he is very important to us, it's very important for his confidence that he is scoring goals and he is a great striker, very strong and he is still young, I am sure he will be important for us until the end of the season."
And so, Mourinho turned his attention towards Sevilla – and back towards Pogba – as he prepared for the first leg tie and the possibility of welcoming back Marcus Rashford, Ander Herrera and Antonio Valencia from injury.
"Look, today I didn't rest one single player so we had today every player available here," said Mourinho. "I didn't rest anyone, I brought two kids that played yesterday 90 minutes because I don't have another player.
"Can we recover some of them to Wednesday? I believe so. I think Rashford, Herrera, Valencia I think they have a chance. Paul I don't know. But you know, I think mentality is very important. And we have strong team strong bonding, strong team mentality. We know it is a very difficult match – but we go for it."
Register for free to continue reading
Registration is a free and easy way to support our truly independent journalism
By registering, you will also enjoy limited access to Premium articles, exclusive newsletters, commenting, and virtual events with our leading journalists
Already have an account? sign in
Join our new commenting forum
Join thought-provoking conversations, follow other Independent readers and see their replies