Ander Herrera fires Manchester United into FA Cup final after sluggish Tottenham let lead slip
Manchester United 2-1 Tottenham: Dele Alli handed Spurs an early lead but goals by Alexis Sanchez and Ander Herrera turned the match around for Jose Mourinho's side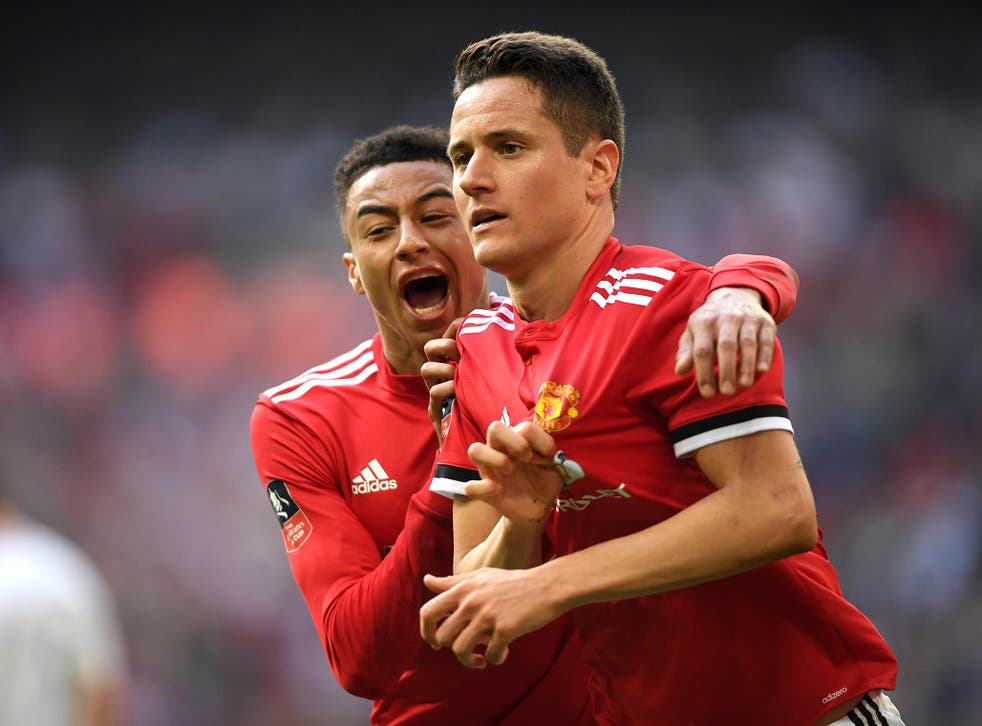 It's happened again. Manchester United and Jose Mourinho did what they've done for most of their history by displaying the resilience to win a big game, Tottenham Hotspur and Mauricio Pochettino did what they've done for most of theirs by showing such fragility to lose one.
The season won't now end with the Argentine winning his first trophy, but might well see Mourinho claim his third at United, as this 2-1 comeback sends them back to Wembley for the FA Cup final. They now look in the right kind of spirit to win it. They have the purpose, and have the conviction, as so perfectly displayed by the relentless Ander Herrera's brilliant match-winner.
It also means their season still has meaning, and could still be a real success, something that is now much more debatable for Spurs.
That was what this match was about as much a place back at Wembley for the final, and Spurs' history of underwhelming. For both clubs, it was about defying their recent histories and problems to give the season something tangible and positive beyond mere Champions League qualification, and to set the right tone for the future.
That future now suddenly looks that bit better for United.
Mourinho was right. As he has repeatedly said over the past week, he knows how to win. Pochettino, meanwhile, was wrong. The Spurs manager had argued that winning the FA Cup "won't change our lives" but failing to win it does change the perception of the campaign.
Consider this: it is the first season under Pochettino that hasn't shown tangible and statistical improvement; that hasn't seen a step forward. That is why they really needed to win this FA Cup. There is suddenly a sense they are plateauing.
Pochettino might continue to argue that the FA Cup doesn't mean all that, but this was about more than the trophy. It should also be all the more frustrating because of how they plateaued in the game itself, given how brilliantly they started.
Rather than carry it, though, it was United that showed them how to really get through such matches. They also showed something that is now becoming a very evident quality in this team: a proper, Mourinho-driven resilience.
Wins like this don't mean all the issues go away, and there is a question as to why it seems they need to go behind to get on the front foot, but no one can question them for what happens when they do go behind. There is a real fortitude here, one that was so impressive in this semi-final because of how under pressure they were.
Through that, the opening half-hour didn't just set the game, but also summed so many issues of their seasons.
United had also started as flatly as the games against West Brom and Manchester City, with Spurs as pumped as in the wins over Chelsea and Mourinho's side. Pochettino's team were so dominant at that point that they could genuinely been out of sight within the first 20 minutes. They had that many chances, looked that dangerous.
The contrast became so conspicuous for the opening goal, and was particularly clear between the two playmakers. As Pogba bizarrely strolled back, Christian Eriksen ran onto a perfect Davdson Sanchez ball before offering a supreme delivery of his own. The power was matched by the precision, and was met by the purpose of Dele Alli.
Through that goal, and that opening 20 minutes, you could see why Mourinho has been so frustrated with this team; why it is said that executive vice-chairman Ed Woodward is fully behind any decision he takes regarding the squad.
It wasn't long, however, until you could also see why United are in second place in the league; why there is optimism about the Portuguese's regime.
And this was the frustration for Spurs. They were levelling United – but it would only take one goal to go back level. It wasn't long coming. United – and especially Pogba – seemed to wake up. The French star's languidness suddenly became a virtue, but was now reinforced by proper muscle.
Pogba simply brushed the oddly under-performing Mousa Dembele off the ball, before clipping a supreme cross of his own in for Sanchez. The Chilean took the chance brilliantly.
This was the frustration for Spurs, but also for United, since it was a show of what they – and Pogba – can do when they get their act together.
It didn't just bring United back into the game, though. It also brought their game back up to speed. They were now stifling Spurs, principally through winning most of the big 50-50s. There was real conviction to United now.
And there certainly was to Herrera's finish. Although the selection of Michel Vorm may now come under question as the ball went under him, that was probably down to the purity of the strike.
There was none of that from Spurs, other than maybe from Eriksen or Heung-Min Son. Their impetus was always going to be ineffective, however, when Dembele and Harry Kane were so off their game.
It was difficult to know who was playing worse, but easy to see the negative effect on the side. It got to the point where Pochettino had no option but to remove Dembele for Victor Wanyama.
That was far too little far too late. It said much that Spurs hadn't created a single chance of note after the 25th minute.
They've now squandered another chance of a trophy. United have shown them how it's done.
Register for free to continue reading
Registration is a free and easy way to support our truly independent journalism
By registering, you will also enjoy limited access to Premium articles, exclusive newsletters, commenting, and virtual events with our leading journalists
Already have an account? sign in
Register for free to continue reading
Registration is a free and easy way to support our truly independent journalism
By registering, you will also enjoy limited access to Premium articles, exclusive newsletters, commenting, and virtual events with our leading journalists
Already have an account? sign in
Join our new commenting forum
Join thought-provoking conversations, follow other Independent readers and see their replies