Manchester United vs Crystal Palace: FA Cup final victory won't stop questions of Louis van Gaal's lacklustre side
This is meant to be a possession team in the second year of their development but their most important weapon is still the long ball to the player who looks desperately uncomfortable with the ball at his feet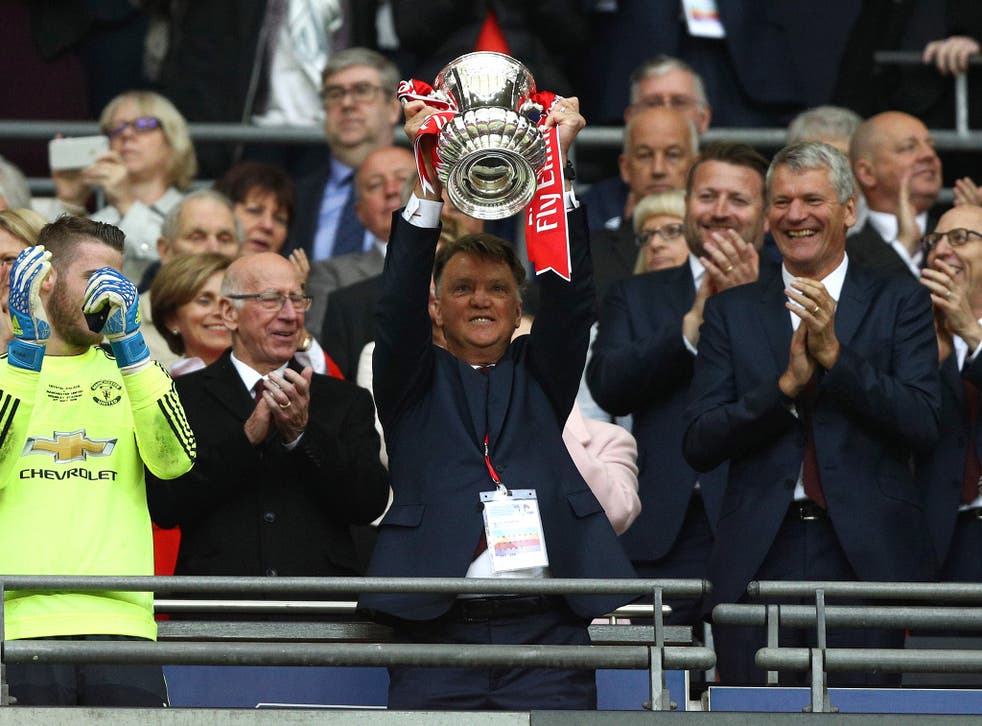 For a three brief minutes after Jason Puncheon had smacked Crystal Palace into the lead, leaving Alan Pardew shaking his hips on the touchline, it felt as if this game, and the whole Louis van Gaal era, was going to end in something approaching humiliation.
Manchester United would go a third straight year without a trophy, having dropped out of next year's Champions League, and would do so having lost an FA Cup final to a Palace side who could fairly be described as limited.
And then, with nine minutes left, Wayne Rooney took the ball in midfield, drove forward, and clipped a hopeful cross to the far post. Marouane Fellaini headed it down, Juan Mata converted, and United were on their way to glory.
United's players deserve credit for the way that kept going for two hours, especially given that they had to play the second half of extra-time with 10 men. During that spell they had Ashley Young, Daley Blind, Matteo Darmian and Antonio Valencia as the back four, just one specialist defender between them.
Van Gaal himself deserves praise for winning the first real silverware since Sir Alex Ferguson left, and for finding the right approach in extra time, throwing on the match-winner Jesse Lingard.
Crystal Palace 1 Manchester United 2 player ratings

Show all 24
And yet it is impossible to avoid the fact that this was the biggest game of the post-Ferguson era, and United did not play well for most of it. The crucial moment, when they dragged themselves back into the game, was a high ball to the big man, with Fellaini lingering in the box.
This is meant to be a possession team in the second year of their development, under a manager who made his name at Ajax and Barcelona. But their most important weapon, the one that kept Palace from winning the cup in 90 minutes, is still the long ball to the player who looks desperately uncomfortable with the ball at his feet, the player who United arguably should not have signed in the first place.
Fellaini this season has become the habit that Van Gaal cannot kick, the option they always fall back on when their aimless passing has got them nowhere. That is why Fellaini was drafted in here, parachuted back in even after a serving a three-match suspension which in part cost United their place in the top four.
So Van Gaal ripped up a balanced team and replaced it with an unbalanced one, not for the first time but quite possibly for the last time as United manager. Juan Mata was moved back onto the right, even though he is not a winger, to accommodate Fellaini's unique interpretation of the number 10 role.
FA Cup Final - Manchester United beat Crystal Palace in extra time
This predictably meant that United could create very little in open play, against a Crystal Palace defence determined to play deep and narrow. With no Lingard United struggled to get round the sides. The best player on the pitch, by a considerable margin, was Marcus Rashford. This speaks volumes of the talent, bravery and audacity of the 18-year-old, who did not make his United debut until three months ago. But it does not reflect well on the 21 more experienced players on the pitch. And what does it say about the two years of coaching under Van Gaal?
Rashford created United's two best chances before the goal, the second with a clever backheel to Fellaini, who was too impatient, snatched at his shot and hit the bar. But Rashford went off injured, Ashley Young went up front, and United looked as if they were heading home disappointed.
They were nine minutes away from that worst case scenario when the high ball to Fellaini saved them again. It was a moment whose importance to United and Van Gaal cannot be overstated. It was the moment that put them on the way to winning the cup. But given how little they created, how much money they have spent, and what they are meant to do, as a team and as a club, it will not exactly end all the questions about the direction they are heading.
Register for free to continue reading
Registration is a free and easy way to support our truly independent journalism
By registering, you will also enjoy limited access to Premium articles, exclusive newsletters, commenting, and virtual events with our leading journalists
Already have an account? sign in
Register for free to continue reading
Registration is a free and easy way to support our truly independent journalism
By registering, you will also enjoy limited access to Premium articles, exclusive newsletters, commenting, and virtual events with our leading journalists
Already have an account? sign in
Join our new commenting forum
Join thought-provoking conversations, follow other Independent readers and see their replies