Millwall vs Everton: Murray Wallace 'absolutely buzzing' as Lions revel in FA Cup upset
Twice forced to respond to going behind, the Championship club were deserved winners when Wallace retained his composure in the 94th minute, stroking the ball home from six yards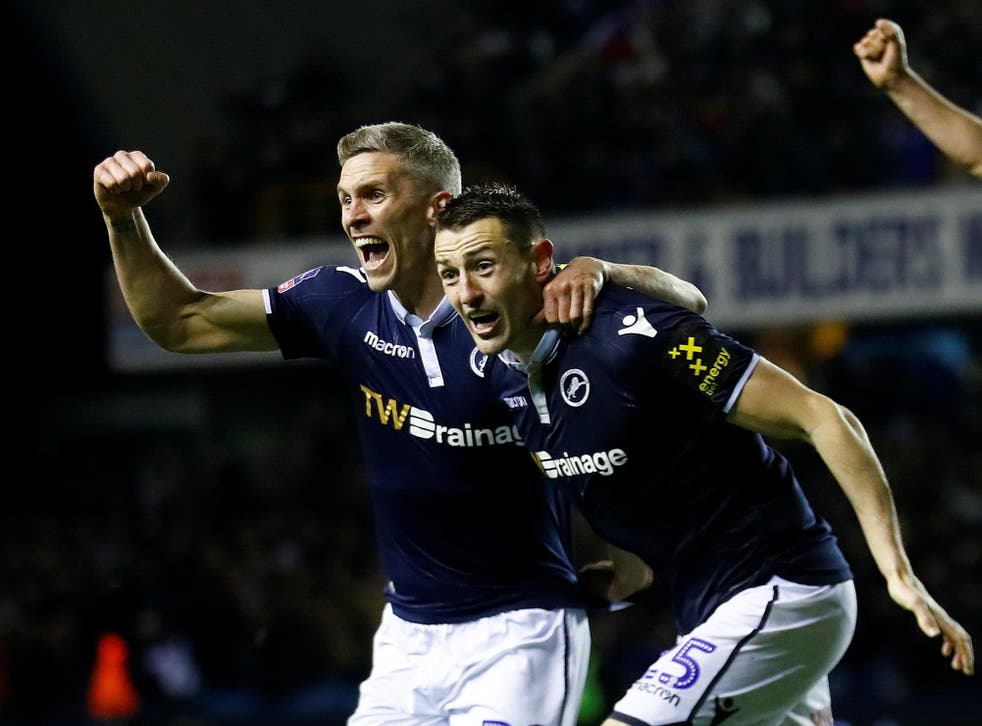 Murray Wallace, whose career to date can most kindly be described as that of a 'journeyman', grasped his invitation to the FA Cup's centre stage with both hands at The Den, a symbol of why there is still so much life left in the famous, if much-maligned, old competition.
Twice forced to respond to going behind, the Championship club were deserved winners when Wallace retained his composure in the 94th minute, stroking the ball home from six yards to complete one of the biggest upsets of the season against a full-strength Everton.
For a 26-year-old Scottish defender, whose career has so far covered Falkirk, Championship era Huddersfield and Scunthorpe, it was the chance to make amends for an earlier miss and write his own modest chapter in Millwall's famous recent FA Cup history.
"Yes it's definitely up there," said Wallace when asked to rank the goal in career highlights. "Scoring the winner against a Premier League team, I am absolutely buzzing.
"As soon as I scored I just ran away screaming and stuff, I can't remember much after that to be honest.
Best free agents your team could sign for nothing in 2019

Show all 30
"It was just going through my head that I couldn't miss after the chance I had earlier. So I thought I would try to show a bit of composure and take a touch before trying to place it instead of just smashing it.
"The lads were saying after they just wanted me to hit it because they were worried a defender was going to slide in and take the ball off me. Gregs (Lee Gregory) said he was right behind me and I should have dummied it for him."
Wallace's earlier miss had produced the game's moment of high controversy when his shot was saved by Jordan Pickford and the rebound struck Jake Cooper and flew into the net. Everton claimed the defender had used his arm to steer the ball in and, without access to VAR, replays on the big screen at the stadium suggested they were right.
"I thought they were complaining about offside," said Wallace. "I smashed the ball it came back and went in off his arm. I don't think he could have done anything about it.
"He's not moved his arm into the ball, it just cannoned off him. I don't think you can give it for something like that.
"But we've got that sort of character in the team. We suffered a few setbacks this season and always managed to respond quite well."
While Michael Oliver may have had a role to play in Everton's demise, the majority of it was self-inflicted. After Richarlison shot the Premier League side in front, they instantly gifted an equaliser to Gergory and, again, Cooper's second equaliser came brief minutes after Cenk Tosun had restored the Everton lead.
For every giant killer of course, there is a victim and Everton's shambolic performance simply adds to the problems Silva is encountering in his first season in charge at Goodison.
A run of three wins from their last dozen league and cup games - one of those against League Two Lincoln - is the sort of mid-season run that can halt campaigns, and positivity, in its tracks.
Silva still has the unflinching backing of the powers that be at Everton but, while he would not articulate it, there is clearly something lacking in the make-up of his current squad.
"You know me, I'm not type of coach to point the finger. It's not my way," said Silva.
"I am waiting for what I will say to them. I have already said something. I'll do inside the dressing room, that is the moment to do that.
"But at the level you are playing for this club you have to be mature. We have to take our responsibility as well.
"Okay, if you want to put the word 'character', you can put all the words - I will tell you again, we have to take our responsibility and to be more mature.
"Even with the big, big mistake of the referee, it's 2-2, we have to keep doing our game, not give to them what they want every time and put our quality inside, because every moment we put our quality - we are better than them."
Few neutrals would have seen any evidence of Everton being demonstrably "better than them" and the upshot of a pulsating tie was that their 24-year wait for silverware will now reach the quarter-century mark before they have chance to rectify it next season.
It leaves a long final four months of the campaign to play with Silva looking for a response from his players. For many, it may not be an exaggeration to say they are playing for their futures.
"To show more character in the team - it is the moment for us to show that," said the manager.
"And it is the moment for us to work more and more and more and take our responsibility all of us.
"It was a really tough afternoon for us, I can imagine how our fans are in this moment because it's a really big disappointment for us and all together we have to turn things around for us.
"Big fights will come. I know it was really disappointing to lose and not go through in the competition. But now we have to look forward, work really hard and show more character. Maybe the character we showed in this game is not enough.
"In the bad moments is the moments for you to see how big characters you have and how you have to work at a big club like Everton."
Register for free to continue reading
Registration is a free and easy way to support our truly independent journalism
By registering, you will also enjoy limited access to Premium articles, exclusive newsletters, commenting, and virtual events with our leading journalists
Already have an account? sign in
Register for free to continue reading
Registration is a free and easy way to support our truly independent journalism
By registering, you will also enjoy limited access to Premium articles, exclusive newsletters, commenting, and virtual events with our leading journalists
Already have an account? sign in
Join our new commenting forum
Join thought-provoking conversations, follow other Independent readers and see their replies