MK Dons vs Manchester United: Louis van Gaal 'not shocked' despite heavy League Cup defeat to third tier side
Dutch manager calls on club's fans to trust him after humiliation
Ian Herbert
Wednesday 27 August 2014 13:33 Comments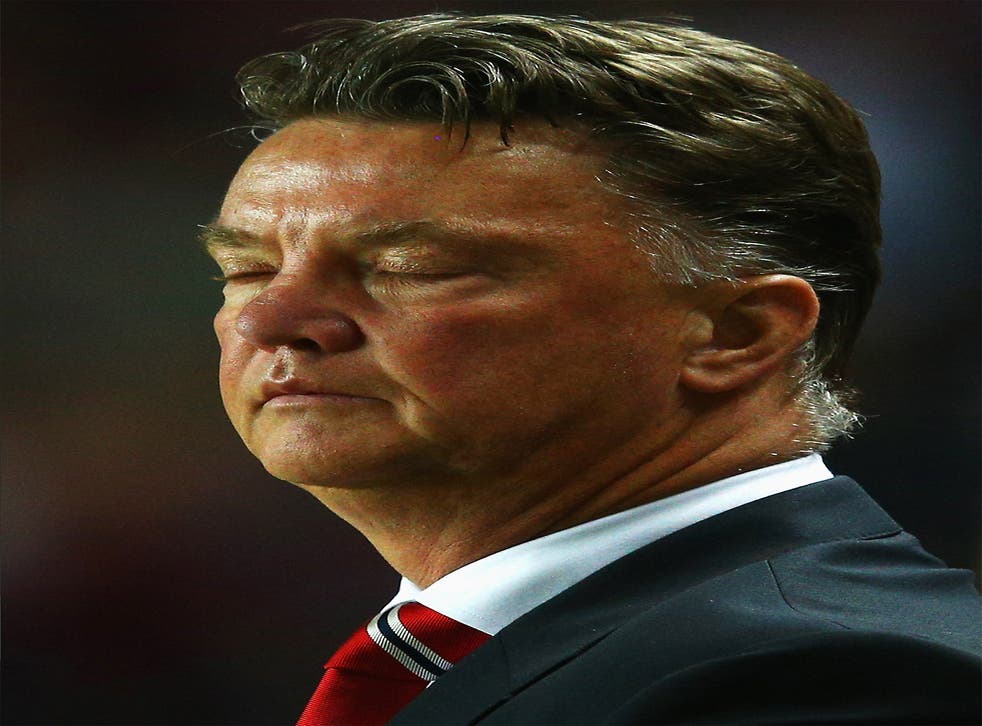 Manchester United manager Louis van Gaal urged the clubs fans to believe in him and his philosophy last night, but admitted after an eviscerating League Cup second round defeat to MK Dons that he might have to change his tactical philosophy to get the best out of Angel di Maria.
The Dutchman admitted that it would be difficult for supporters to trust him - following a 4-0 defeat to the third tier side which he remarkably said had "not shocked" him. But they must, he insisted. "It is difficult for the fans to believe in philosophy of Louis van Gaal but you have to do that because I am here to build up a new team and a new team in not built in one month," he declared.
Van Gaal proclaimed that di Maria's arrival would transform the team, likening it to his purchase of Arjen Robben almost five years ago to the day at Bayern Munich - a signing which ultimately brought triumph from a disastrous start. "Now di Maria is coming and he has to adapt also to our culture. He cannot change [immediately]," the new manager said. He seemed to hint that di Maria's introduction may create a change of system, with a 4-3-3 model a possible way of integrating him and exposing United's defence less by playing a high defensive line. "The process needs time so we shall see if with di Maria we have to change the system or not. You have to train it and it's a matter of time because we shall see if we have to change the system."
The manager defended his decision not to include his elite stars in the starting XI - as Liverpool's Brendan Rodgers did when his side played Notts County at the same stage last season. He insisted that he was coping with nine injuries and a second game in the space of 48 hours. He played two debutantes. "I didn't think I could play with the squad I used on Sunday. I had to look at the second team and youth education and then we played this match." Catastrophic defensive errors handed the game to Karl Robinson's side - all four goals stemmed from unforced errors or concession of possession in United's own half. "When you make errors like that you give the match away," van Gaal lamented.
In pictures: MK Dons humiliate Man Utd

Show all 6
In a detailed analysis of the defeat which will dismay many United fans - who believe the club should be above the minutiae of hand to hand combat with a third tier team - van Gaal said he altered his system at the interval to create a "1 v 1 over the whole pitch." That caused more risks, while allowing United to create more chances, he said. "At half time I am a coach who is always taking risks. I want to win this one match," he said. "When you are thinking you have to win, you have to take risks. I change the way we played." But a more fundamental, less academic analysis of what unfolded was that United were overwhelmed in every department, not even managing a shot on goal until the 72nd minute.
Van Gaal was irritated to be pressed on why he was not shocked. "You are repeating the question," he said. But he said he appreciated the fans' shock. "That's another question - yes that is very difficult when you start as a manger in the Premier League with a home match loss [to Swansea City] and after that draw and you lose in a cup match"
He refused to say that he had expected more from senior players, with six internationals on the field from mid-way through the first half. "You play as a team," he said. "There are always questions about individuals. Everybody contributes in a team and sometimes one is better than the other. We have to judge the team not one individual player."
Register for free to continue reading
Registration is a free and easy way to support our truly independent journalism
By registering, you will also enjoy limited access to Premium articles, exclusive newsletters, commenting, and virtual events with our leading journalists
Already have an account? sign in
Join our new commenting forum
Join thought-provoking conversations, follow other Independent readers and see their replies