Nottingham Forest vs Arsenal: 'I don't regret saying I was one of the greatest,' says Nicklas Bendtner
At the age of 28, he remains some distance off his target but now gets a chance to prove himself against old club Arsenal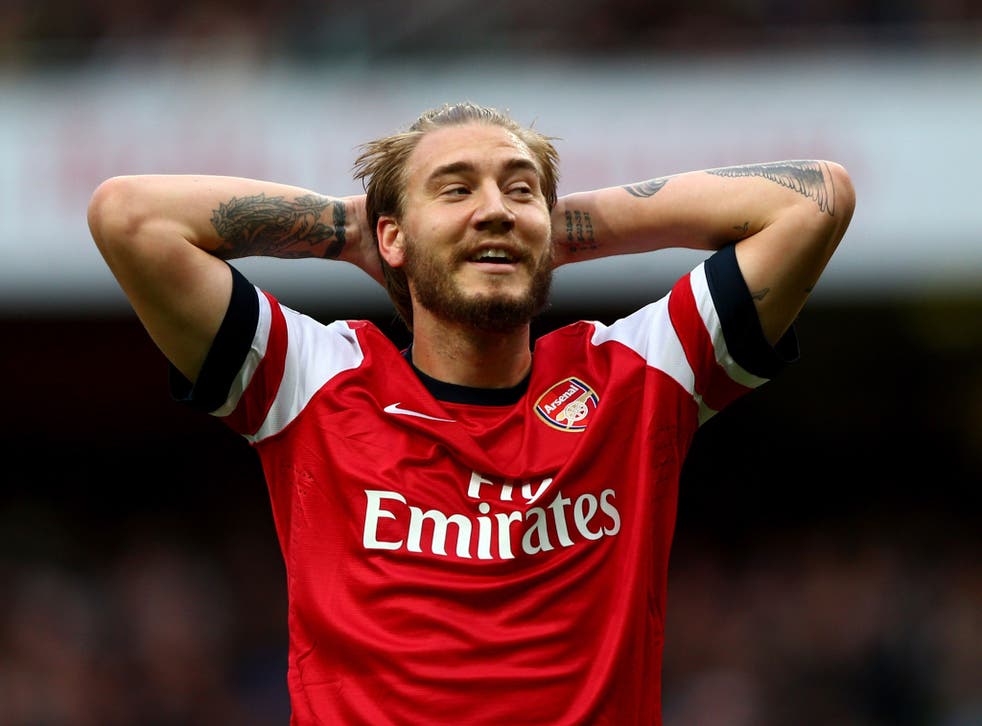 Nicklas Bendtner is sitting in the domain of the man who once observed that he was in the "top one" of football managers and there is something extremely appropriate about that. "I'm sure we would have got on well," he says of Brian Clough, with the very notion of two such titanic egos in the same building being one to make the eyes water.
This is the player who once said in an interview that "if you ask me if I am one of the best strikers in the world, I say 'yes' because I believe it." And who, when at Arsenal, reduced Pat Rice and Jacques Crevoisier, one of the psychologists Arsene Wenger used, to stitches after being tested for what Crevoisier called "self-perceived competence." On a scale of nine, Bendtner scored ten, Crevoisier related.
At the age of 28, he remains some distance off becoming the world's greatest and with time running a little short, he is embarking on a circuitous final ascent to that peak, having called time on an unhappy chapter on the continent and arrived at Nottingham Forest, 11 years after it all began for him at Arsene Wenger's Arsenal.
A few years away have taken him to Wolfsburg, where things only seemed to be going one way when he was dropped for turning up late at training. "There are a lot of ways of finding out when training is," manager Dieter Hecking said. "And it is not as if there is that much traffic in Wolfsburg." Bendtner's contract was eventually cancelled.
That beautiful capacity football has for rekindling old narratives sees him facing Arsenal, of all clubs, for Forest in the EFL Cup on Tuesday night and it was part of his iridescent willingness to talk that he sat down at the City Ground to reflect on what might have been and what might yet be for him.
The grounds for mirth are boundless, of course. This is the individual for whom a Danish magazine purchased a plot of Scottish land at Glencoe, so that he could actually be Lord Bendtner – one of the many nicknames Arsenal fans had for him. "There are worse nicknames. I also have better ones. But I can't tell you those," he says. He's not buttoned up about any of this. He is supremely likeable, for all his confidence.
Hull vs Arsenal player ratings

Show all 22
Best striker in the world? Really? "I was very young and I might have said it too early, before I had proven I was in that category or could get in that category," he explains. "Yeah, it has haunted me and I wish somehow I could get that interview replayed because I don't know if I said exactly what was written. The way it was written I thought: 'Did you really say that?'
"But I actually don't regret saying I want to be the best striker in the world because that's what everyone wants. It's just that no-one wants to say it. If you play in the Championship you want to play in the Premier League. If you play in the bottom half of the Premier League you want to play for a top team. It's just the way it is. People don't really speak about it because you can get hurt."
He certainly sustained more damage than most. For all of his nine years at Arsenal, with segments on loan at Birmingham City, Sunderland and Juventus, where Antonio Conte took him, he achieved only 77 top-flight starts and only once scored more than 10 goals in a season – at Birmingham. The noises off were always loudest. From the car crash which left his £120,000 Aston Martin wrapped around a tree off the A1, to the £80,000 fine he received for wearing underpants bearing a bookmakers' logo at the 2012 European Championships. Then there was the incident in Copenhagen which involved him unbuttoning his trousers in public, whipping a taxi and threatening the driver.
"There's been some things I would like to change if I could, on and off the pitch but that's way too personal for us to speak about right now," he says. It's too close to the bone."
The car crash was not his fault he declares, which has often been his default response when he misses a chance in front of goal. "The guy was in the middle lane of a three-lane motorway. The guy forgot he had to turn off to the left. The lines are there and you're not meant to turn left. I came on the insideI tried to go around him but the car had too much speed. Then the guy just drove off. I remember all of it. How the airbags hit me and stuff, I went out of the car and started stripping off…"
This, Bendtner says, was the moment when he had to scale down the plan to be the greatest. "I had a massive injury. For a year and a half I was half injured all the time. I could never get 100 per cent fit." The other setbacks he charts on the road to greatness include an injury after returning from Juventus and Arsenal's failure to sell him to Crystal Palace. "The move got blocked five hours before the window shut. I was quite disappointed with that - it was to Palace. I ended up having to stay."
But for all of the self-justification, this is a player with an unmistakable thirst to play. He has trained with Ståle Solbakken and FC Copenhagen to keep fit after the Wolfsburg adventure failed and he looks far more comfortable in these surrounds. The security of a two-year contract seems to mean a lot.
Wenger reflected ahead of Tuesday's match on a player who had "good technique, good stature, good pace, good in the air, good link play - he had it all in the locker." Sometimes you manage to find the qualities you think are there, Wenger said of Bendtner. "And sometimes we do not find the key. Then you have to leave the key to someone else who has the potential to find it. He could explain it better as to how he assesses his career because he is an honest guy. " The sense of wasted potential was unmistakable in Wenger's voice. He says he was surprised to see the Dane had arrived at Forest.
"I've pictured this going a different way but it didn't," the player reflects. "So I'm at where I'm at the moment and I'm going to make the best out of the rest of my career. Do the best I can I suppose.
"The perception has been I did some stupid off-the-field stuff which got written about but you've never seen me do an interview where I'm explaining myself or I'm crying about a situation. It's up to people to make their own judgement and I don't feel like I have to go out and say stuff, and say sorry or I'm not this sort of person. We've all made mistakes and I'm sure you have done many other things that if I caught on camera, you'd say the same. The most important thing is to be judged on the football pitch."
He certainly won't die wondering how it might have been living life to the full. Might he change his lifestyle for this new chapter? "I don't know if I actually believe in that," he says. "I have seen people drink and smoke and they still run 15 kilometres every day. I been with them in training at 35 and 36 and they still do it. Then I see people living off salad and water and they're finished at 32. I think it comes down to how you feel inside." No player will seek personal vindication more keenly this week than Bendtner, who is most likely to arrive off the bench tonight. And no player is more likely to think he will find it.
Join our new commenting forum
Join thought-provoking conversations, follow other Independent readers and see their replies