Manchester City manager Pep Guardiola says he did not join Wigan Athletic because he 'was not good enough'
After leaving Qatari club Al-Ahli in 2005, Guardiola was approached by then-Wigan manager Paul Jewell, who tried to persuade the 35-year-old free agent to move to Lancashire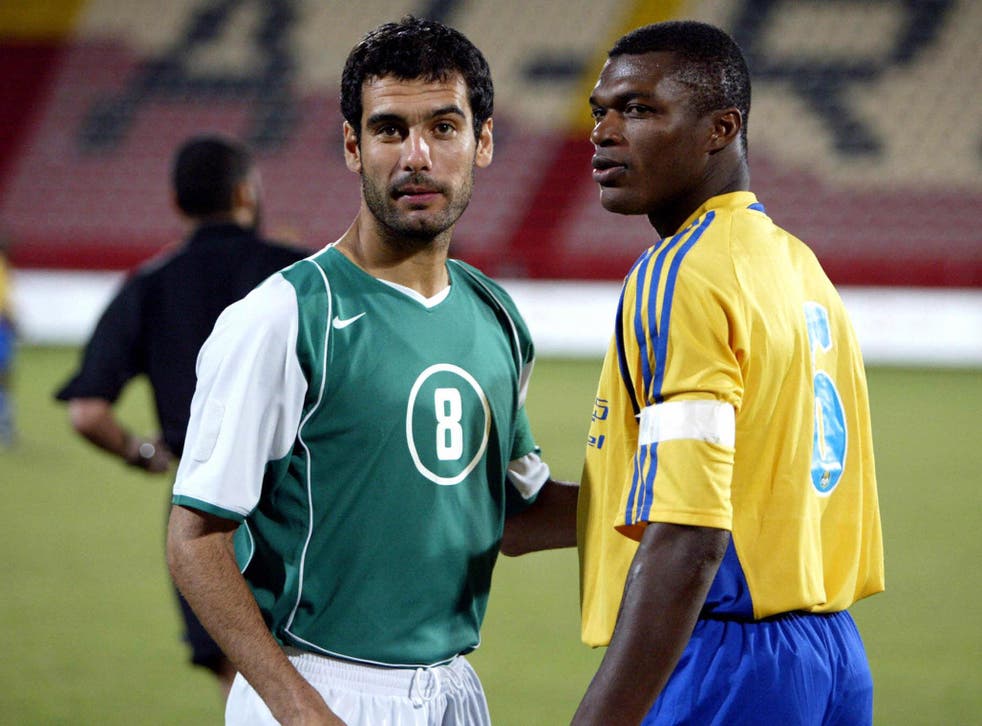 Pep Guardiola has claimed that the only reason he did not sign for Wigan Athletic when he had the chance was because he was not considered good enough.
After leaving Qatari club Al-Ahli in 2005, Guardiola was approached by then-Wigan manager Paul Jewell, who tried to persuade the 35-year-old free agent to spend the final days of his career in Lancashire.
The pair spoke on the phone and Jewell was impressed with Guardiola's knowledge of Wigan, it's squad and their particular style of play. The move fell through, however, with Jewell claiming that Guardiola's head had been turned.
Guardiola will finally turn up at the DW Stadium on Monday night when his Manchester City side play Wigan in the fifth round of the FA Cup and on Friday, he confirmed that he once came close to joining the Latics, though his version of events differs somewhat from Jewell's.
"I was not good enough! That is the truth, yeah," the City manager insisted. "I was old, really old, as a football player to come here. I tried to come here to play in English football, like a football player, but I was not able.
"The same happened when I came here to Manchester City, with Stuart Pearce," he added, recalling how he almost joined his current employers as a player in the summer of 2005. "They were so clever! They were so clever because I was not good enough!"
The former Barcelona and Spain midfielder instead spent the final year of his playing career with Mexico's Dorados de Sinaloa, under his friend and mentor Juan Manuel Lillo, and that six-month spell is now considered to be a defining period in his development into one of world football's leading coaches.
Trophy hauls with Barcelona and Bayern Munich followed, but Guardiola could surpass those achievements this year and enjoy the most successful single campaign of his career to date by leading City to the quadruple.
Paul Cook's Wigan are well-placed for promotion from League One, sitting one point behind surprise leaders Shrewsbury Town, but will be hard pressed to stop a City side that wants success on all fronts this season.
Guardiola admitted on Friday that he did not envisage his team playing this well at the start of the campaign, even though he saw signs of what was to come during his challenging and trophyless first year in charge.
"We did well," he said. "I said many times, people believe only you can be happy when you lift the trophies, I am completely the opposite of that theory. In seven months in Manchester together this season will always belong to us, so of course we have to lift titles but it belongs to us."
Even so, he has his sights on all four of the major trophies that City can still win this year and called for focus from his players amid a spell of important fixtures, or 'finals'.
"Of course now we are in the period when we play the finals and we are going to see how we play. We played, for example, a final in Basel and now it's a final against Wigan, final against Arsenal in the Carabao Cup final and, after have Arsenal and Chelsea in the league.
"If we are able to win these games, we have a massive step forward to lift our Premier League, the fifth Premier League in this club in all history, for some players the third Premier League, some us the first one."
Guardiola added: "What surprises the most, we're still in February, so normally you do this kind of analysis in April, May with three weeks, one month left. We are in February and our highest distance to second place is now 16 points, with goal difference 17. It's a lot and you have to do what we have done."
Join our new commenting forum
Join thought-provoking conversations, follow other Independent readers and see their replies