Rochdale manager Keith Hill had no problem with Dele Alli penalty in FA Cup draw, even if he dived
Dele Alli went down under the challenge of Harrison McGahey in the 88th minute with the score at 1-1, with several Rochdale played complaining that he had gone to ground too easily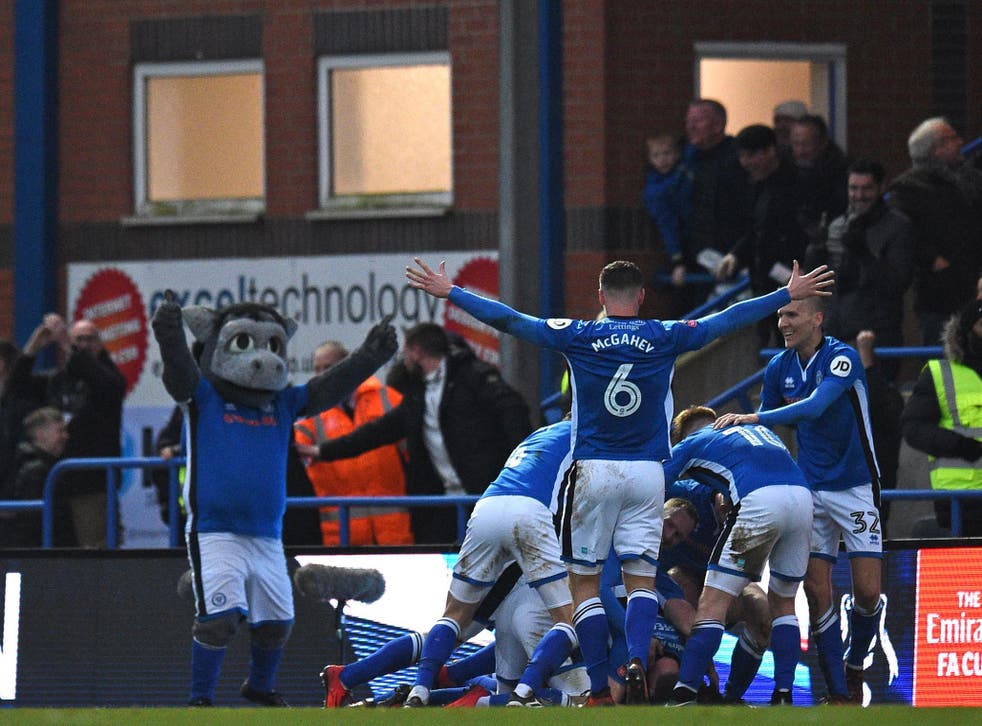 Keith Hill, the Rochdale manager, claimed he had no problem with the late penalty awarded against his side in their pulsating FA Cup draw with Tottenham Hotspur, even if Dele Alli dived to win it.
Alli went down under the challenge of Harrison McGahey in the 88th minute with the score at 1-1, with several Rochdale players complaining that he had gone to ground too easily.
Tottenham's place in the quarter-finals appeared to be secure when Harry Kane converted from the subsequent spot-kick, but a stoppage-time equaliser by Steve Davies ensured Rochdale would earn a deserved replay at Wembley.
Hill held his post-match press conference before having a chance to see a replay of the Alli incident, but refused to criticise the player and instead claimed he would be happy to see the England international do the same at next summer's World Cup.
"I'm led to believe he was looking for it, but why not? If players feel there is an opportunity to be gained then brilliant, I don't hold it against him," the Rochdale manager said.
"I don't blame him and I don't have a problem with it. Whether it's him, Harry Kane or [Rochdale's opening scorer] Ian Henderson, it doesn't matter who does it. If he does that for England in the World Cup this summer then I will definitely be supporting him."
Hill admitted that his side will most likely suffer defeat in the replay, but he hopes the financial reward of a date at Wembley will be significant. The club spent the proceeds earned from Sunday's game, thought to be around £500,000, on relaying the Spotland pitch ahead of Tottenham's visit.
"That was a heavy investment for us," he said. "Hopefully the money we make will support the club for the next two or three years. That will also come from player sales as well and we've got players who can play in the Championship or potentially the Premier League. We will cut our cloth accordingly and we won't be in debt.
Hill added: "We will get beat, realistically, but we will embrace it again. Spurs will be aware of us now and we might not get the same opportunity again but we will try to win."
Pochettino, meanwhile, was at a loss to explain how his side were held to a draw just five days on from their excellent Champions League display against Juventus.
"That is football, that is football," he said after the final whistle, having made a full 11 changes to his starting line-up following the midweek draw in Turin. "It's so difficult to explain, to judge, to analyse.
"I think for everyone, for me, that is difficult to assess because everyone was watching a Premier League team against a League One team, but it is not like this. When you play this type of competition it's one team against another team.
"I think it's not important the level of the team," he added. "We can see again with Newport [who held Tottenham to a replay in the previous round] and today. The good news is that we are still alive and we have the possibility to play again at Wembley."
Register for free to continue reading
Registration is a free and easy way to support our truly independent journalism
By registering, you will also enjoy limited access to Premium articles, exclusive newsletters, commenting, and virtual events with our leading journalists
Already have an account? sign in
Register for free to continue reading
Registration is a free and easy way to support our truly independent journalism
By registering, you will also enjoy limited access to Premium articles, exclusive newsletters, commenting, and virtual events with our leading journalists
Already have an account? sign in
Join our new commenting forum
Join thought-provoking conversations, follow other Independent readers and see their replies