Arsenal old boy Craig Eastmond hoping good showing will help him move back up
Eastmond started his career at Arsenal but is now at National League side Sutton United, who host Wimbledon on Saturday afternoon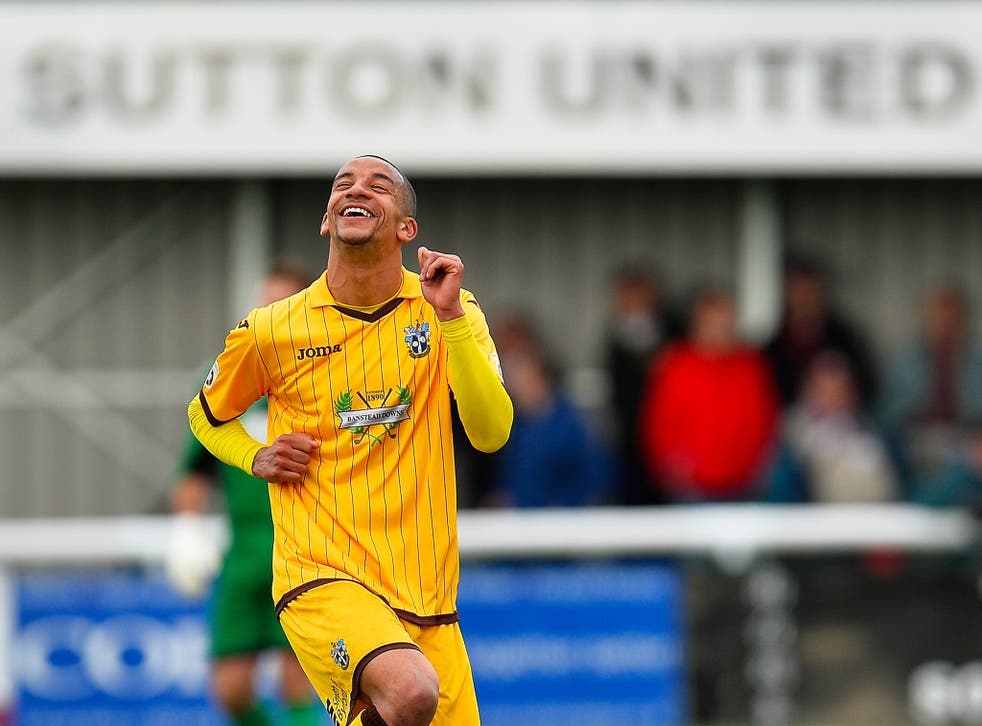 Craig Eastmond made his FA Cup debut in the fourth round in 2010, starting in an Arsenal team that included Cesc Fabregas, Theo Walcott and Francis Coquelin. He was a tenacious wiry 20-year-old midfielder who had impressed Arsene Wenger and fought his way into the first team. This was not even his first appearance for the first team but in fact his sixth. He was marked as being part of the next generation of Arsenal youngsters who would take the team on in the Emirates era.
Seven years later Eastmond is gearing up for the FA Cup again. On Saturday he will play for Sutton United against AFC Wimbledon in the third round. It might sound low-key but for National League side Sutton it is a huge game, a local derby against beatable opponents, a chance to entertain a League One side on their expensive new 3G pitch at Gander Green Lane.
It is a long way from the top flight, but Eastmond is "buzzing" for the Wimbledon tie. He is looking forward to playing in a sold-out ground, in front of TV cameras, back in the public eye. Because while Eastmond is enjoying his football at Sutton United, he is determined to get back into the professional game. His manager, Paul Doswell, knows that Eastmond "does not deserve to be playing at this level", and is determined to get him a good move back up the ladder. Last month League Two Barnet made an offer for Eastmond but the player himself knew that it does not represent value for the club. But the 26-year-old from Battersea is confident that there will be more offers in time.
"Playing week-in week-out is what I want to do," he tells The Independent, standing at the side of the 3G pitch that has been his football home for the last 16 months. "Obviously I'm trying to get up the ladder, one way or another. My way is to keep playing here, and take it from there."
Eastmond looks fondly back on his time at Arsenal. He made his debut against Liverpool in what was then the Carling Cup, one of seven appearances in 2009-10. The next year he played three times, but after loans to Millwall, Wycombe Wanderers and Colchester he was released in 2013.
"I have very good memories at Arsenal, it's a great club and I learned a lot there," Eastmond remembers. "The boss was good with me." When Eastmond was released to join Colchester permanently, Wenger said to him: "Keep going and you will get back up there, you need to play week-in, week-out."
Eastmond's second season at Colchester was very good but then a managerial change affected his playing time and in 2015 he was released. That July, Eastmond went on a family holiday without a new club sorted for him. "He and everyone else thought he would get floods of offers," explains his manager, Doswell. "But people couldn't get hold of him. When he came back in August, he still didn't have a club."

Eastmond recalls the horrible feeling of all of his friends starting pre-season that August while he had no club to play for. "I was just doing training and fitness but it's not the same when you're training on your own," he recalls. "Other teams are going back, all your friends are training, but you're just at home, watching games on TV, highlights and Match of the Day. It's very frustrating but you've just got to bite your tongue and keep going."
It was Jamie Lawrence, the former Leicester, Bradford and Jamaica player who saved Eastmond's career. He is now a fitness coach working in Wandsworth, and Eastmond, also from south London, was working hard with him to stay sharp. Lawrence knew what a good player Eastmond still was so he called his good friend Doswell at Sutton United, then in the National League South, telling him Eastmond was looking for a club. Doswell did not need much convincing.
"I never thought about giving up," Eastmond looks back. "Once you get that in your mind, you're more or less done. You have to keep going, and soon enough you will achieve it."
Eastmond signed in September 2015 and shone last season as Sutton won the league. The National League is harder but Eastmond is still showing his class. Sutton only train on Tuesday and Thursday mornings, but Eastmond spends the rest of his time working hard on other parts of his game. Running, weights and technique, with Jamie Lawrence, to make him the best player he can be. Doswell says that there are not many midfielders in League One who are better than Eastmond and is sure that if the money is right he will get his move soon enough.
"Although I'm part-time here, I want to get back into full-time football," Eastmond says. "So I've got to keep that full-time mentality. Sometimes you have to take a knock-down to get back up. When you get knocked down you realise what you've lost, and that to get back in there you've got to put a shift in."
Register for free to continue reading
Registration is a free and easy way to support our truly independent journalism
By registering, you will also enjoy limited access to Premium articles, exclusive newsletters, commenting, and virtual events with our leading journalists
Already have an account? sign in
Register for free to continue reading
Registration is a free and easy way to support our truly independent journalism
By registering, you will also enjoy limited access to Premium articles, exclusive newsletters, commenting, and virtual events with our leading journalists
Already have an account? sign in
Join our new commenting forum
Join thought-provoking conversations, follow other Independent readers and see their replies