Sutton vs Arsenal: Five things we learned as Lucas Perez and Theo Walcott see off non-league side
The National League side's remarkable run through this season's FA Cup came to a sad but predictable end at Gander Green Lane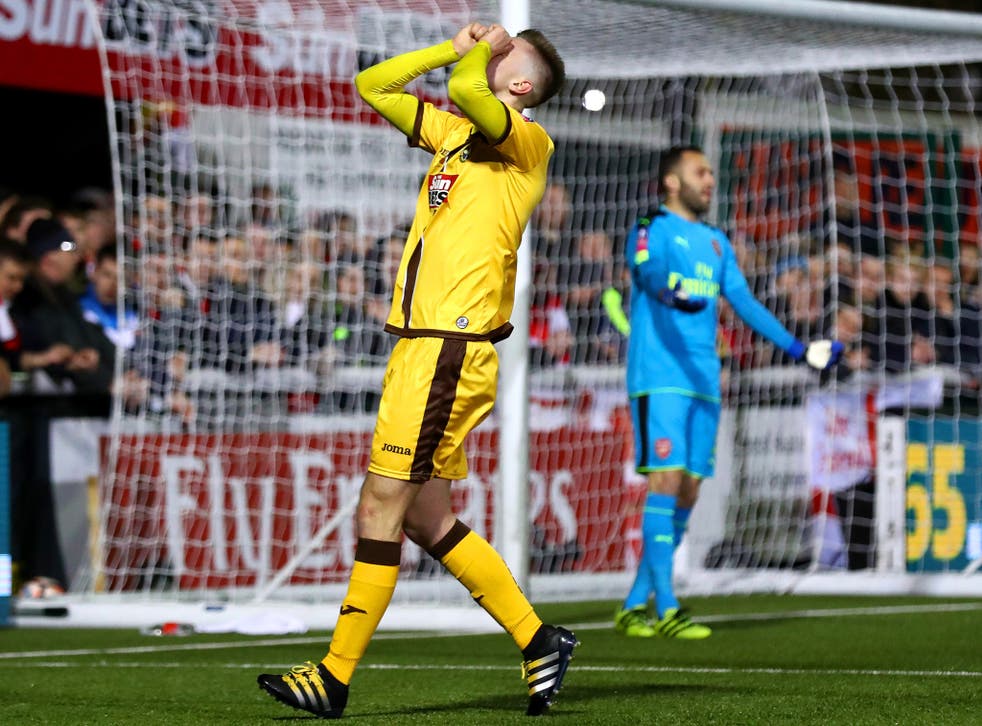 There's only so much romance to go around
With all the momentum behind the hosts and Lincoln awaiting them in the next round, there was a real sense prior to kick-off that Sutton United could perhaps do the unthinkable.
The non-league club had approached the build-up to this tie with a quiet and cautious optimism, rather than simply treating it like their big night out.
Unfortunately, there's only so much romance to go round in this competition. From the moment Lucas Perez's cross-cum-shot went in, more by chance than design, you felt the minnows' luck had run out.
It's easy to forget after a weekend of shocks, but there are reasons why the big boys often win.
Wenger unmoved while panic surrounds him
So despite all the speculation, despite the pressure and tetchy press conferences, Arsene Wenger did not blink. The side he named for this game showed no hint of the panic apparently surrounding the club.
You could have forgiven a knee-jerk, full strength starting line-up, but Alexis Sanchez was named among the substitutes, Mesut Ozil did not make the matchday squad and the likes of Rob Holding and Jeff Reine-Adelaide were trusted to start.
We should have known. Wenger is a man of principle, and though that is often his downfall, he was always unlikely to go for this much-needed win at all costs.
Ospina still too erratic to be trusted
That being said, that he continues to show faith in David Ospina is a worry. Petr Cech may not be in the form of his career, but even in the cups, he is a better option than the Colombian.
It should have said enough that in Munich last week, Ospina played well and yet still conceded five. Last night he was up against far more modest opponents and could not go 90 minutes without a hairy moment.
Adam May, Sutton's Portsmouth loanee, really should have punished him just before the break when he picked out the 'keeper's misplaced pass. If he had, this would have been a totally different Cup tie.
There is talent at the lower levels
Although they were ultimately on the end of a predictable defeat, nobody will have come away from Gander Green Lane feeling as though Sutton were disgraced.
The gulf between these two clubs may be large, but it was bridged in brief moments by Sutton's most talented individuals, who seriously troubled their opponents on more than one occasion.
Roarie Deacon, in particular, showed that there is talent lower down the pyramid that can compete at the elite level. If only his first club, Arsenal, had nurtured it.
Cup is now the elite's responsibility to English football
Many Premier League sides treat this competition like a debt they are forced to repay. And actually, that's quite a fitting attitude to take forward.
Certainly, as more and more money flows into English football and the FA Cup's status diminishes, the responsibility of elite clubs to those lower down the pyramid only grows.
This tie was a reminder of the competition's unique nature, pitting little against large, with profits and the spotlight shared by both clubs. The Cup has changed, sadly, but it remains as vital as ever.
Register for free to continue reading
Registration is a free and easy way to support our truly independent journalism
By registering, you will also enjoy limited access to Premium articles, exclusive newsletters, commenting, and virtual events with our leading journalists
Already have an account? sign in
Register for free to continue reading
Registration is a free and easy way to support our truly independent journalism
By registering, you will also enjoy limited access to Premium articles, exclusive newsletters, commenting, and virtual events with our leading journalists
Already have an account? sign in
Join our new commenting forum
Join thought-provoking conversations, follow other Independent readers and see their replies