Arsenal sink plucky Sutton to reach FA Cup quarter-finals as Theo Walcott celebrates his 100th goal for Gunners
Sutton United 0 Arsenal 2: Goals from Lucas Perez and Theo Walcott ended the fairytale for the fifth round's lowest-ranked team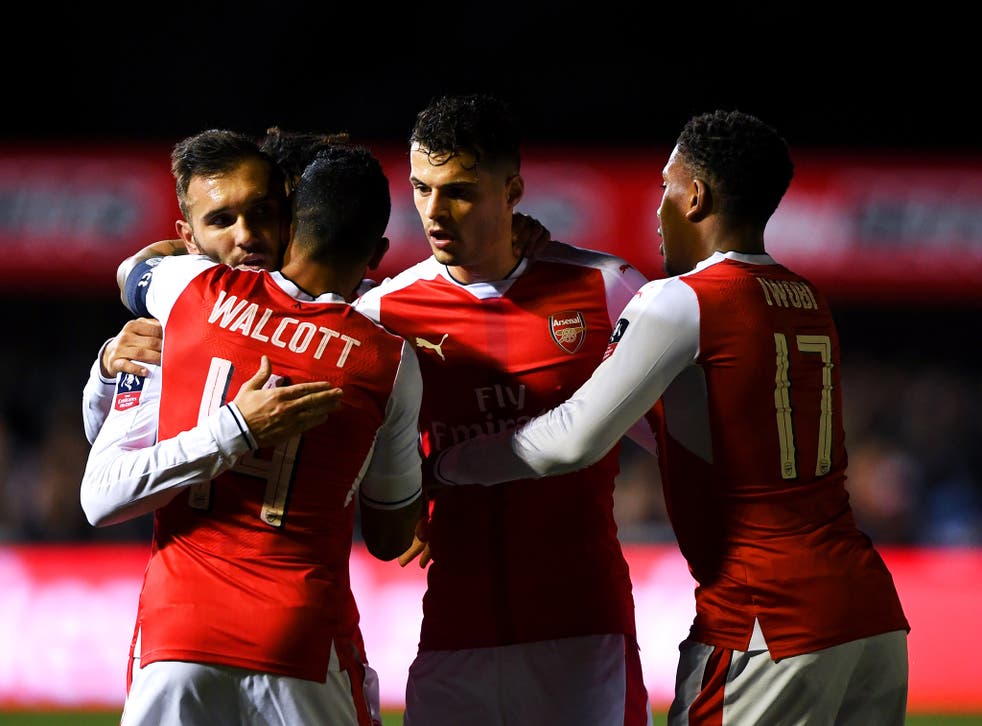 In the end everyone got what they wanted from this bizarre football carnival played on plastic. Arsenal won the match, diluting bitter memories of last week's nightmare in Munich. They recovered from one of their worst defeats in living memory in the only way they could, with a win.
Now they will be in the quarter-finals and, hosting Lincoln City, they can reasonably start to think about their Wembley semi-final two months from now. If this is to be Arsene Wenger's last Arsenal season then the best place for it to end would be Wembley on 27 May. They will not win the Premier League or Champions League, but if they can win the FA Cup, for the third time in four years, it would be a happy goodbye.
Sutton United will not be at Wembley for the semi-final or final, but this evening went perfectly for them beyond that. They kept their pride, holding Arsenal to a narrow 2-0 win for which they had to work very hard indeed. They gave the best possible account of themselves, enjoying a spell of pressure in the second half which Arsenal clearly did not enjoy. Roarie Deacon hit the bar from distance and had he scored, against the club where he learned the game, it would have been one of the great cup moments.
Beyond the team itself, the whole club put on a perfect cup show, happy and spirited, the type of evening this club was not built for and will never have to put on again. But the whole circus rolled through it smoothly, and for the last 20 minutes they even got to see Alexis Sanchez play. He will certainly not be back.
There was a gleeful pitch invasion at the end which overspilled into silliness, with one or two minor scuffles and the police having to intervene. One plastic bottle was gently lobbed towards Arsene Wenger and in the first half there was an intruder on the pitch. But this was still, despite all of that, a positive occasion, a sign of what this competition can mean when it brings together two teams of very different outlooks.
There is a world of difference between Arsenal and Sutton but what mattered most here is that they played out a recognisable match, with good and bad spells for each team. It was certainly a more even game than Arsenal's last one, last week at the Allianz Arena, and that is worth marking.
Everything around the match, though, was unlike any game Arsenal had played before. Their coach did not trundle through the crowds outside until 70 minutes before kick-off. When the players finally came out to warm-up, they had to fight for space with mascots, onlookers, balloons and autograph-hunters. Clearing space for the players to get on and off the pitch, something that never even has to be done at elite level, was an operation.
When the match begun Arsenal had to get used to a wet skiddy bouncy surface, and a Sutton team playing with energy and honesty, capable of causing problems. There was never much flow to Arsenal's attacks, given the unfamiliar team and conditions. But they did have better players and after 26 minutes, that gave them the lead. Arsenal broke down the right, moving the ball to Lucas Perez. He was in a crossing position but he cut back in on his left and whipped the ball at goal. It flew past Theo Walcott and into the bottom corner.
But that did not itself kill the contest. Arsenal were still capable of making their own errors and when David Ospina kicked straight out to Adam May, he was fortunate not to be punished. Arsenal went in at the break just one goal ahead, needing to turn it up after the break. That is what they did, though, and with Alex Oxlade-Chamberlain on for the struggling Mohamed Elneny they played with more zip and finally started carving Sutton open.
With swift movement and passing, they were finally at home on the surface, and soon enough they doubled their lead. Oxlade-Chamberlain started the move from midfield, finding Alex Iwobi who played in Nacho Monreal at the far post. He drove in a low cross and Walcott swept it in at the far post.
Maybe the 2-0 deficit relaxed Sutton, allowing them to open up, but they started to cause more problems than ever before. Maxime Biamou shot straight at Ospina and Jamie Collins thundered a header over the bar from a corner. Then, closest of all, Deacon smacked a 25-yard shot onto the crossbar before Ospina knew what has happened.
But that pressure soon dissipated as the Sutton players tired. Arsenal brought on Sanchez, to the applause of the whole crowd, and the end of the game was an exhibition in whether one of the best players in the world could score at a team trying to stay in the National League. He could not, but it did not matter. Everyone had got what they came for, although for Arsenal, at least for a while, the show will go on.
Register for free to continue reading
Registration is a free and easy way to support our truly independent journalism
By registering, you will also enjoy limited access to Premium articles, exclusive newsletters, commenting, and virtual events with our leading journalists
Already have an account? sign in
Register for free to continue reading
Registration is a free and easy way to support our truly independent journalism
By registering, you will also enjoy limited access to Premium articles, exclusive newsletters, commenting, and virtual events with our leading journalists
Already have an account? sign in
Join our new commenting forum
Join thought-provoking conversations, follow other Independent readers and see their replies