Swift and clinical Tottenham swat Swansea aside with more telling tests still to come
Swansea 0 Tottenham 3: Two goals for Christian Eriksen and another for Erik Lamela saw Spurs safely into the last four of the FA Cup for a second successive year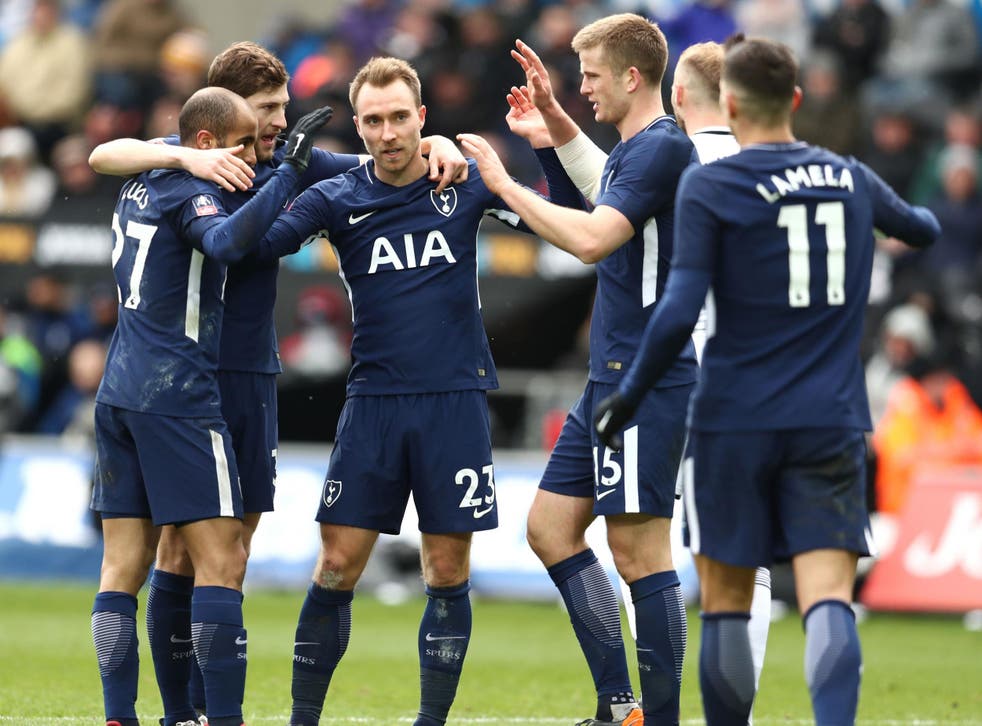 For Spurs, this was the easy bit. It didn't have to be, of course, and it was to their credit that this quarter-final was anaesthetised as swiftly and summarily as it was. In a stiff spring chill, and to the chagrin of their own fans, Swansea simply froze: three goals, all of them from outside the penalty area, put Tottenham in the FA Cup semi-final for the second successive season.
Now comes the difficult bit. Mauricio Pochettino's increasingly familiar refrain that winning a cup competition should not be Tottenham's priority is beginning to sound less and less like a psychological tactic and more like a genuine belief with every repeat airing. But the 27 years without an FA Cup, the seven straight semi-final defeats, the decade-long trophy drought, are beginning to feel less like a quirk of history and more like serial underperformance on the big stage.
The trophy itself is of less importance here than what it represents. For all the strides Tottenham have made in the Premier League, their record in knockout competition remains modest. If Tottenham want to answer the accusation that they are a side who struggle to raise their level for the big stages, to win the one-off games, then Wembley on May 19 would be an excellent place to start.
Swansea, of course, have recent experience of silverware, having lifted the League Cup in 2013, and for all their tribulations in the league this season, there was a genuine buzz at the Liberty Stadium ahead of their first FA Cup quarter-final since 1964. That had evaporated long before full-time, as a lacklustre side were swamped in midfield, pinned back on their own 18-yard line and unable to knit anything together going forward.
You could question manager Carlos Carvalhal's tactics, starting with a five-man defence that essentially ceded the centre of the pitch and left Tom Carroll and Ki Sung-Yeung horribly exposed. But even when Swansea switched to a four in the second half they were still dominated, and as the game petered out, the suspicion lingered that their failure had been one of application as well as approach.
That much was evident as Tottenham sauntered into a largely unopposed two-goal lead by half-time. First Christian Eriksen curled the ball home left-footed from 20 yards, having been allowed to run unchecked from his own half before exchanging passes with the excellent Erik Lamela.
Shortly before the break, Lamela won the ball from Kyle Naughton and rolled it with the sole of his foot along the front of the Swansea defence, cruelly and with relish, as if teasing cats with a yo-yo. His finish, low with his weaker right foot, was no less dismissive.
That was how easy it was for Tottenham. Lucas Moura had another good game, mesmerising Swansea with his pace and flight, startling them with his defensive tracking, sending Marcus Olsson deliciously for a bagel in the first half. Eriksen drilled in a third goal on the hour, and that more or less sealed it.
For Swansea, the disgruntlement of the home support said it all. Tammy Abraham was superbly effervescent out of possession but less effective in it. But Naughton was poor, Sam Clucas a ghost, their only real goal threat a fine double save by Michel Vorm to deny Olsson and Abraham early in the second half.
They will now refocus their energies on their relegation battle, having lost to the clearly better side on the day. Meanwhile, Tottenham's last remaining hope of silverware this season remains alive. Their 21st FA Cup semi-final awaits. And if this game wasn't a priority for them... well, they did a good job of hiding it.
Register for free to continue reading
Registration is a free and easy way to support our truly independent journalism
By registering, you will also enjoy limited access to Premium articles, exclusive newsletters, commenting, and virtual events with our leading journalists
Already have an account? sign in
Register for free to continue reading
Registration is a free and easy way to support our truly independent journalism
By registering, you will also enjoy limited access to Premium articles, exclusive newsletters, commenting, and virtual events with our leading journalists
Already have an account? sign in
Join our new commenting forum
Join thought-provoking conversations, follow other Independent readers and see their replies