Tim Sherwood admits he is unsure if he will still be in charge for Tottenham's next game
Sherwood wants the job in the long-term, but admits there will be some difficult competition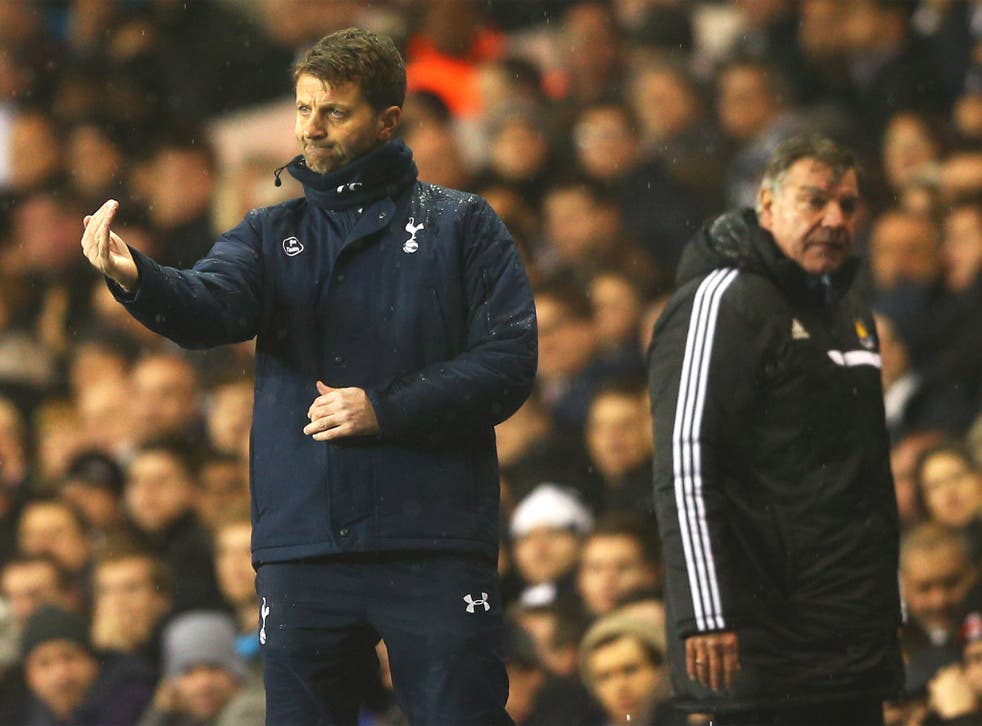 Tim Sherwood does not even know whether he will be in charge of Tottenham Hotspur for Sunday's game at Southampton.
The interim head coach took his first match in charge, a 2-1 Capital One Cup defeat to West Ham United, but could not say afterwards whether his tenure will last as long as this weekend.
"I need to have a chat with the chairman and see what they're thinking," said Sherwood after the game. "I don't know, to be honest. The immediate future is up in the air, that's as much as I know. It's up to whoever's in charge on Sunday and training on Friday to get them prepared." Sherwood is currently scheduled to take a press conference at Spurs' Enfield training ground on Friday.
Sherwood said that he would like the job in the long-term, but admitted there would be some difficult competition. "There's a lot of big names being bandied about to take this job, as you would imagine. I've got to be in the frame, but it's not my decision unfortunately."
It has been a rapid rise for Sherwood. This was his first ever match taking a senior team. "It's madness, isn't it really. I'm up for a challenge, I always have been. I'm very opinionated. I know a certain way I need to play. I think I can manage men, deal with them, be honest with them. The decision that's going on, is out of my hands unfortunately."
Sherwood had Spurs play a very different style – an attacking 4-4-2 – and suggested the players were not ready to play at that intensity. "I think to be honest, they ran out of a bit of steam," he said. "I think they are fit enough to play a certain way but I wanted to change the way we wanted to play"
"I think they are fit enough, but to play a certain way but when it's a complete change of mindset of how I asked them to play. I asked them to go a bit more gung-ho, and up and at them. You need to acclimatise to that."
Sherwood was very disappointed with the result, as Spurs conceded two late goals. "It's a major disappointment to the lads in there. They are absolutely sick in there and so am I."
Andros Townsend went off with a pulled hamstring in the second half.
Sam Allardyce was delighted with the win, that come with a much-changed side. "We hope it's a big, big lift for the players," he said. "It's a brilliant effort from the squad today and a great night for the West Ham fans as it is twice on the trot and I know how much it means to them."
Join our new commenting forum
Join thought-provoking conversations, follow other Independent readers and see their replies