Chelsea toil comes to nothing as Harry Kane hands Tottenham the advantage in Carabao Cup semi-final
Tottenham Hotspur 1-0 Chelsea: A narrow VAR call saw Spurs awarded a first-half penalty kick, which Kane duly converted for a win in the first leg of this semi-final clash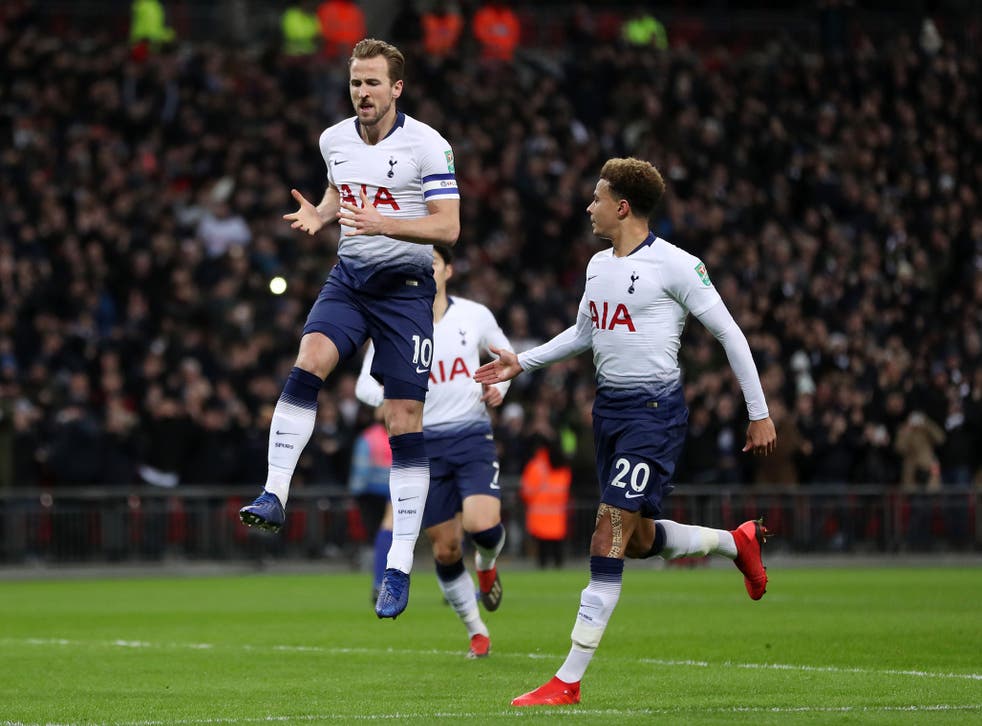 A lead as narrow as that VAR call, and maybe a little lesson in minimalism, from a Tottenham Hotspur that now look so much cannier than this Chelsea side.
Mauricio Pochettino's side had so much less of the ball, and so fewer shots on goal, but still did enough for this first leg. They did what Chelsea so often used to do to them. Thanks to Harry Kane's VAR-awarded penalty, Spurs won this League Cup semi-final first 1-0, and also beat Chelsea for the first time in a cup game since the 2008 final of this competition - pointedly, the last time they won a trophy.
Whether they can actually go and knock them out to reach another League Cup final is another matter, but will depend on whether Chelsea can do what they so rarely looked like managing in this match: using all that possession to actually score.
The days when Spurs had a complex about this club - especially in the cups - now seem long gone. So too, however, do the days when Chelsea were defined by a prominent striker.
The contrast with Harry Kane was all the more pointed. His one burst was enough, his one goal enough, at least on the night.
Tottenham vs Chelsea: Player ratings

Show all 23
That was one of those moments where you wonder how there was any debate about VAR at all, since it completely killed any tedious debate about whether the decision was incorrect. The replays showed that Kane was onside when put through on 27 minutes, and that there was contact from Kepa Arrizabalaga as the striker went down.
No mistakes there, and none from Kane. He powered the ball past the goalkeeper for another goal from a penalty.
If that was unsurprising, so was the source of the penalty.
And if the decision vindicated VAR, it did anything but for Sarri's defensive approach. Their high line was repeatedly caught out by the pace of Spurs over the top, particularly that of Son Heung-Min. Pochettino's side might even have had a penalty as early as the third minute, when the Korean went down under pressure from Andreas Christensen - who especially struggled with those breaks, and didn't have his best night as he later missed one of Chelsea's rare chances from a set-pieces.
This was the greater problem for Chelsea. There was no such stretching of the play at the other end. With Eden Hazard as a false nine, Chelsea kept having to come back out, and it both constrained most of their attacking play and increased the focus on Callum Hudson-Odoi.
He had been brilliant on Saturday against Nottingham Forest when playing wide of Alvaro Morata, as he often put perfect crosses on the striker's head and set up two goals with his deliveries. There was just no target here, though. With Chelsea saying that Morata was out with a minor hamstring injury, and Hazard so often drifting out of the position, Hudson-Odoi instead had to cut in every time and shoot himself.
The Belgian evidently began to feel similarly, as one moment in the second half saw him go and retrieve the ball and fire a low long-range effort at goal, one that Paulo Gazzinaga caught.
This was also the frustration for Chelsea. They were naturally having a lot of possession in midfield - and actually doing a very good job of playing around Dele Alli and Christian Eriksen, so much so that they were playing them out of the game - but were again struggling to convert it into something more damaging.
It was a lot of ball, but a lot of toil, with little in the way of opportunities.
Kante had actually been their most involved attacking player, but that was mostly through sudden bursts rather than the subtler stuff his teammates were attempting.
It got so frustrating for Chelsea, in fact, that there was even a moment when Jorginho attempted something he so rarely does: a long shot. It was nowhere near as precise as one of his many, many short passes, as the ball flew well over the bar.
Sarri eventually sacrificed that propensity for possession by bringing on someone direct in Pedro, and someone to aim for in Olivier Giroud.
The pattern had already been set, though, and it was not dictated by Chelsea's passing patterns.
It was dictated by the fact Spurs are now a more mature team. They now must prove they are a more opportunistic team, by taking the chance to reach that final in the second leg at Stamford Bridge.
The only consolation for Sarri, after all, is that Tottenham's lead remains as narrow as that VAR call.
Register for free to continue reading
Registration is a free and easy way to support our truly independent journalism
By registering, you will also enjoy limited access to Premium articles, exclusive newsletters, commenting, and virtual events with our leading journalists
Already have an account? sign in
Register for free to continue reading
Registration is a free and easy way to support our truly independent journalism
By registering, you will also enjoy limited access to Premium articles, exclusive newsletters, commenting, and virtual events with our leading journalists
Already have an account? sign in
Join our new commenting forum
Join thought-provoking conversations, follow other Independent readers and see their replies