Tottenham were good enough to beat Manchester United. They bottled it
Too often in the past Tottenham's failures have been put down to character, when in fact they have just not been good enough. They should have won this game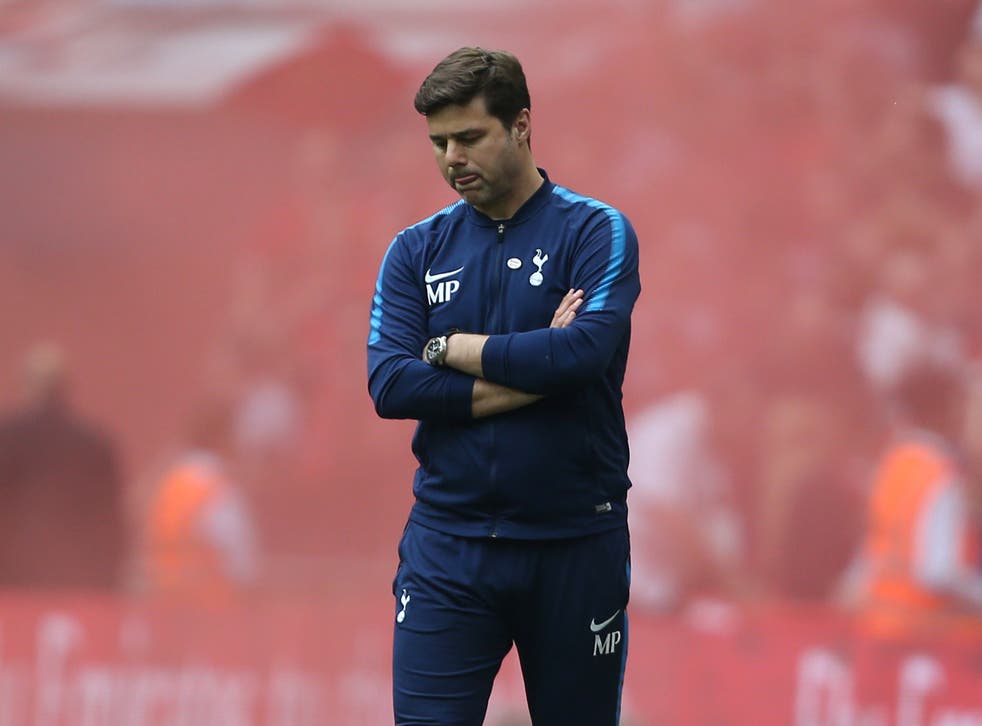 Not every defeat is a bottle, but this one was. Losing to the better team is a defeat, but being the better team and losing is a bottle.
Tottenham were so quick, so good, for the first 20 minutes here that it felt as if they would finally break their semi-final curse. They were just as good as they had been when they beat Manchester United 2-0 back in January. This game was heading for a repeat. Until Tottenham found a way to lose it.
Too often in the past Spurs' failures have been put down to character, when in fact they have just not been good enough. But it is because this team is so good that this defeat deserves these questions. Because Pochettino has transformed the club. Because they are now a fixture in the Champions League. Because they have steamrolled Liverpool, Borussia Dortmund, Real Madrid, Arsenal and United themselves here this season. They were good enough to win this game, as they showed in the first 20 minutes.
The start here was as good as anything Spurs have produced this season. Last Saturday when Manchester City came here, Tottenham did not get a touch of the ball for half an hour. But today they seized control of this game, sharper and stronger with every tackle and pass. And after Dele Alli put them 1-0 up, Christian Eriksen and Harry Kane could have made it more.
What was so frustrating for Tottenham – and we have seen this before with them – is that when big moments went against them, they froze. The first goal, after Mousa Dembele lost a 50-50, hit their rhythm and they never played that well again. The second, a good finish after four defensive errors, killed them off. Despite controlling possession they could not create a single serious chance in the second half. All of the speed, verve and power of Spurs at their best had drained out of their game. They were left, on their biggest day in years, blindly going through the motions in the second half, as any chance of an equaliser dwindled away.
It was slightly reminiscent of Spurs' last FA Cup semi-final, which they lost to Chelsea 4-2 here last year. That day they played well in parts only for all of the key details to go against them, and they lost the game 4-2. Half a performance, but no result.
At least that defeat could be put down to inexperience, the fact that Chelsea were the best team in the country last season and could throw on Diego Costa and Eden Hazard from the bench. But while United attacked efficiently and defended solidly, Spurs do not have the same mitigation here today.
On Thursday afternoon Pochettino spoke about how today's team were more experienced than they were one year ago. About how, having won so many big home games here this year, they now believed they could beat anyone. And how the key would be delivering the performance Spurs were capable of.
The way Spurs started the game proved Pochettino right: they did play like a team with more experience, who believed they could beat anyone, ready to replicate their Real Madrid performance. But the way they reacted to conceding undermined everything he said.
Pochettino has done so much for Spurs and it is all built on his process, his philosophy, and the constant quest for improvement. That is why Spurs have gone from the Europa League to the Champions League, from chaos to contending, from the second team in north London to the first.
But these big games are decided by moments more than process, and the way Spurs froze here when things went against them shows what this team still has to do. Of course it is better to get this far and keep falling than to not get here at all. But it is the fact that Spurs could have won this, and should have done, which makes their own mental block more infuriating than ever.
Register for free to continue reading
Registration is a free and easy way to support our truly independent journalism
By registering, you will also enjoy limited access to Premium articles, exclusive newsletters, commenting, and virtual events with our leading journalists
Already have an account? sign in
Register for free to continue reading
Registration is a free and easy way to support our truly independent journalism
By registering, you will also enjoy limited access to Premium articles, exclusive newsletters, commenting, and virtual events with our leading journalists
Already have an account? sign in
Join our new commenting forum
Join thought-provoking conversations, follow other Independent readers and see their replies