Mauricio Pochettino insists the next Harry Kane will not be loaned out by Tottenham
Kane spent a spell at Millwall in the 2011/12 season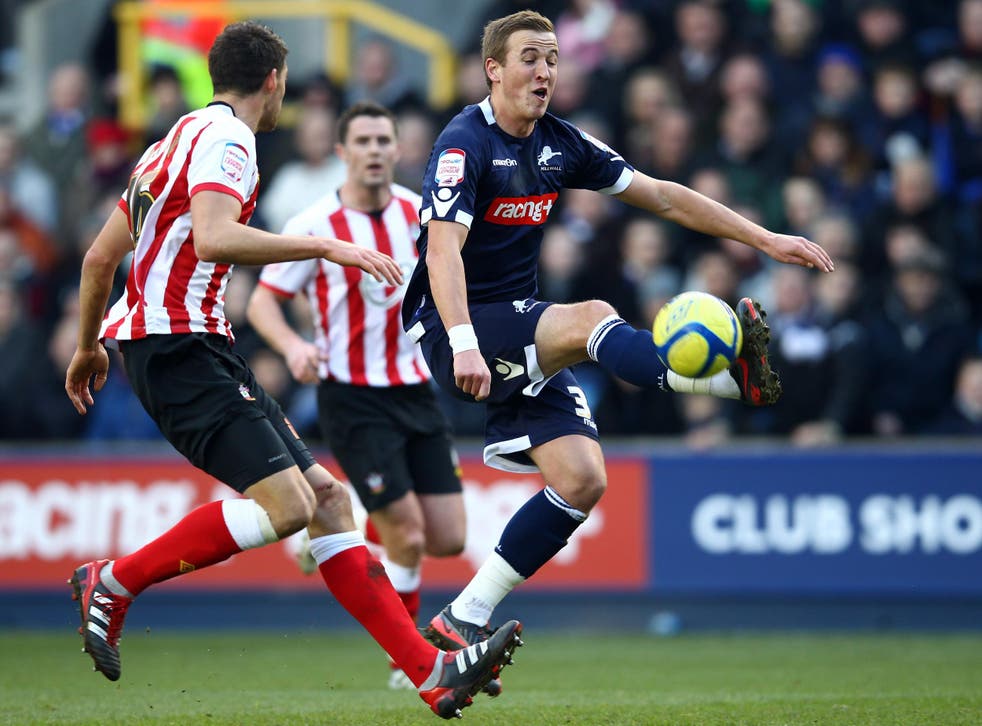 Harry Kane says that he became a man during his loan spell at League One Millwall in the 2011/12 season, but the best of the next generation of Tottenham youngsters will not get the same opportunity.
Spurs manager Mauricio Pochettino does not believe in loaning out his best young players and would rather keep them at Tottenham, so they can learn from his coaching staff and also senior players, such as Kane.
This is an unusual policy, at odds with most Premier League sides, and although it was first revealed in The Independent last August, Pochettino spoke about it at length for the first time at Friday afternoon's press conference. It is the policy that has seen the cream of Spurs post-Kane generation, Harry Winks, Josh Onomah and Cameron Carter-Vickers, stay at the club to develop rather than going out to play competitive football elsewhere.
Winks is likely to start for Spurs on Sunday while Onomah and Carter-Vickers could also be involved against Millwall. Those three have been kept at Tottenham under Pochettino so that the coaching staff can make them as good as they possibly can be. Only then will Pochettino decide whether or not they are good enough to play for Spurs. It is the opposite of the old approach of development through loans.
"Nowadays it is not so important for young players to move," Pochettino said. "But you need to respect every opinion. I prefer to have our young players here, and offer them the potential to be first-team players, than to send them out on loan."
Pochettino was keen to point out that some players benefit from being loaned out. But the reality at Spurs is that the players who are loaned are the ones who Pochettino does not think are good enough to play for him. Since Pochettino arrived in 2014, no one has been loaned out and then come back and made a serious impression on the first team. "If you don't get the opportunities to be involved with the first team, like with Harry Kane or other players," Pochettino said, "it is best to move and go to another club."
The good players, though, Pochettino wants to keep. "When you give those players the opportunity to train with the senior squad, that is an even better experience," he said. Pochettino pointed to the case of 18-year-old striker Kazaiah Sterling who, along with Marcus Edwards, is set to stay at Spurs next season to learn rather than being sent away on loan.
"One example is Kazaiah Sterling," Pochettino said. "Next season he will be here and it means every day there is an under-18 striker training with Harry Kane. There is no better teacher to learn from. Where would we send him? It would be a completely different philosophy. If you don't have the opportunity to train every day with the first team, it is true that it is good to grow up in another place and come back. But here we try to provide the facility to train with the first team for any player who can cope with the pressure."
Ultimately, it comes down to the fact that Pochettino is so particular about his own brand of football, and the quality of his coaches, that he does not want other coaches with different approaches getting their hands on his players. He thinks talented youngsters will learn more from training with his staff than from playing with a different club.
Winks has never been on loan and he told The Independent in January how he had been kept at the club by Pochettino last season to develop rather than going elsewhere to play. "The manager wanted me in and around it, moulding me with the first team, getting into his way of thinking," Winks said. "A loan got mentioned once but he said 'no, he's not going'. I knew the fact that manager didn't loan me out was a massive sign I was in his plans." On Sunday Winks is likely to make his 11th start of his breakthrough season, a triumph of Pochettino's approach to the issue.
Of this Spurs squad, Kane, Danny Rose and Kyle Walker all developed when out on loan in the Championship and League One, especially during the Harry Redknapp and Andre Villas-Boas years. But for Pochettino that was a different era with a different coaching staff, when it made more sense for the best players to go. "In different periods, something like that can work," he said. "When there was a different profile of coaching staff, for example. In that moment, it was good for young players to go on loan and move." But now, under his expert tutelage, it is not.
Join our new commenting forum
Join thought-provoking conversations, follow other Independent readers and see their replies