Javi Gracia admits being Watford boss is 'danger' after losing his first game to Southampton in the FA Cup
Watford have only managed two wins in their last 13 - and only one of those as been in the Premier League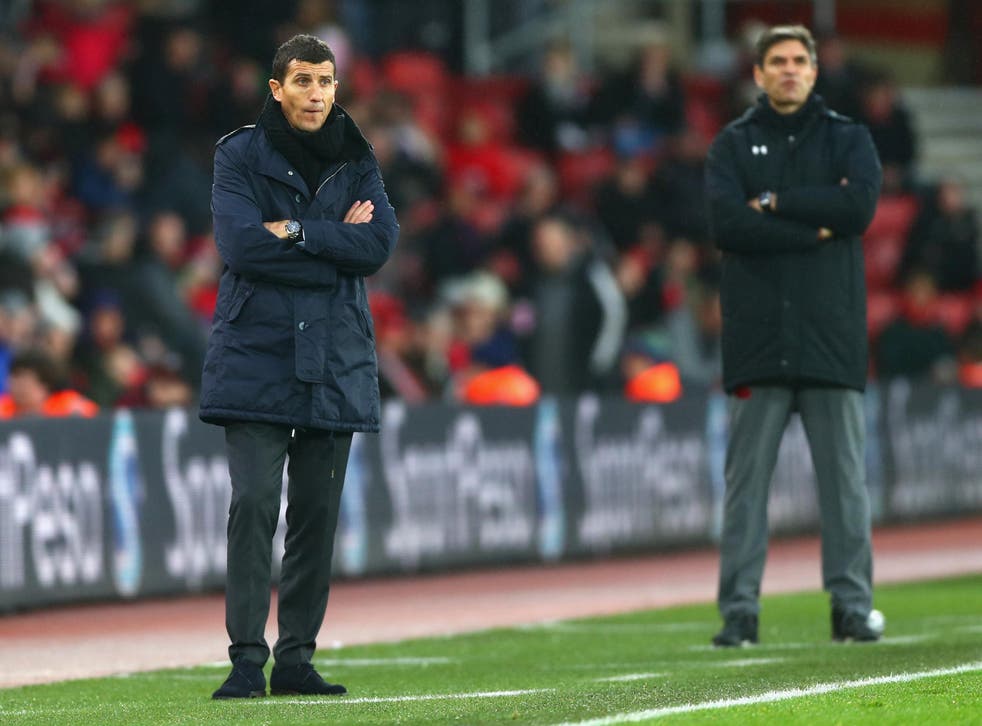 Nobody could accuse Javi Gracia, the new Watford head coach, of going into a job notorious for its lack of security with his eyes closed.
Asked after his first game in charge about being the ninth occupant of the Vicarage Road hotseat since July 2012, he said: "You are on fire, we say in Spanish, meaning there are many risks and you are in danger. And I don't see any big difference here to other countries currently."
But now he has also had his eyes opened to the scale of the task he has taken on. Watford have managed only two wins in 13 games, one in the Premier League and one in the FA Cup, and are a mere four points above the relegation places.
FA Cup fourth round in pictures

Show all 42
3,500 fans followed them to St Mary's on Saturday but plenty of them jeered more than they cheered as their team had only one shot on target - and even that looked suspiciously like a misdirected cross from Richarlison. After Southampton's 1-0 win, stewards headed off a potential confrontation between spectators and Christian Kabasele and Jose Holebas.
"I don't understand everything the fans say or sing yet," Gracia said. "But what I can do is try to get the team playing better and getting good results. And you know if you do that fans are happy and problems disappear.
"Out of the FA Cup, we have more days to work in two or three weeks' time. We need time to improve and work. I don't know how long it will take to get over my ideas to the players. We tried to improve against Southampton and maybe did something – but it is hard to give an exact time."
Time, though, is always in short supply in the Premier League, especially this season, when almost every team is either a relegation rival or chasing a Champions League place. Of Watford's next eight opponents, Stoke, West Ham, West Bromwich Albion and Bournemouth fall into the former category, Chelsea, Arsenal and Liverpool into the latter.
"Any of 10 teams could go down and we have to make sure we are not one of them," Ben Watson, the midfield player, said. "It is the first week [under a new manager] and we are not going to all of a sudden become this unbelievable football team in the space of four or five days. We have got to go to Stoke and it might not be pretty, it might be grinding it out for 89 minutes and getting a 90th minute winner and that would be great.
"Fans have their opinion on everything and they pay their money to come and watch the team and if they think we haven't performed they have the right to say things. That is football in general, when you are winning games it is great and when you are losing, they can turn against you. But it is down to us to put it right and get them back onside."
Register for free to continue reading
Registration is a free and easy way to support our truly independent journalism
By registering, you will also enjoy limited access to Premium articles, exclusive newsletters, commenting, and virtual events with our leading journalists
Already have an account? sign in
Register for free to continue reading
Registration is a free and easy way to support our truly independent journalism
By registering, you will also enjoy limited access to Premium articles, exclusive newsletters, commenting, and virtual events with our leading journalists
Already have an account? sign in
Join our new commenting forum
Join thought-provoking conversations, follow other Independent readers and see their replies