West Ham United 0 Manchester City 3 match report: Stroll in park as ruthless City show little mercy in Capital One Cup semi-final
9-0 aggregate win shows gulf in class between the two sides
Jack Pitt-Brooke
Tuesday 21 January 2014 22:52 Comments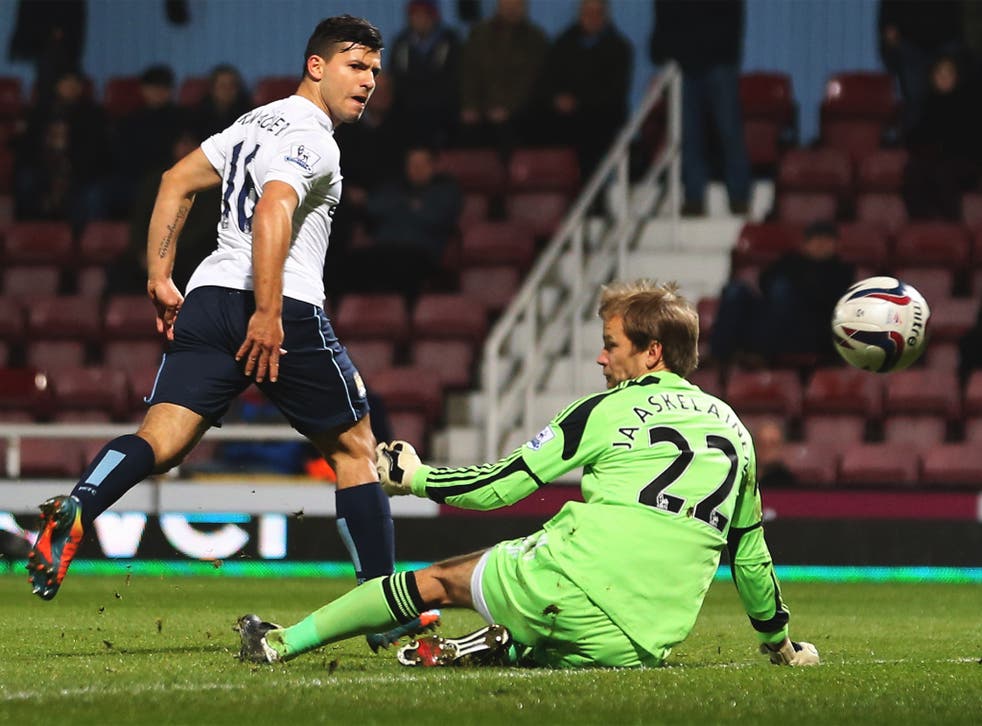 This was one of the strangest, flattest, easiest semi-finals that will ever be played in the League Cup. Manchester City strolled to a 3-0 away win that was desperately simple, providing the unnecessary confirmation of their place in the Capital One Cup final, completing their 9-0 aggregate defeat of West Ham United.
Under normal circumstances, losing 3-0 at home might be a shock but even this performance, short on ideas and spark, riddled with defensive errors, was no real surprise. Allardyce said before the game that he wanted a performance, to win on the night, and to get injured players back fit. He did not get the first two and while Andy Carroll did play 45 engaging minutes, he lost Joe Cole and Mohamed Diame to groin and knee injuries in the second half.
"The real negative side," said Allardyce afterwards, "bigger than the defeat, is two more injuries." It is a shame that a cup semi-final should only matter in terms of setting up the last four months of the league season, but all competitive tension had been burned out of this tie in the first leg in Manchester.
It made for a unique atmosphere at Upton Park, with an official attendance of 14,390, but some blocks almost entirely deserted. Never before can a semi-final have been played in front of such hopeless disillusionment.
West Ham did not give their supporters much to cheer about and when, at 1-0 down on the night and 7-0 on aggregate, they greeted a few consecutive passes between claret and blue shirts with ironic shouts of 'ole'. That was one of West Ham's better spells but this was barely a recognisable football match, with nothing at stake, in front of a quiet crowd, and Manchester City simply scoring goals when it suited them.
In pictures: West Ham United 0 Manchester City 3 (agg 0-9)

Show all 11
City chose to go ahead in just the third minute, Rony Lopes dashing down the left wing and crossing to Alvaro Negredo at the far post. It was shamefully simple, and Allardyce admitted afterwards that it was "so difficult to take, there is nobody to blame but your defenders". The opening goal did not even kill off the contest, which was dead on arrival.
West Ham threatened to improve, but then City scored again. Lopes ran through the middle, shrugging off far bigger, more experienced men in Alou Diarra and Roger Johnson, before playing the ball through to Aguero. Razvan Rat and Matt Taylor collided, and the finish was simple.
This was just Lopes' second senior start but the 18-year-old looked more than comfortable, enjoyably direct, skilful and enthusiastic. The return of Aguero, making his first start for nearly six weeks, was more important. He scored on substitute appearances against Blackburn Rovers and Cardiff City and seems to be back in full form already, which will be crucial as City chase the quadruple.
Pellegrini must know how unlikely that is, and simply said afterwards he hopes City continue playing like this. "We are the only team still in four competitions, the only team that can do it," he said. "We are going to continue with the same winning and ambitious mentality."
Even as City scored goals 104, 105 and 106 of this unprecedented season, they never looked at full capacity. The second half was much quieter, West Ham starting on top and having two penalty shouts turned down before Negredo took it on himself to add another, charging through far less interested and committed players before lifting the ball over Jaaskelainen. Had City wanted more, they certainly could have had them. Allardyce must be pleased that they did not. Chelsea, next Wednesday, might not be so relaxed.
Man of the match Lopes.
Match rating 3/10.
Referee C Foy (St Helens).
Attendance 14,390.
Register for free to continue reading
Registration is a free and easy way to support our truly independent journalism
By registering, you will also enjoy limited access to Premium articles, exclusive newsletters, commenting, and virtual events with our leading journalists
Already have an account? sign in
Join our new commenting forum
Join thought-provoking conversations, follow other Independent readers and see their replies