West Ham players join David Moyes in condemning Arthur Musauku for spitting at opponent during Wigan loss
Musauka could receive the full six-game ban for his actions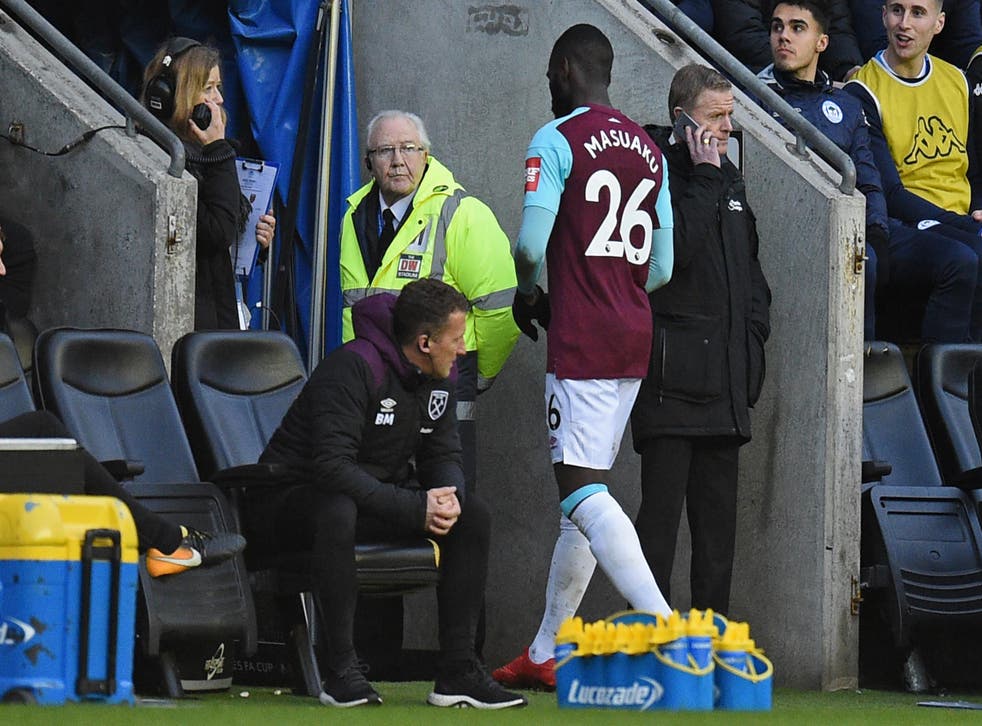 The only positive to come from Arthur Musauku's disgraceful spitting incident in West Ham United's 2-0 loss to Wigan Athletic on Saturday has been the universal condemnation of his actions by those closest to him.
Football players - and their managers - often circle the wagons after a contentious moment, claiming a disservice has been done here or an injustice done there.
In certain circumstances though, no mitigation is offered and Musauku's decision to spit on Wigan's Nick Powell in the 49th minute of West Ham's FA Cup tie in Lancashire was a moment of madness nobody has sought to defend.
FA Cup fourth round in pictures

Show all 42
"I'm surprised that Arthur could do something like that and I think everybody, including the manager, is surprised," Angelo Ogbonna, the West Ham defender said. "It happened and he has apologised already. I think it's not like him because he's a nice person. On the pitch, I didn't see anything, so for me it was so difficult to judge. He's good guy. He made a mistake and he has to take the responsibility."
Yes he does. Musauku could be looking at a lengthy spell on the sidelines if the FA deem his offence to be worthy of the full six-game ban that such actions can warrant.
Referee Chris Kavanagh appeared to miss the actual controversy itself but the scale of Wigan's protests at what had happened, coupled with an admission from the player himself, were enough to prompt a straight red card and the incident is surely going to be on line one, page one of his official report on the game.
David Moyes, the West Ham manager, is unaware of exactly how hard the authorities are likely to clamp down on the Frenchman but Moyes is not a man, nor manager, to be messed with and he was clear-cut afterwards, describing the incident as "despicable."
West Ham, who now have 12 players injured after Pedro Obiang suffered a medial knee problem in the first half, were clueless, at best, and Moyes can ill-afford to lose more personnel due to disciplinary problems.
"What happened today should never happen so let me say that," he added. "We think three games is the mandatory, then we think maybe after that we'll see what happens. But Arthur, in the main, has been very good. He's been a really good boy, we've enjoyed working with him, today I don't know why he lost it in the way he did."
The moment took the spotlight away from where it should have shone, namely a Wigan performance of style and muscle.
Will Grigg headed them into a seventh minute lead before scoring a penalty in the second half following a Reece Burke handball and the League One side were far hungrier and better in every department.
They more than deserved their win. Musauku more than deserves what is coming to him.
"I find the FA Cup easy against all these Premier League teams! Only joking," Grigg said. "A lot of these boys have played against Premier League teams whether it's in cup matches or otherwise, so there is definitely no fear there.
"We get it down and we pass it, it doesn't matter who the opponents are, that is what we said from the start and we are confident of playing against anyone."
Join our new commenting forum
Join thought-provoking conversations, follow other Independent readers and see their replies