Chelsea see off Wolves to emerge unscathed from day of FA Cup shocks
Wolverhampton Wanderers 0 Chelsea 2: Goals from Pedro and Diego Costa secured victory for the visitors to their keep their dreams of the double alive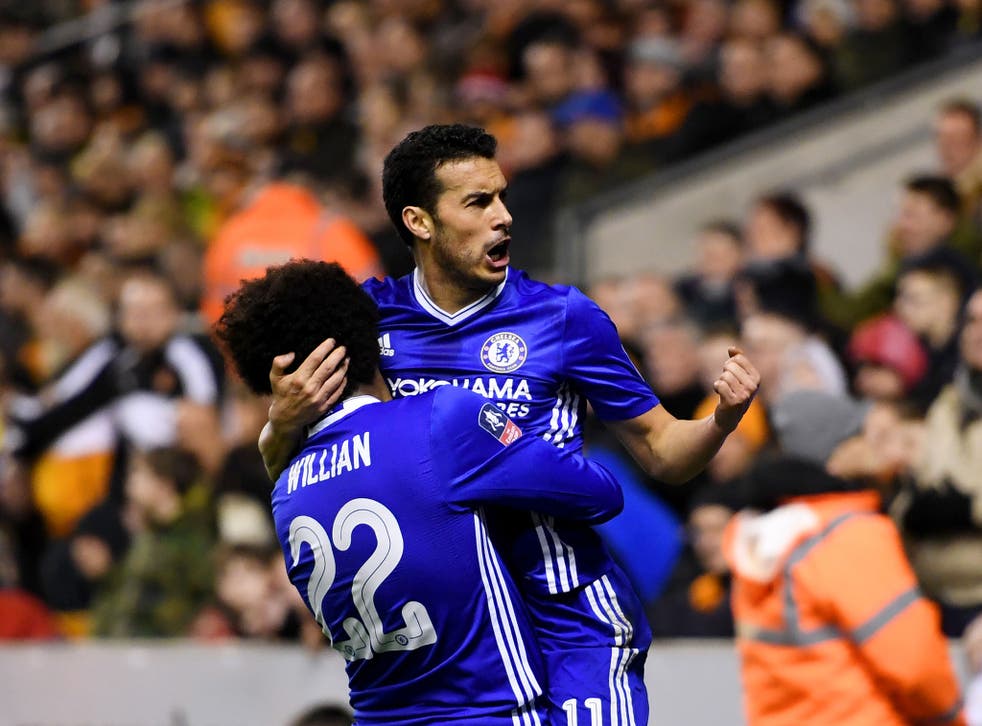 Only half a side and a quarter of their usual level of performance, but still on course for the double.
A diminished Chelsea side were far from impressive against an admirably energetic Wolves but goals from Pedro and Diego Costa were enough to put them into the FA Cup quarter-finals. In the end, the home side's level of application probably ended up working against them, as their tired legs no longer had enough in them to bridge the gap to Chelsea's level of quality. Antonio Conte's side at last had the space denied to them in the first half, and took the opportunity.
The opportunity to achieve something historically special is consequently growing, as Chelsea could become the first team to do the league-and-cup double since they themselves achieved it in 2010, and thereby only the second club in history to achieve it at least twice after Manchester United and Arsenal.
The biggest threat to that could well be how special they see it, and how switched on they are by the competition. Conte doesn't have the best knock-out record having never won a cup, and it was difficult not to think this was a Chelsea that were a slightly easier touch than in the league, even allowing for the numerous changes to the team.
If the FA Cup has generally faded in prestige, though, you would not have sensed it from a raucous home crowd.
Wolves were clearly treating this as a huge occasion, and more than playing up to that. From the off, they properly rattled Chelsea and got right up against them in a way almost no one in the Premier League really has since they went to 3-4-3.
This wasn't a team Conte would have played in the Premier League, given that there were only five regular starters in the league leader's XI, and many of the stand-ins did look somewhat rusty, but that isn't enough to explain how on top Wolves were.
They really went for it, and could have gone out of sight in the first half. They had that many moments of danger, that many flashes.
The biggest opportunity, however, was undeniably the first. On five minutes, the entire Chelsea box just opened up for their former youth player George Saville, as he lay in wait 12 yards from goal. Rather than ease it past Asmir Begovic in the way that seemed set up for him, though, Saville slightly sliced at it to see the ball cannon back off the post. Andreas Weimann then put the rebound over.
Far from diminishing Wolves' early initiative, though, it only emboldened them. They kept coming at Chelsea, evidently looking to exploit the legginess of John Terry at the centre. The ball seemed to spend a lot of the first half pinballing around Begovic's area, and just awaiting that final touch.
It eluded both Danny Batth and Jon Dadi Bodvarsson in two different inviting moments.
Before those, Weimann had gone down in the box under a shoulder from Willian only for referee Jonathan Moss to wave away complaints.
It would have been unfortunate because there had been a foul from Weimann just a second before, and Willian had been one of the few Chelsea players - bar perhaps the industrious Victor Moses - really on it.
He could have scored after just 12 minutes when a beautiful touch in the air put him through on goal, but Cark Ikeme did well to divert the ball. Beyond that, the majority of Willian's teammates were diverting the ball where Chelsea didn't want it.
Eden Hazard, Cesc Fabregas and Diego Costa were all guilty of sloppy touches or passes, and it just didn't look like they were as alert as Wolves.
The problem with that extent of alertness early on, however, is that it tends to exhaust you.
Wolves impressively continued playing the way they were into the second half, but it could already be sensed that they weren't as sharp, weren't quite as assured.
The key moment illustrated it.
On 64 minutes, the otherwise quiet-by-his-standards Helder Costa embarrassed stand-in wing-back Pedro with a quick turn on the right, only for the ball to just end up down the Wolves end of the pitch.
It was then that Pedro got instant revenge. With Wolves struggling to get back in the manner they had been, Costa fed Willian on the right, who then clipped the ball over. Pedro was there, completely unmarked, to head in.
It was scarcely what Wolves had deserved from the general performance, but it was exactly what their defending from that moment deserved.
At the same time, it was scarcely what Chelsea deserved from their general game, but said much that they finally broke through once they put together a constructive move for the first time.
It said much that Conte still felt he had to bring on N'Golo Kante towards the end, and it paid off when he made a crucial interception just minutes after Fabregas had missed a fine opportunity.
Within seconds, Costa had finally got free himself, sliding the ball into the corner.
There is the slight sense that Chelsea are just dropping their form a bit. The instant response to that, however, is that it comes as their chance to make history is only growing.
Join our new commenting forum
Join thought-provoking conversations, follow other Independent readers and see their replies