Women's World Cup opener 'proceeds as planned' despite fatal Auckland shooting
FIFA said the decision was made to move forward after consulting with New Zealand authorities and the participating teams.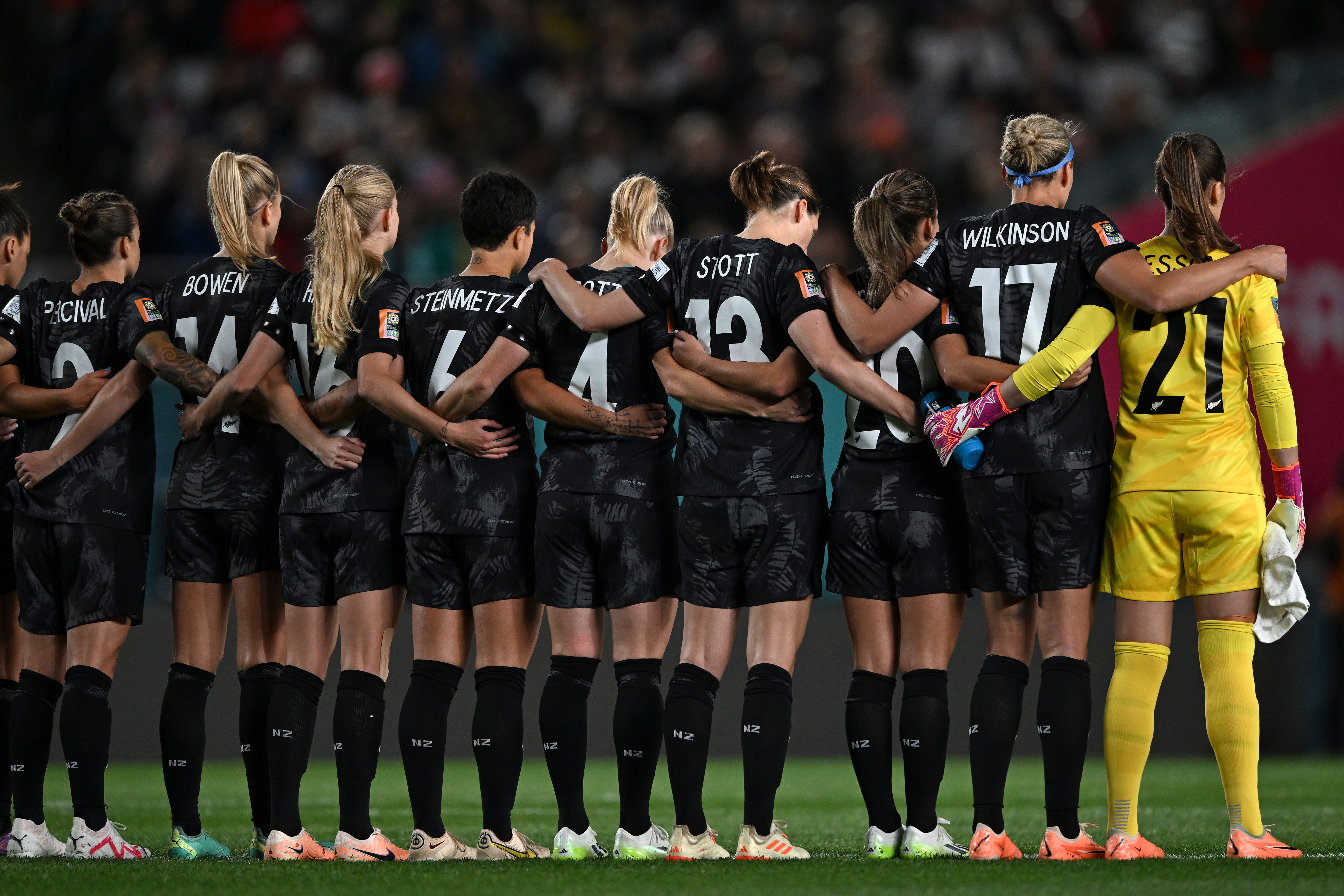 The Women's World Cup opener in Auckland "proceeded as planned" after a shooting in the city's central business district on Thursday morning left three people dead.
Co-hosts New Zealand and Norway observed a moment of silence for the victims before the tournament kicked off at Eden Park at 0800BST.
New Zealand Police said they contained what they believe was an "isolated incident" and "not a national security risk".
A FIFA statement revealed the decision was made to move forward with the match after consulting with New Zealand authorities and the participating teams, who have both confirmed players and staff are safe.
The FIFA release read: "FIFA extends its deepest condolences to the families and friends of the victims who lost their lives following the incident which occurred this morning in Auckland/Tamaki Makaurau, Aotearoa New Zealand, and our thoughts and prayers remain with those who have been injured in this tragic incident.
"Immediately following the incident, President Gianni Infantino and FIFA Secretary-General Fatma Samoura were in communication with the Aotearoa New Zealand authorities. FIFA has also been in constant contact with the participating teams affected by this incident.
"FIFA has been informed that this was an isolated incident that was not related to football operations and the opening match tonight at Eden Park will proceed as planned.
"The opening hours of the FIFA Fan Festival in Auckland/Tamaki Makaurau city centre will be confirmed in due course. The participating teams in close proximity to this incident are being supported in relation to any impact that may have taken place."
New Zealand Police on Thursday morning shared via their official Twitter account that in addition to the three deceased – among them the person they believe to be the male offender – an officer and four members of the public were injured in the incident which took place at a building under construction in the lower Queen Street area.
New Zealand Prime Minister Chris Hipkins also addressed the match, telling a press conference: "Clearly with the FIFA World Cup kicking off this evening there are a lot of eyes on Auckland, the government has spoken to FIFA organisers this morning and the tournament will proceed as planned.
"Aucklanders and those watching around the world can be assured that the police have neutralised the threat and they are not seeking anybody else in relation to the incident.
"New Zealanders' safety and the safety of our visitors is our first priority.
"We have been in regular contact with FIFA, they are proceeding as planned, there will be an increased police presence obviously around Auckland to provide public reassurance, but the police have indicated that they don't think there is an ongoing security or safety risk."
FIFA president Gianni Infantino said in a statement: "We appreciate the collaboration with the New Zealand authorities from the earliest moment of this tragic incident.
"We have been involved in ongoing communication from the outset, and we have also received the necessary reassurances from Minister for Sport and Recreation Grant Robertson in relation to the safety and security of the participating teams and fans at the FIFA Women's World Cup in New Zealand."
Both teams involved in Thursday's contest assured the public that their players and staff were safe.
Norway's team hotel is located about 300-400m from where the shooting took place, but a team spokesperson told the PA news agency that everything was calm in the Norwegian squad and preparations for the match were proceeding as normal.
Captain Maren Mjelde, through a statement, said: "Being informed about the consequences, the Norwegian team's thoughts are with those affected and their families.
"Everyone probably woke up quite quickly when the helicopter hovered outside our hotel window and a large number of emergency vehicles arrived.
"At first we didn't know what was going on, but eventually there were updates on TV and the local media. We felt safe the whole time. FIFA has a good security system at the hotel and we have our own security officer in the squad.
"Everyone seems calm and we are preparing as normal for the game tonight, then we may have to adapt if there are any instructions from the authorities."
New Zealand Football tweeted: "New Zealand Football are shocked by the incident in Auckland CBD this morning.
"We can confirm that all of the Football Ferns team and staff are safe but we will not be able to comment further while details are still emerging.
"Please refer to New Zealand Police for further information. Preparations for the game tonight at Eden Park will continue as planned."
The United States women's national team, who are also based in New Zealand, responded in a tweet posted to their official account, saying: "US Soccer extends its deepest condolences to the families of the victims who were killed in the shooting in downtown Auckland today.
"We are saddened by the inexcusable loss of life to gun violence and our thoughts are with the people of Auckland/Tamaki Makaurau and Aotearoa New Zealand."
A previous US tweet read: "Regarding the incident in downtown Auckland, all of our USWNT players and staff are accounted for and safe. Our security team is in communication with local authorities and we are proceeding with our daily schedule."
The Philippines national team also confirmed via social media that all members of their delegation were safe.
An Eden Park statement read: "Eden Park Trust extends its deepest condolences to the Whanau of the victims in the incident which took place in Auckland's CBD this morning. It is a sad day for Auckland on what should be a day of celebration.
"Eden Park has been working with all relevant agencies regarding this morning's incident and the impact on services and staffing."