'He's in his own world': Florentino Perez gripped by delusion amid Super League fiasco
The Real Madrid president remains steadfast in his beliefs but, as Miguel Delaney examines, the Spaniard's masterplan to maintain his club's dominance has encountered problems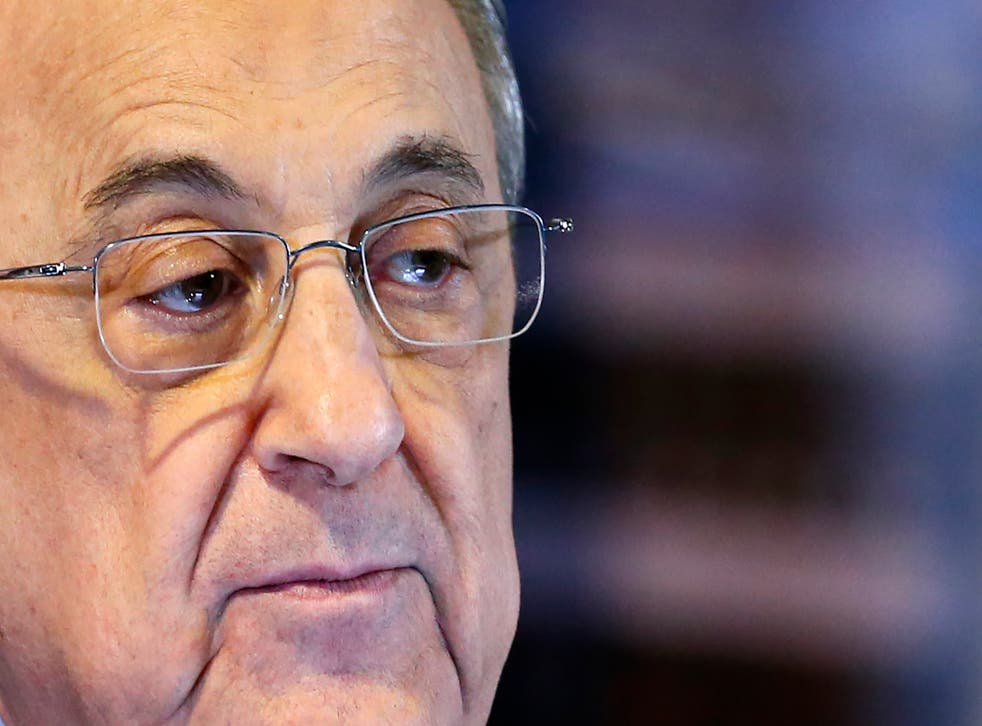 There are many people in football who would love to be in the room when Florentino Perez welcomes the Chelsea hierarchy on Tuesday. The question is whether they will get the Real Madrid president's famous charm, or "the poker face".
Perez harbours a lot of suspicions around the English clubs following the collapse of the Super League, and Chelsea were the first to declare they would be leaving. There's not exactly effusive admiration on the other side, mind. Chelsea officials were among a number at the Premier League clubs "astonished" by the belligerent nature of Perez's initial Monday night interview on Spanish television. Many sources cite it as one of a few key turning points in those intense two days. "This just wasn't a process we recognised."
That's quite an understatement. It's also an understatement to say this is interesting timing for a first ever fixture between Real Madrid and Chelsea in the Champions League.
These meetings between officials would normally take place in the Bernabeu presidential box, surrounded by some of the most prominent figures in Spanish and international business. The effects of the pandemic, and Perez's rebuilding of the stadium, have ensured it's a different world. Then again, he seems to be operating in an alternate world, one where he is very rarely challenged.
How else to explain how the 74-year-old could go on a notorious late-night programme called El Chiringuito - which more or less means "bar stall" - and start saying things that would otherwise be laughed out of a pub at 2am?
Except Perez then doubled down with another interview with another friendly show two nights later. Among the "highlights" were when he seemed to demonstrate trickle-down economics with hand gestures that showed how money would fall from the top of the pyramid in all directions. That of course involved the gall to claim this - the most self-servingly elitist project football has ever seen - was actually an entirely altruistic measure "to save football". There was then the claim that only 40 people had actually turned up at Stamford Bridge on Wednesday and that he knew "who took them there". And on and on.
You would think all this would warrant incredulous responses, and some intensive challenges. Not so.
"Nobody questions him," former Madrid president Ramon Calderon explains. "They say he's a visionary, a genius, that it's the best project ever in football. Here in Spain, there have barely been any critics at all of this project.
"He is saying the opposite of what has been reported in other countries. He is living in another world."
The godfather
That has an importance way beyond Perez's inflated perception of himself, and his own genius. The story of the last week has an infinite number of strands, among them the glee at wealthy men for once not getting what they want, and battering their own credibility in trying to do so.
Just as crucially, it showed the consequences of what happens when you live in that kind of alternate world for so long. Perez and Andrea Agnelli got to the point where reality started to intervene, their own understanding of football unravelling.
And yet still Perez persists, both as Real Madrid president, and in trying to sell the Super League. Little wonder Aleksander Ceferin called him and Agnelli "flat-Earthers".
"It is like the Emperor's new clothes," Calderon says. "Nobody around him is telling him 'you have made a mistake, and that it's better to recognise that.'"
Others have different descriptions along the same lines. "The line about someone bringing 40 supporters was literally like something Donald Trump would say," one figure who has worked with Perez states.
You can add to that terms like "godfather", "oligarch' and "dictator". The last word is a particularly loaded term given Spain's modern history, but Perez is a symbolic product of that, the extreme expression of a distinctive political culture.
After the second world war, with Spain the only western European country where a right-wing fascist regime had not been toppled, General Franco's government attempted to rebuild the economy on three major pillars. These were services, tourism and entertainment culture. Banks, construction companies and football were integral to this. It remains the superstructure of the Spanish state, but was given several new levels by former prime minister Jose Maria Aznar's reprogramming of Spanish capitalism.
That saw immense financial growth for construction firms, with Perez's ACS out in front. The company's initial backers were by empires that had close ties to Franco's dictatorship, such as the Alberto and March families.
Tribune magazine wrote this week how Perez's name in Spain has "long been a byword for unaccountable economic power".
"Few others better embody Spain's crony capitalist regime - a state-sponsored oligarch whose construction empire has been built on access to massive public contracts and profiteering off outsourced social services, all while pursuing a 'secession of the rich' policy on taxation and civic solidarity."
Many have noted the parallels and intersections between Perez's various business and political interests.
The state projects of Aznar's government afforded ACS numerous contracts, while the Caja Madrid - formerly the Community of Madrid's regional bank - offered financing to Perez for everything from buying up ACS shares to Real Madrid signings. The club's international profile has also helped secure contracts in many countries, including those of a lot of signings - especially in Latin America.
The most controversial deal of all remains the first. That was the €500m sale of Real Madrid's training ground in 2001, with ACS then contracted for the construction of the city's new financial district.
A picture emerges of a web of business interests across Spanish society, with the Bernabeu at the very centre. It is here - normally at games like the Champions League meeting with Chelsea - that business people meet and deals are struck, a modern royal court.
"Florentino is the main man there," one source says. "He's the figure who connects it all."
Perez may see the club as more than just the centre of all this, though. He is reported to have told one politician that "Real Madrid is a Spanish brand standing above the government".
And this supposed to be a people's club, owned by its members, with the democratic right to vote in new presidents. In reality, the statutes have been altered over the past few years to create a number of parameters - time served as director, a deposit guaranteeing 15% of the club's budget - that ensure Perez is one of the only possible candidates.
That reflects how Madrid are almost a representation of the Spanish ruling class, more than the city's people. They have state support at many levels.
The 74-year-old has meanwhile built up an unwavering power structure around him. They are all Perez loyalists, from the same political culture.
"It's amazing to hear him speak of what young people want," one source familiar with the Bernabeu "court" says. "His board must have an average age of 75 years old, all businessmen who got very rich 30 or 40 years ago.
"It's why it's wrong to speak of a hierarchy. It's just Florentino. The rest just offer support. His word goes."
And it's why he never hears the word "no".
The system
That also applies to the media - or, really, the media-industrial complex around the president and club. There were not many dissenting voices in Spain last week. Madrid legend Jorge Valdano was one of the few. Michael Reid, The Economist's senior editor on Latin America and Spain, articulated some of the issues around this nexus of power in a social media post.
"A well-connected ex-minister one time told me that the Spanish media never criticise Santander, Telefonica or Real Madrid. It will be necessary to examine with a magnifying glass the moves of Florentino Perez after the disaster of the Super League."
Of the two Madrid sports newspapers, before you even get to scores of radio stations, Marca have been more matter-of-fact under a new editor - and described the last week as "super ridicule" on their front page - but As have gone the other way since the retirement of Alfredo Relano.
As with all such power dynamics, some of it is direct, some of it conditioned. Perez is known to call editors and journalists to complain. One expensive Madrid signing even confident that he felt Perez was behind the leaking of some information that brought criticism of him. Other media almost align with what they presuppose his view to be because of both the need for access and his influence.
For their part, local journalists would often urge foreign media to be more critical "because we can't".
The effects of this could be seen on the AS website this week. Headlines like "Barcelona are criticised in England" shamelessly sat alongside "Florentino has been courageous".
Again, it was like some kind of alternate reality. Initial criticism soon gave way to the machine kicking into gear. Perez was quickly repackaged as the saviour of football, who had been foiled by the selfish interests of others. On social media, the hashtag #Ceferinout quickly took off among Madrid fans.
There are real elements of a personality cult here, and a sense of infallibility.
It is no coincidence this all comes at a time when Perez has embarked on an even bigger club project, that may end up his biggest mistake.
That is the rebuilding of the Bernabeu, at a time when Madrid's finances were stretched to the limit, even before the pandemic. It is a project that could end up costing over €1bn. The club had been trying to renegotiate payments with JP Morgan, who had financed the revamp, along with Merrill Lynch.
JP Morgan of course offered the financing of the Super League, although Saudi Arabia's Public Investment Fund have also been linked. Many have pointed to Perez's own business contacts in the kingdom, given ACS have been contracted to build Quiddiya, a Las Vegas-style entertainment centre.
Mbappe or Haaland? Why not both?
Perez is described as the "emotional driving force" behind the multi-layered Super League plan, but some sources have expressed bafflement at how he could convince so many rational businessmen to support what was a mass refinancing.
The truth is that he has a distinctive charm. Manchester City's Ferran Soriano has become a much closer ally of Perez, amid his own club's tension with the rest of the Premier League "big six". Tottenham Hotspur's Daniel Levy would meanwhile regularly text Perez after significant Champions League wins, congratulating him for "winning with my players" - namely Gareth Bale and Luka Modric.
Star signings are another angle to all this. For all Madrid's many financial problems, some sources believe this is on a higher scale than just "saving" the club. They see it as an attempt to stay ahead of state-owned clubs, by marrying Madrid's historic prestige with this new wealth - and a new plan.
Perez is said to have another "dream", to go with the initial Galactico project, and signings like Luis Figo and Zinedine Zidane.
While most major clubs - and many football fans in general - have been trying to decide who they preferred between Kylian Mbappe and Erling Haaland, Perez had a typically "Madrileño" idea. Bring them both. It was something he had often mused about during the Cristiano Ronaldo-Lionel Messi duopoly, whether he could bring them together. He also feels it is the type of move that Madrid should be pulling off.
Word of that plan has been going around the game for some time, but many had been perplexed at how exactly Madrid intended on financing it. The answer was the Super League.
"He desperately needed that money," Calderon says. "Without it, he cannot sign Mbappe or Haaland or maybe either.
"I think Karl-Heinz Rummenigge is one of the smartest people in football, and he hit the bullseye - clubs need to cut their expenses."
That seems anathema to Perez's principles, and goes against his idea of "spectacle". The latter is key to some of the thinking behind the Super League, and its closed-shop nature. It illustrates how Perez does not think it's about winning or losing. It's about constant content, involving "stars".
The pursuit of ilusión
Much has been made of how Madrid - and particularly Perez's chief lieutenant, club director general Jose Angel Sanchez - really see the club as "like Disney". They want to change football's orthodoxies.
There is something deeper to that, too.
For all Perez's success in business and across many different fields, sources who know him say that one of his great ambitions is to be seen as a great football mind. That is not in terms of the economics or the business of the game, but how it is played. He wants to be valued as a pundit.
Valdano was one of many influential football figures who feels Perez doesn't actually understand the game at all.
A bit like Roman Abramovich, his idea of "a philosophy" is overhead kicks and great goals.
This can be seen in so many of his big decisions.
The first Galactico project fell apart because Perez was willing to sell Claude Makelele to sign David Beckham, disrupting the balance of the team.
Along the same lines, he used to always complain about the inclusion of Casemiro, at the expense of stars like James Rodriguez.
One former Madrid manager privately revealed that Perez basically tried to pick the team for him and then let him carry a can. Another exasperatedly complained that it all felt more like "Hollywood" than a football club.
Perez meanwhile long had visions of Bale being the new Alfredo Di Stefano - the centre-piece of the team, and the club.
There was always a problem there, more fundamental than any issues like Bale's personality or his wages.
The Welsh star was always a power player, not a playmaker. He doesn't run a game, in the way Di Stefano did. He runs himself.
It is just another basic misunderstanding of the sport.
The same applies to this whole Super League conceit.
Perez believes that interest in football is based on "ilusión" - the Spanish word that means something between excitement, anticipation and enthusiasm. It essentially translates as a sense of spectacle.
But football has never really been based on that. It is based on emotion. That's what really drives it. That's why a closed Super League - and the absence of real jeopardy - is so alien to the game's culture.
You would think anyone around one of the sport's greatest clubs, or Spain's huge football media, might have told Perez that.
He might not have paid attention to it if he did. It all means he's experiencing a few new emotions of his own: frustration, "bewilderment".
"I think he is very surprised," Calderon says. "He is used to seeing how everyone praises him in Spain. He didn't realise it's not the same in the rest of the world. What he says isn't to be taken as the word of law.
"That is what has happened. He didn't think the reaction was what it was going to be. Now he is a bit bewildered. He doesn't know what to do."
Madrid have lost some of their clout, and their influence. Some club figures - such as Calderon - are complaining their reputation has been affected. There is still the chance they could face a ban from European competition.
It's almost unthinkable, but then it's a very different world. It just may not be one Perez is living in.
Register for free to continue reading
Registration is a free and easy way to support our truly independent journalism
By registering, you will also enjoy limited access to Premium articles, exclusive newsletters, commenting, and virtual events with our leading journalists
Already have an account? sign in
Register for free to continue reading
Registration is a free and easy way to support our truly independent journalism
By registering, you will also enjoy limited access to Premium articles, exclusive newsletters, commenting, and virtual events with our leading journalists
Already have an account? sign in
Join our new commenting forum
Join thought-provoking conversations, follow other Independent readers and see their replies