Accrington Stanley denied goal against AFC Wimbledon because referee blows whistle for half-time as shot goes in
To make it worse, the game ended 0-0 
Simon Rice
Monday 07 March 2016 10:48 Comments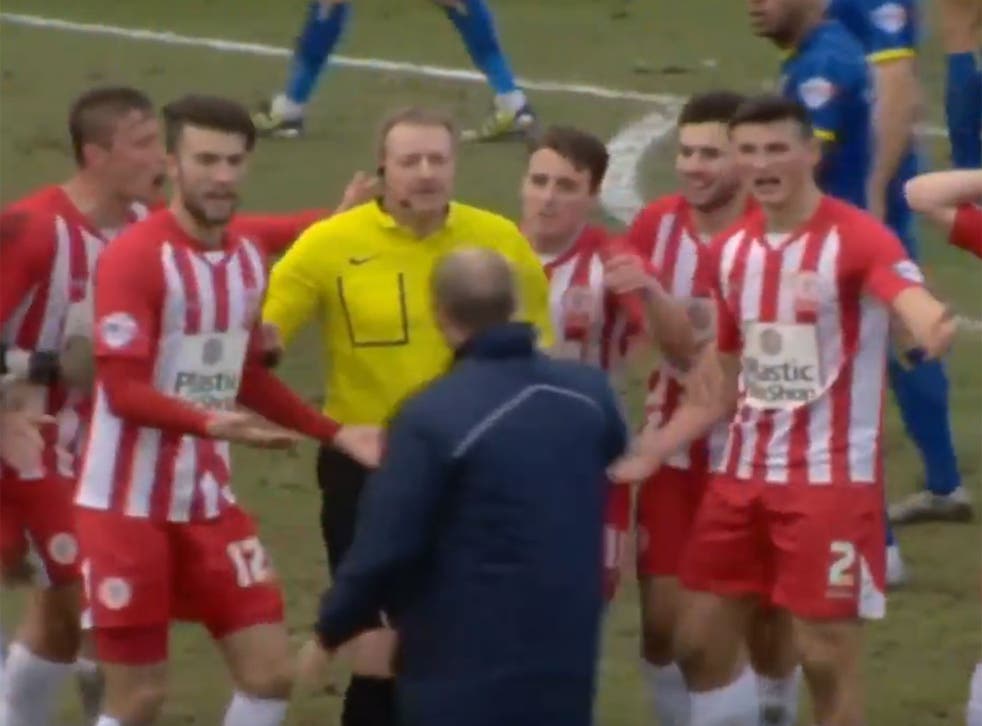 "Everyone is flabbergasted."
This is how Accrington Stanley manager John Coleman described the bizarre refereeing decision that cost his side a goal over the weekend.
During the League Two meeting between Accrington and AFC Wimbledon on Saturday, Accrington's Billy Kee found some space in the opposition box, turned and scored with a left footed shot.
However the goal didn't count, because referee Trevor Kettle blew the whistle for half-time as the shot was heading towards the goal.
Accrington's players were understandably furious with Kettle and surrounded the official to protest. Coleman admirably entered the field of play in a bid to calm his players and allow Kettle to leave the pitch for the interval.
The game was level 0-0 at the time and due to Kettle's bizarre decision, that's how it ended.
Watch the incident below...
Accrington manager Coleman said after the match that he had never seen "anything like it"
"I'm delighted with the way we played but sometimes the luck doesn't go with you," he told the BBC.
"I've never seen anything like it happen [the disallowed goal] in all my 46 years playing and managing.
"He blew as the ball was on its way into the net. You can't account for that. Everyone in the ground is flabbergasted. Referees make mistakes because they're only human and that's what makes the game of football so special because you have talking points and arguments."
Register for free to continue reading
Registration is a free and easy way to support our truly independent journalism
By registering, you will also enjoy limited access to Premium articles, exclusive newsletters, commenting, and virtual events with our leading journalists
Already have an account? sign in
Register for free to continue reading
Registration is a free and easy way to support our truly independent journalism
By registering, you will also enjoy limited access to Premium articles, exclusive newsletters, commenting, and virtual events with our leading journalists
Already have an account? sign in
Join our new commenting forum
Join thought-provoking conversations, follow other Independent readers and see their replies