How two best mates from Kirkby went from Sunday League to League One
John Coleman and Jimmy Bell have taken the club that wouldn't die into the third tier of English football for the first time in history. As they tell Simon Hughes it's been quite the journey
Simon Hughes
Wednesday 18 April 2018 09:58 Comments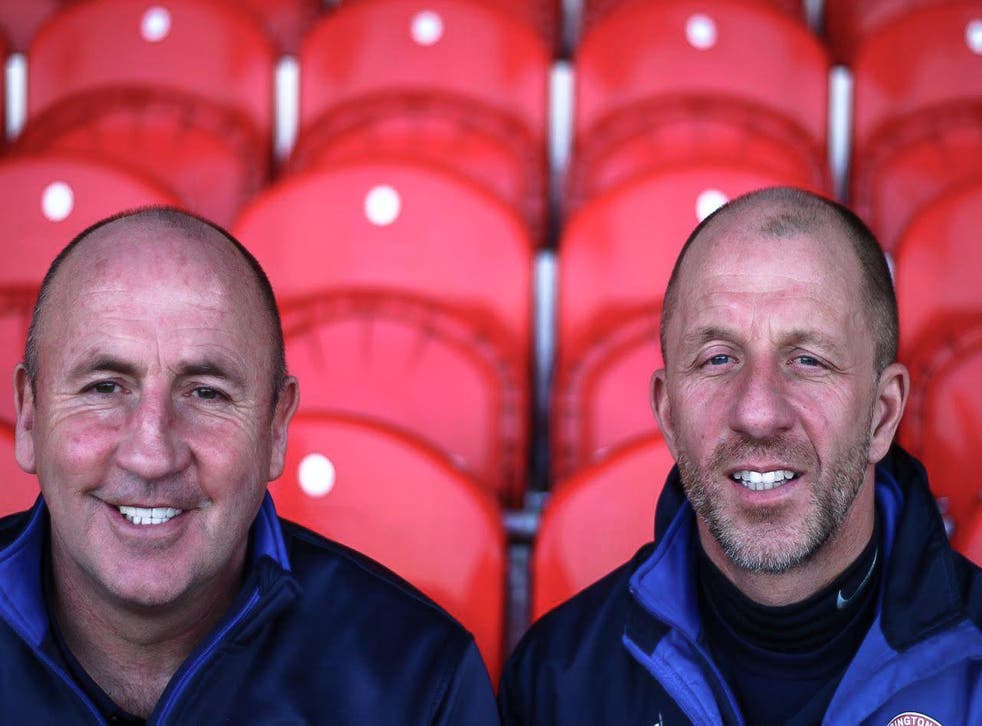 Omar Beckles has finished training and is devouring leftover chicken chow mein out of a disposable box using a plastic fork. He is having his lunch, sitting alone in the Eric Whalley Founder Members Lounge of the Wham Stadium, the home of Accrington Stanley.
Beckles is 25 years old and from Leytonstone, north London. After suffering rejection from Millwall as a teenager, he signed for Jerez Industrial in Spain before moving on to Boreham Wood, Kettering Town, Boreham Wood again, Billericay, Histon, Margate, Hornchurch, St Albans and Aldershot Town. From Aldershot, Beckles decided to play in the north of England for the first time because he saw it as his last chance to make it as a Football League player. 'Strategic,' he calls it. 'A big call to make.'
Beckles stays for a chat, telling me about his hopes and dreams. Accrington had sold Josh Windass and Matt Crooks to Glasgow Rangers the summer before. A good season here and the strapping six-foot three-inch central defender might earn himself a similar opportunity.
Beckles had taken himself out of his comfort zone. The Wham Stadium is the smallest ground in the Football League. From the low-rise main stand, which hasn't changed much since Accrington were a Northern Premier League club fifteen years ago, snow-capped hills are visible on winter mornings such as this one. To get there, from Burnley you follow signs for Oswaldtwistle and turn off before reaching Blackburn; you have to climb Manor Lane, turn right passing the Crown Pub and then left into Livingstone Road, a dead end of tiny bungalows. From there, a rocky narrow path takes you to a small car park – the smallest in the Football League – where players, many of whom travel from Liverpool in convoys of four or five, disembark for training sessions because there is no actual training ground – Accrington insist they rather than Morecambe have the smallest budget in the Football League.
Though the financial position is steady under owner Andy Holt – whose company What More UK (Wham) make plastic boxes and bins – Accrington's budget on players, wages and staff is set at just £670k per year compared to Portsmouth's £3 million. This is a club that is wary about overspending.
The sign outside the Wham welcomes visitors by identifying Accrington Stanley as 'The Club That Wouldn't Die', but Accrington Stanley did die in the spring of 1966, having been forced to resign its Football League place in the most public way possible four years earlier with debts of £60,000. Bob Lord, the infamous Burnley chairman from just down the road, was criticised for his role in events. He had grown into an influential figure on the Football League's management committee by then and had been asked to assist the situation by Stanley's chairman, Sam Pilkington. Yet at the creditors' meeting that followed, Lord stood up and effectively declared the club a lost cause.
Though Stanley were reborn six years later, it started the 1980s in the second division of the Cheshire County League and because of an advert for milk during that decade they became arguably the most famous minnow club in the world.
It was not until 2006 – some 44 years after resignation from the Football League – that a return was engineered under John Coleman and Jimmy Bell, the manager and assistant talked about within the town as 'John and Jimmy', as if they are one person. I had arranged to meet them because very few management teams class themselves genuinely as friends and I was intrigued how the dynamic worked – especially in the cut-throat world of the Football League.
While Beckles finishes his lunch (every Accrington player has to bring his own lunch), Coleman and Bell bound through the door one after the other and each of them apologise for being late. It is January and Coleman explains that he's had to spend the early part of the afternoon releasing players who were on short-term contracts. For the next few hours, I listen to their story. I begin by asking about Omar Beckles and the risks attached to signing a young Londoner who'd never lived in the north of England before.
Jimmy: We took a punt on him, to be perfectly honest. We needed a centre- half. We'd just had a few lads pinched off us by Portsmouth. He came into our office, we sat him down. And we could see the hunger in his eyes straight away. It was unreal. He told us exactly what we wanted to hear. We'd spoken to people about him and watched videos. He said, 'I want to be a top footballer and I won't let you down.' He was always making eye contact. We walked out of the room and nodded at each other – we had to take him.
John: We can't pay riches here. But we always tell the players that it doesn't mean they can't earn millions themselves. They're not going to earn it with us. But they can use Accrington as a platform. If we get a good two years out of them where they perform to the best of their ability – and they do everything they can to help us – when it comes to the end of those two years, we'll do everything we can to help them. I've never stood in the way of any player who wants to move on and better themselves. Sometimes players think they are better than they are, of course. The first thing I look for in a player is hunger – are they hungry to play? Do they want to play in the top flight? With the best will in the world, Accrington aren't going to play in the top flight. We get players who have been released by Liverpool, Everton, United and Blackburn. They've got to buy into the idea that they can use Accrington as a trampoline to get past their former peers. Recruitment is what defines the success or failure of any football club. The biggest clubs like to make it as scientific as possible. Sometimes, you have to take a punt – go on what your gut tells you. We know a lot of people in the game and you try and do your homework through Wyscout and watching as many games as you can. But it's impossible to get every single one right. That's why I'm having to release players in January. I think you have to develop a sixth sense – knowing when things feel right and when they don't feel right. The year we won the Conference we were struggling for a goalkeeper. Two games into the season, our number one decided to pack in – he retired. He said his ankle was hurting but I think it was because I threw a Jaffa Cake at him in the changing rooms against Altrincham. We'd won the game 1–0 but we limped over the line. Our goalkeeping coach Andy Dibble was on the bench. He's a good friend of mine but his legs couldn't move and he certainly couldn't be our number one in his mid-forties, so we were panicking. The first two replacements we signed were poor and then I took a call asking me to have a look at Ireland's Under-21 keeper. I spoke to people about him and the messages were positive but they were only second- or third-hand opinions. He'd played for Ireland on the Thursday night, we signed him by fax on the Friday and he wasn't landing at Liverpool Airport until Saturday morning. I didn't even know what he looked like. All I had was a grainy picture of him. I was sitting in the waiting lounge thinking, 'If he turns out to be tiny, I'm going to leave him in the arrivals lounge.' Thankfully, he walked off the plane and he was six foot three. His name was Darren Randolph. He's international 'keeper for Ireland now.
Jimmy: We argue about all sorts of things but when we see a good player, we both know straight away. We were both brought up in the same area of Kirkby, Southdene. John's a couple of years older than me and he was always the top goalscorer – someone I always looked up to. He was the top dog at Kirkby Boys and it was my ambition as a kid to play at that standard. I was the next generation coming through. He went to St Josephs and I was at Cherryfield. He lived just around the corner. I'd watched him from afar but our paths first crossed when I was sixteen and John was eighteen, playing Sunday league football. He'd signed for Burscough by then and he asked me to join him. Since then we've always been good friends. We played again together at Rhyl before John moved on to Morecambe when they were a Northern Premier League club and I went to Knowsley United. We both signed for Lancaster City and then Ashton United together. Right throughout our careers we'd phone each other after games and have a chat. If he'd scored two, I'd tell him that I'd scored two as well even if I hadn't – we were both as hungry as anything.
John: Starting out at Burscough was a tough education. We played up front together. We came from the Woodpecker, a Sunday league team. We'd also played for the Fantail for a bit as well – a very famous pub side in Kirkby. We must have been a pain in the arse to be around because we loved footy. I wouldn't say we were big-headed but we were confident. We probably rubbed people up the wrong way because we were very boisterous and we celebrated when we scored. We'd take the p*ss out of ourselves but we'd take no sh*t off the older players too. We both probably thought we were better than the level we were playing at. Burscough had more established players on contracts who were earning more than double our wages but they were in the stands because we were doing so well together. I think this environment cemented our friendship because we had a common goal and had similar personalities. I think we always played and conducted ourselves like we had a point to prove because the call never came from a Football League club and it was something we both wanted to happen so much. We craved to go full-time and even up to the age of thirty-odd, we believed someone might pick us up. It means the novelty of being in the Football League has never worn off for us. We see players who have never known a job. They've come straight from school, signed a youth contract and then become pro. Some become blasé about it all very quickly and it makes you scratch your head. I've never been like that and Jimmy's never been like that. This is a joy to us, we're getting paid for something we love doing. If we weren't managing Accrington and if nobody else would give us a job, we'd still want to run a Sunday league team. We'd do it for nothing.
Jimmy: The type of lads that don't care enough, they don't last long here. We try to educate them and make them appreciative of what they have. They soon get knocked into shape – not by us but by the rest of the team. It helps having a lot of Liverpool lads because one thing Liverpool lads are great for is, if someone needs picking up they'll put their arm around them. If someone needs knocking down, they'll knock them down. We've always been blessed by having good Liverpool lads in our squads. We don't have prima donnas. Today we fell out with them for not tidying up after themselves at breakfast. They've got to wash their own plates, there's no one to do all that for them. We expect them to be nice people as well as good footballers.
John: If you stay at one club for any length of time you have to learn to build teams and dismantle them. Because of the level we're operating at, we have to get close to players – we can't be distant. We have to get inside their heads. As much as professionally you know you shouldn't because you'll have to let them go some day, they've got to become your mate because you have to get them to like you. At this level, they aren't getting paid a lot of money so there has to be another reason to sign for Accrington Stanley. If they like you, it's another reason for them to try – to run through a brick wall for you. But then, you've also got to make sure you don't make it like a holiday camp. You want them to enjoy their football but hard work has to be the priority.
Jimmy: I worked in an abattoir for seven years before becoming an electrician. John worked for Knowsley Council before becoming a primary school teacher. We were part-time at Accrington, then in 2003 we had a massive decision to make financially because we'd reached the Conference and the decision was taken to go full-time with the money earned from a good FA Cup run. Both of us had two wages coming in and the money at Accrington was all right. We could have stayed the way we were, as part-time Conference managers elsewhere earning more money combining two jobs. It would have been the safer thing to do. Full-time football meant my monthly wage would pretty much cut in half. But full-time football was irresistible. I just knew I'd have regretted it for the rest of my life if I didn't try. It paid off because within three years we'd won promotion into the Football League. To get Accrington back was an unbelievable moment in our lives. Nobody can take that away from us.
John: In our first season at Accrington we both scored quite a few goals, even after the chairman at Ashton where we were previously sacked, said we had to pack in because it was supposedly affecting our managerial judgement. I knew I could still do a job. But I suppose deep down you never want to stop playing. In the early days' here we'd have murder with the other players in training sessions. There's also been times when we've stopped the car on the motorway because of disagreements – mainly because of players, how they've done. Challenging each other is important because your view can quite easily become blinkered. Sometimes once you've formed an opinion you find ways to validate that opinion. Sometimes you need someone to say, 'Listen, John – he's not doing it.' Jimmy is my best mate but it'd be pointless if he agreed with everything I said. He might as well not be here. I think there are too many managers that have that relationship with their assistant and it explains why they don't flourish as much as they might. I reckon there are no other managers in the Football League who has a mate as assistant manager, let alone his best mate. Because we are best mates we can have honest conversations. When you think about your family, how many times do you fall out? It's on a daily basis. It doesn't mean you won't go to war for them every single day of your life. Jimmy and I are close enough that we can fall out and carry on the next day.
John: You might say it's because me and Jimmy aren't getting it, but the money involved at the top level has taken the game away from the common man. I remember it being a shilling to get into Anfield. As a teenager, it was forty pence. At that time, my dad was earning forty quid a week – fifty if he was lucky, which is one hundred times what I was paying to go the match. My dad was the average working man. Now, a ticket costs fifty pounds. The average working man might only be on £500 a week if he's doing OK. So instead of it being a hundredth of your dad's salary, it's a tenth. If you think about how that has impacted upon the common man, football has become like opera. Likewise, my dad was on forty or fifty quid a week. Ian Callaghan was probably on around £150 – three times his wage. My dad could still say, 'Cally – the lucky bugger, he's doing something he loves.' But he wouldn't resent him. Footballers then were still superstars but they felt blessed they were earning three times the common man's wages. Now, you're talking four hundred, five hundred times the common man's wage. How can they relate to society? They can't. We have to count every penny at our club. There are plenty of League Two clubs who have finance directors. The finance directors at Accrington are me and Jimmy. We've got a budget that we have to work to and if there is a conversation to be had about money with a player, it will be us dealing with it – not a chief executive.
Jimmy: The toaster went missing the other day. We told the local newspaper that someone had pinched it and the story went viral. It's tongue in cheek but, deep down, we want people to think about that: what it really means. The reality is, that toaster needs replacing and it's going to end up coming out of our budget. Last month we spent a thousand pounds on strappings and a thousand pounds on protein bars. That's two grand a month. It's a player out of our budget. If I see a player taking a sip from a bottle of Lucozade before lashing the rest on the floor, I blow my top at him. Firstly, you'd never throw a bottle on the floor of your own home. Secondly, it's a waste. We played Liverpool Under-23s at Melwood a few weeks ago and our lads left their strappings, their bottles of water and banana peels behind. Someone from Liverpool went into the changing rooms afterwards, took a picture and sent it to our club asking whether it was acceptable. That hurt us big time. We were absolutely furious.
John: You hear people say that footballers have changed a lot in the last twenty years since the Premier League started. I've seen a big change in the last five years. As managers, we don't fundamentally change but we have to adapt. I think players are now seeing football more as a job. They don't see quite as much the overall package of enjoyment that football can give you. If I was a player now and a chairman came to me and said, 'Listen, I can pay you but I can't play you,' or, 'I can play you but I can't pay you,' it wouldn't even enter my head to choose not to play. I'd play every day and worry about not getting paid at a later date. If I said that to my players now there would be a few who'd play but not all. I think it's virtually impossible to create a team of players who'd all want to play. Don't get me wrong, the Football League is a hard grind. For seven years here especially, it was very hard indeed. We were close to going bust. We never went into administration when loads of other clubs did and we're proud of that. I think there are nearly fifty clubs that have gone down that route in their history and we haven't, even though we were prime for it. But there has been loads of times when me and Jimmy haven't been paid. The longest period was for three months. We've had to break it to the players that they weren't going to get paid. The new owner has alleviated that problem. You used to dread payday coming. It wasn't as bad for me and Jimmy because we were a bit older and our kids had grown up. For a lad who's twenty-six who's playing and got kids to feed when he's not on great money anyway, it's very hard to deal with. I've lost count of the number of times I've had to say, 'You won't get paid on Friday but you might get a bit on Monday and then some more the following Friday.' We've tried to use that to our advantage and create a siege mentality but you can only do it so many times.
Jimmy: We train on a 4G pitch at Hyndburn. We try and get on our own pitch once a week and it's covered in ice at the moment. Half of the clubs in this league have their own training ground and the other half don't. They beg, steal and borrow. It's not ideal training on 4G because it's not the same as grass and grass is where the results are defined.
John: We've craved a training ground for years. It's one of our big bugbears. Every Premier League club has a nice academy. We're looking at a national team that isn't bringing players through because the top end is saturated with foreign players. The best way forward is for teams of our ilk to bring players through. Dele Alli came from MK Dons and his progression proves it can be done. It wouldn't be a blink out of the Premier League club's budgets – out of the billions the competition gets – to provide every Conference, League Two and League One club with a ring-fenced amount to build a training ground. Every professional football club in this country should have a training ground. If the FA had anything about them or the Premier League had anything about them, they could make it happen. They choose not to because they're only concerned with the top echelon where the most money is made. This is no disrespect to Liverpool, Everton or Stoke, but how can it be right that these clubs have eighteen pitches to be used on a daily basis and we only have one plastic pitch that we don't own? The money is there in the game but it isn't distributed in a way that is fair or sensible. We've just signed two lads on loan from Hull. They warmed up on the back field behind the terraces the other day and it was like the Derby had just been held on it. They must have been scratching their heads thinking, 'What have we come here for?'
Jimmy: I was embarrassed. I'd spoken to the lads on the phone. I'd sorted their accommodation and travel. I said to them, 'Training at the ground tomorrow.' They said, 'Oh, is that the training ground?' I said, 'No, just at the ground.' 'Where's the training ground.' 'Er, I'll just see you at the ground.' I couldn't tell them that we don't have a training ground. Today, we trained on the Astroturf because it was frozen. They still don't know we don't have a training ground. And they've been here a week . . .
Suddenly, it was time for John and Jimmy to go. They had an FA Cup match to prepare for at home against Luton Town the following day. A win would put them in the hat for the fourth round and the possibility of a draw against their beloved Liverpool. The prize money earned would keep Accrington running through the summer. It was winter's afternoon, it had warmed slightly, but half of the pitch at the Wham remained frozen.
This extract was taken from On the Brink, a Journey Through English Football's North West. Available here: www.decoubertin.co.uk/onthebrink
Register for free to continue reading
Registration is a free and easy way to support our truly independent journalism
By registering, you will also enjoy limited access to Premium articles, exclusive newsletters, commenting, and virtual events with our leading journalists
Already have an account? sign in
Join our new commenting forum
Join thought-provoking conversations, follow other Independent readers and see their replies