Angel Rangel has embraced the fighter's life at QPR: 'I'm loving the way we play'
Exclusive interview: The veteran defender talks to The Independent about his new life at QPR and the experience he's brought to the club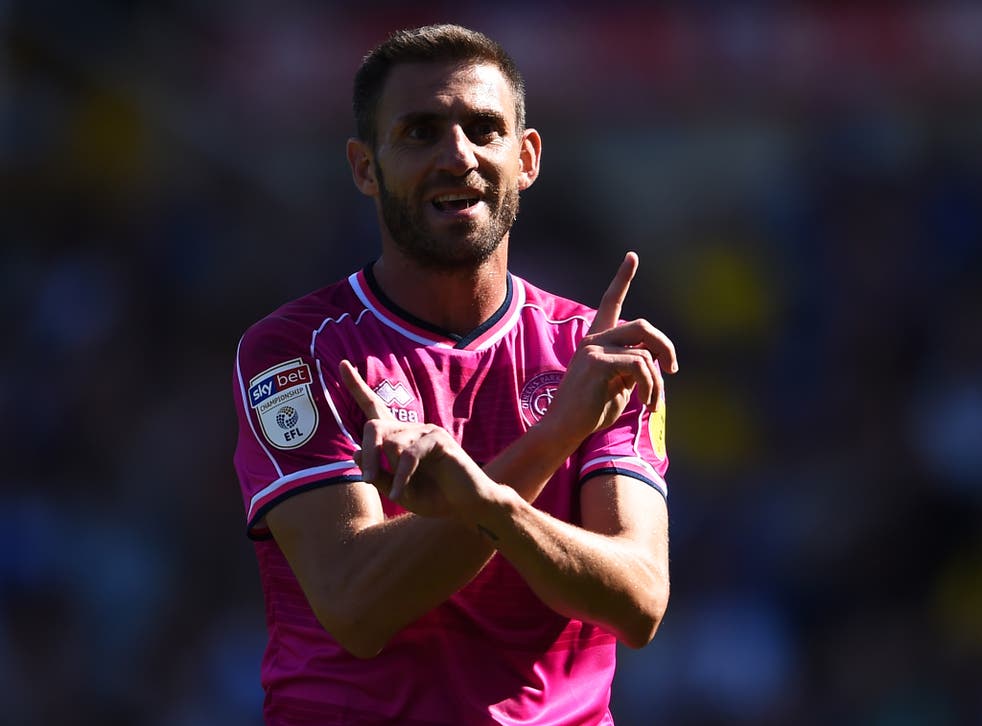 When the Championship season started in August, the outlook for Queens Park Rangers was not good. Steve McClaren had been brought in to improve their promising young players but the squad was thin on nous and it showed on the pitch. QPR lost their first four league games of the season, including a 7-1 defeat at the Hawthorns, which gave the strong impression, shared by some of their early opponents, that Loftus Road would be hosting League One football in 2019.
What McClaren needed more than anything else was experience. And it was his decision in those opening weeks of the season to reinforce his squad with players who have been around, who know this league and what it demands. Geoff Cameron, Nakhi Wells and Tomer Hemed all came in but most important of all was Angel Rangel, 35-year-old right back, veteran of 11 rollercoaster seasons at Swansea City, and living embodiment of the 'Swansea Way'.
Those signings have helped to turn QPR's season around, providing not just experience on the pitch but also stability and guidance away from it. The prospects for Rangers' season have transformed. Suddenly the club can look up rather than down, and a solid top-10 finish this season now feels well within reach. Yesterday Rangel signed an extension to his short-term deal, tying him to Loftus Road until the end of this season. Afterwards, he explained to The Independent in a Costa Coffee in Brentford how much he is loving life in west London, and what he has brought to McClaren's squad.
"I'm very pleased to sign," Rangel says. "I think in life, you have to be grateful. Steve McClaren gave me that opportunity to sign for another Championship club. I had to pay him back. First with performances, now with an extension."
It is certainly a different feel now at the club from when Rangel joined back in August. "There was a bit of pessimism in atmosphere then, losing the first four games. People were talking about relegation, 'the signings haven't been good, there's no money to invest', everything was negative. But football changes, like that. It has changed, in a good way. When we got the new guys in, they helped, not just the team, but some of the guys who were not performing."
This was a club with just a few senior players – Joel Lynch, Matt Smith – at the start of the season. But the addition of Rangel and co changed that. They are the players who can set the tone in the dressing room, in training, handing out fines, handing out advice to youngsters who might otherwise be lost.
"With a very young team, I feel like some of the lads look up to me," Rangel says. "Like at my age, I am still playing, and I've played in the Premier League for a few seasons. They always ask for advice. It's good a young lad wants to listen to a senior player and give their opinion. Like 'should I stay here for another six months, or go on loan because I'm not playing at the moment?' You can see young lads have doubts, it's good someone helps them to think better."
"And maybe a player like me is always vocal, setting the standard day-in day-out in training, not just in games. I consider myself a good professional, and I always say: 'If you see a 36-year-old who runs more than you, and works harder you, that means you're doing something wrong!' I'm trying to set the standard there."
Every Friday the senior players take on the youngsters in a hotly-contested old v young game. Rangel's veterans went 4-1 up but the youngsters are now 5-4 ahead. It has allowed the senior players to teach them that substance matters more than style. "We put it as an example, it's not how well you play, it's how you win the game. We don't play tippy-tappy football, we just play long ball and second balls and win the game. The young lads try to play good football and lose."
That same learning experience has told on the pitch too. McClaren and his new signings have tightened up the team defensively, and the squad are starting to feel the benefit of his detailed training ground preparation every week. There is a view at Loftus Road that some players have learned more already this season under McClaren than they did during Ian Holloway's time in charge.
Rangel has certainly been impressed with his new boss. "Steve is up there with one of the best I've ever had. In terms of management, he knows how to keep players on their toes and motivated. When we lost four in a row, any other manager would try to change things, but he never did. He just put us in a room, and it was more how to work on the mental side of the players. 'Don't lose confidence, don't lose belief, we are going to try to work on the gameplan a bit clearer so you can understand what we're going to do on Saturday.'"
McClaren's focus on gameplans and tactics is different from the high-performance possession game that Rangel played at Swansea, but he is relishing it. "Training is very different to what I had at Swansea, that was based on possession, enjoying training and improving with the ball. With Steve, it is more game-based, more related to what we're going to do on Saturday, which I love. The ideas are clear. We know what we're going to find up against us on Saturday, how we are going to beat them, That is real football for me. We've got quality, but if you don't know what you're going to do on Saturday, it means nothing."
And if the training is different from Swansea, then so are the games, but Rangel is enjoying playing at Loftus Road. Especially when they scrap to home wins like over Aston Villa and Brentford, and some of that old atmosphere returns. "It is totally different to what I've been doing in the last 10 plus years. That was the possession game, having more of the ball, dominating games on a bigger pitch. Now, Loftus Road is a smaller pitch, more of a fight, the nitty-gritty, the ugly bits. I haven't done it for years, but I am loving the way we play."
Join our new commenting forum
Join thought-provoking conversations, follow other Independent readers and see their replies