'I loved it and would do it all again': Tom Fox and the inside story of Aston Villa's decline and fall
Exclusive interview: Fox speaks out on deciding to sack Paul Lambert, replacing him with Tim Sherwood and the £55m spending spree which ultimately saw the club suffer relegation
Chris Young
Tuesday 21 November 2017 19:45 Comments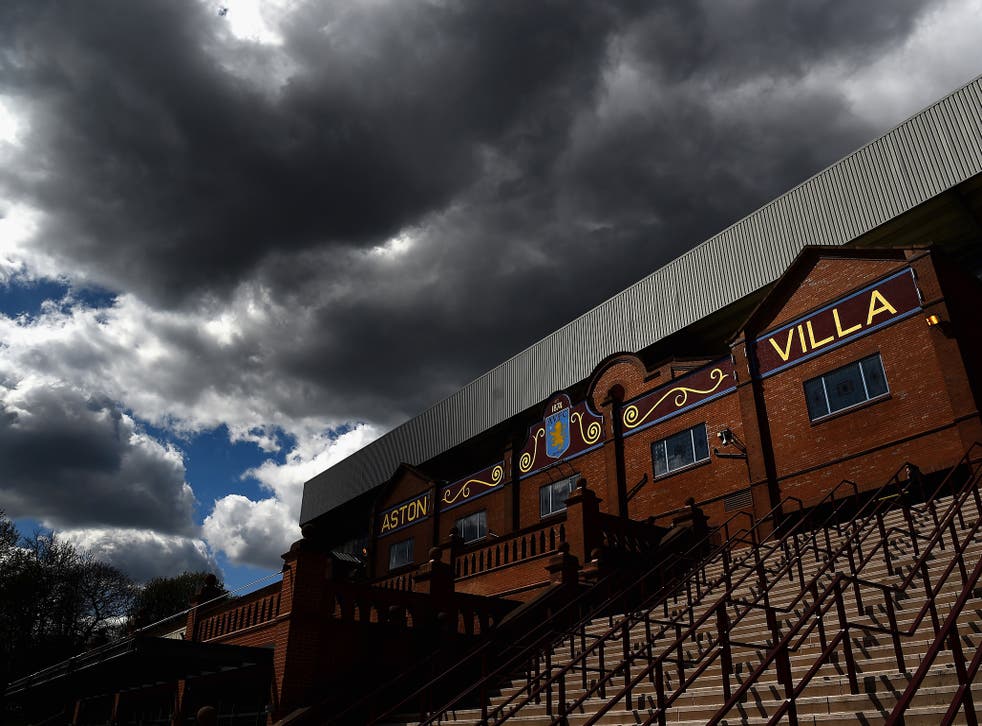 In August 2014, Arsenal's chief commercial officer Tom Fox made the somewhat surprising decision to walk out of The Emirates for a job at Aston Villa. Taking up a role as the club's chief executive, he immediately pledged to "restore the club to its rightful place in the Premier League".
19-months later he had resigned from his £1.25m a year job, citing a change in his role after a board restructuring at Villa Park for his decision. Sources at the club however claimed his position had become "untenable", following a disastrous £55m summer recruitment drive and open revolt from supporters, who unfurled banners on the Holte End demanding he quit.
For many, Fox was among the Villain's chief villains. He appointed much-maligned recruitment pair Hendrik Almstadt and Paddy Riley. He presided over a summer spending spree of unsuited young European incomings, which caused Tim Sherwood to launch his toys from the pram. And he hired Remi Garde to replace Sherwood. The Frenchman won just two of 20 Premier League games.
When Fox took up his role at Villa, the club had just finished 15th in the Premier League. By the time he left, they had been bottom for some five months and were well on their way towards relegation.
But Fox, who is now presiding over the MLS outfit San Jose Earthquakes, remains an ardent Villa supporter and insists that he reflects positively on his experience at the club. "I loved it and I'd do it again," he says.
He's quick to add that he realises that whatever he says to explain or defend his tenure, Villa fans will always judge him by the football during his 18-months as chief executive. He doesn't need reminding that results were rotten. But there is no bitterness, no recriminations and no regrets from Fox.
"I'd do it again any day of the week. You know what you're getting into when you work in English football," he tells The Independent, reflecting on his time at the club in the northern California sunshine.
"I never took the personal criticism personally. At the time, I was the most visible part of the football club.
"Did we make some mistakes? Of course. Would I do things differently? Of course. But everyone there was well-intentioned and wanted to deliver success for the fans."
Chicago-born Fox had built a strong reputation as Arsenal's chief commercial officer when he was attracted to Villa's history and fanbase in the summer of 2014.
At that stage, Lerner had already tried - and failed - to sell Villa. Despite investing sums early in his reign that were only dwarfed by Roman Abramovich at Chelsea and Sheikh Mansour at Manchester City, the American's financial commitment was beginning to wane.
Fox's task was to make Villa much more self-sufficient - far from simple when the club had become perennial relegation strugglers after Martin O'Neill's successful side evaporated under Gerard Houllier and Alex McLeish, before Paul Lambert just about managed to steady the ship.
After five years at Arsenal, Fox knew what he was getting himself into.
The shock came when he studied the club's figures. He learned, for instance, that non-television revenue had increased by a meagre 14 per cent over the previous 10 years, despite the boom-time of the Premier League. Non-football costs, meanwhile, had grown to a whopping £9million.
Fox could have quietly gone about overhauling the club's finances and improving the infrastructure of scouting, sports science and youth development if matters on the pitch had been positive. But they weren't. Lambert looked increasingly downtrodden; beaten down by Villa's struggles.
A vote of confidence came from Fox. Just a couple of months later Lambert was sacked. It prompted plenty to question the chief executive's decision-making and footballing nous.
"I think at some point, these jobs become really burdensome and there was a lot of pressure on Paul," said Fox.
"I backed him because I believed in him and the club needed stability. But when it was clear that it wasn't working out, we had to make a change."
Sherwood arrived as a replacement and made a significant short-term impact - keeping Villa in the top flight and taking them to the FA Cup final, before they were tamely swatted aside by Arsenal, at Wembley. "A worrisome performance", according to Fox.
The problems increased significantly during the summer. Liverpool met Christian Benteke's buy-out clause, while Fabian Delph joined Manchester City, just six months after penning a new four-and-a-half year deal at Villa.
Fox explains: "Fabian could have left in the summer on a free transfer, but he recommitted with a buy-out in there and basically handed the owner a significant sum of money. That enabled us to do something with the money.
"I think he's a top person for doing that, even though the fans were upset when he left."
As replacements, Fox's recruitment team of Almstadt and Riley predominantly looked to the continent. The likes of Jordan Veretout, Jordan Ayew, Idrissa Gueye and Adama Traore were brought in, along with ageing Premier League professionals Joleon Lescott and Micah Richards. An opening day win and a Birmingham derby success in the League Cup didn't mask the obvious deficiencies of the side.
Sherwood subsequently claimed that the bulk of Villa's 12 summer recruits were not chosen by him. Fox is wary of becoming involved in a 'tit-for-tat' exchange, but clearly disagrees.
"Tim was a big part in identifying what was wrong with the squad and possible replacements for each position. He was integral in putting that squad together," he said.
"Clearly when you lose players who are a big part of your system, we knew it was going to be a difficult road. We thought if the young players who we brought in - who had some real quality - were managed properly, we could find our way through it."
Garde arrived as a replacement for Sherwood, yet the rot had already set in. The Frenchman was merely the fall-guy, not the cause, of Villa's relegation.
"You can't make an explanation that is simple and neat [for what was to blame for relegation]," says Fox.
"It's too simplistic to blame it all on one summer. There were long-term problems.
"You're changing the business side, then looking at your football set-up and how you can help the academy find its soul again. We were working on nutrition, psychology, data analysis, fitness. There were a lot of plates that were spinning.
"It was a difficult environment for anyone to come into. I still think Remi Garde will find his way into the Premier League. He's got too much knowledge and experience not to."
After a boardroom reshuffle, Fox resigned just a fortnight before Garde was sacked. He admits there was a mixture of sadness and relief at his departure. Even though Villa's decline was attributable to a whole host of long-term factors, he had become a scapegoat.
Villa moved on, yet it has not been a swift process to banish the club's blues. It took the arrival of new owner Tony Xia, the end to the brief reign of Roberto Di Matteo and a host of new recruits on big contracts to finally bring some upward momentum.
Current manager Steve Bruce said: "For six months I made us difficult to beat. I didn't care about entertaining. We just had to get a few results and turn the whole thing around.
"We had good players here but I just think the club had got into the downward spiral.
"They were used to getting beat and once that happens it becomes the norm - 'ahh Villa have been beaten again, so what?'
"I can only look at Sunderland now, they're in the same situation. They've got into a spiral where they're getting beaten too often."
The next stage for Fox has been a slightly more sedate process. He returned to the US last summer when his daughter wanted to attend secondary schools in the States, and San Jose provided idyllic surroundings.
The early signs are good. Despite a thumping 5-0 loss to Vancouver Whitecaps, the Earthquakes made the end-of-season MLS play-offs for the first time in five years last month.
"While there's less pressure without the threat of relegation, this is a franchise that's ambitious. We want to win," said Fox.
But while MLS may be easier on the stress levels, it doesn't necessarily provide the buzz of English football. It's why Fox still keeps track on Villa's progress and why he would jump at a similar opportunity in the Premier League if one came along.
"People ask me what you think of the Villa experience? I love it and I'd do it again," he added.
"I'm sorry we didn't have enough time to turn it around and I really regret that Villa were relegated, but I'm confident they will find a way back."
Register for free to continue reading
Registration is a free and easy way to support our truly independent journalism
By registering, you will also enjoy limited access to Premium articles, exclusive newsletters, commenting, and virtual events with our leading journalists
Already have an account? sign in
Join our new commenting forum
Join thought-provoking conversations, follow other Independent readers and see their replies