'Black sheep' of Elland Road: Wild man of Leeds fights to clear name
Gary Sprake became a pariah after exposing the corruption of legendary Leeds manager Don Revie. Now the ex-goalkeeper wants to save his reputation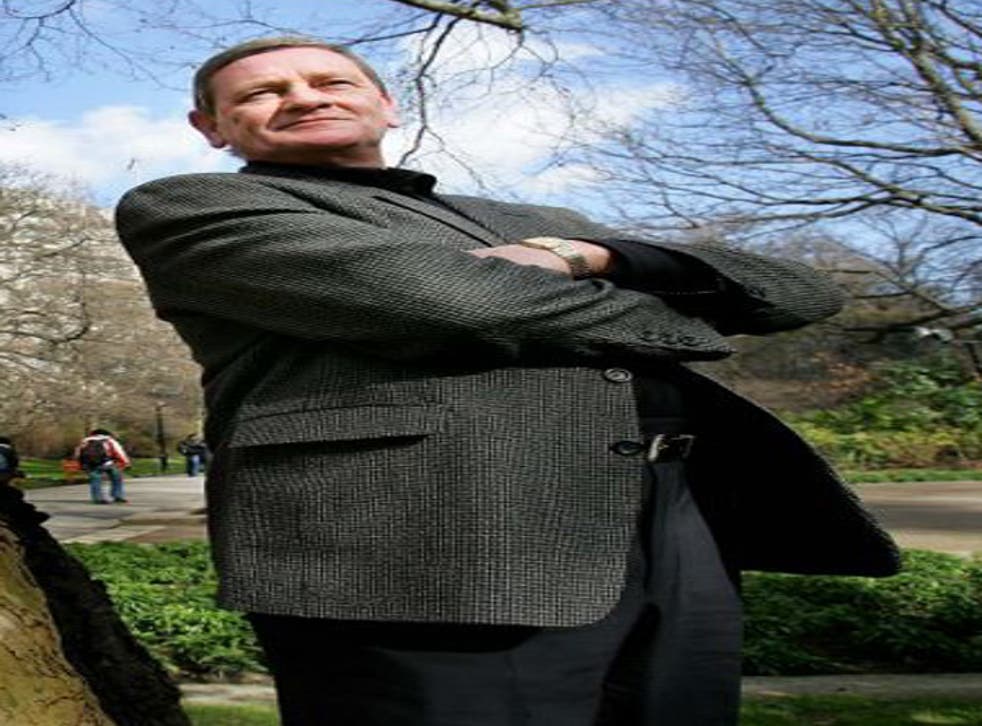 Women, drinking and fighting. Gary Sprake would always be remembered for those three things, according to an old Leeds United team-mate. But the Welsh goalkeeper's legacy goes far beyond a talent for hell-raising, as illustrated by the title of a new, authorised biography, Careless Hands*, and the reaction it has provoked.
Sprake's name is a byword for the goalkeeping gaffe, largely, if not exclusively, as a result of a freakish episode at Liverpool in 1967. On a snowbound pitch, he went to throw the ball to Terry Cooper when a red shirt moved to close him down. As he pulled the icy ball back in to his chest, it squirted out like a greasy balloon and rolled into the net.
The wag spinning the half-time discs slapped Des O'Connor's No1 ballad "Careless Hands" on the turntable and a legend was born. The former England cricket captain Michael Atherton, commentating on the Ashes series last summer, talked of a fielder who fluffed a catch "doing a Sprake".
For some of his colleagues in that fearsome Leeds squad, however, it is Sprake's careless tongue that angers them. In 1978, by which time he had long since become the first £100,000 goalkeeper when joining Birmingham City and then retired due to a back injury, he accepted money from the Daily Mirror for corroborating their story alleging that Don Revie, the Leeds manager, attempted to bribe opponents.
For three decades, this once-integral member of Revie's "family" - his favourite son, reputedly - has been airbrushed out of the Elland Road story. Players with whom he went through hundreds of games feel he has "spat in the soup", to use the cycling vernacular, and diminished their achievements by implying their medals were bought. Sprake has been frozen out of reunions and funerals, and when he is mentioned in their memoirs it is usually to denigrate him as the weakest link.
Now, to promote the book co-written by his nephew, the college lecturer Stuart Sprake, the 61-year-old Sprake has broken the cover afforded by 20 years training business and information technology students at a Midlands college. He is coming out fighting. Not literally, as of old; he has had a triple heart by-pass and describes himself as "a gentle, quiet man". Yet his attempt to "reclaim my reputation" after being "crucified" by Eddie Gray, Allan Clarke and Mick Jones in their books, is impressively forthright.
Any fair-minded person who saw Sprake at his best - in the 1965 FA Cup final, for example, or the Fairs (Uefa) Cup final three years later - would acknowledge that the brilliance far outweighed the bungling. He set records for fewest goals conceded and most clean sheets, keeping his place for 10 seasons in a side that never finished below fourth.
"There has been a lot of re-writing history," Sprake says. "How can I be a terrible goalie if I played over 500 games for Leeds, nearly all in the top division? Don Revie was neither a fool nor a bad judge of players."
What about the high-profile calamities? "Not every game was on TV like it is now, but ours almost always were. So they ended up being blown out of proportion. In 12 years I probably made five or six bad errors, and no player is immune to that. One of the worst was in the 1970 FA Cup final when Peter Houseman's shot sneaked under my body for Chelsea's first goal. I'm not making excuses but the Horse of the Year show had just been held and the pitch was like a beach. The ball just went flat.
"But when Peter Osgood died, I went back to look up the paths to Wembley of the two clubs. I let in a single goal, against my home-town team Swansea, in seven games leading to the final, including three semi- finals with the Manchester United of Best, Law and Charlton!
"That day at Liverpool I actually had a good game. At half-time the lads told me, 'Come on, get yourself together. We can do better'. We never criticised each other apart from me and Big Jack [Charlton], and that was all forgotten afterwards. I never got much stick off the supporters, then or now. It has mainly been the ex-players' books."
The reason for that, Sprake has no doubt, is his decision to take the Mirror's money. "I didn't have to get involved. The story was already written. They'd had a dossier on him for two years, had statements from people like Bill McGarry and Francis Munro [Wolves' manager and captain respectively] saying the same about Revie.
"I spoke the truth when I said I knew of two games he tried to fix. Some Leeds players can't get over it. I'm the black sheep because I've said something 'wrong' about the great Don Revie. He was a fantastic manager, but flawed. He was often too cautious and negative, filling our heads with boring dossiers about inferior teams instead of letting us off the leash. When he finally did, in '72, we thrashed Southampton 7-0 and Manchester United 5-1 and were absolutely brilliant.
"But I stand by what I said. Near the end of a season, Revie would ask certain people [opponents] whether they would like a nice holiday. Because I said that, some team-mates have blown me out of the family... I told the truth in '78. Not one person sued me. When I had to finish at Birmingham, aged 28, no one from Leeds got in touch. The bribery story broke and suddenly I had calls from Billy [Bremner] and Don. A testimonial and a job were offered. Revie arranged to meet me at a Leicester hotel. My solicitor went instead. The paper paid me £7,000. If I'd taken what he offered, I could have made £20,000. But it was about principle, not money. My conscience is clear."
Sprake still has cordial relations with some former Leeds players, including Charlton, Cooper and Terry Yorath. He believes those who "bear a grudge" include Clarke, Jones and Paul Reaney. "Paul and me were best mates. We went everywhere together - even shared double beds! When he broke a leg at West Ham in 1970, putting him out of the FA Cup final and the World Cup, I spent the night at the hospital.
"I wrote to Paul asking if he'd contribute to the biography. He replied saying, 'We disagree with what's in it'. How could 'they' know what's in there? It's not a kiss-and-tell thing. I've learnt to accept I'm not welcome at Leeds, even though I still have feelings for the club. Theirs is the result I look for first and I'm really hoping they can get up via the play-offs. Maybe attitudes will change if they read the book."
Sprake would welcome a reconciliation and was delighted that Eddie Gray, to whom he had last spoken in 1973, hugged him before they aired their differences on Radio Leeds. Gray has pledged to seek his readmission to the fold, but an imminent return is unlikely. Sprake has lived too long with the contempt of ex-comrades to hold his breath.
Some remember his wild streak as much as the controversy and the consistency. The women? "The lads thought I was quite smart and good looking in those days," he laughs. "I didn't have much trouble meeting the opposite sex. The others used to get the cast-offs!" Sprake was even asked out by the late Dusty Springfield, but stood her up and now talks, with touching gaucheness, of "rumours that she was a lesbian".
The fighting? "I was a very proud Welshman with a short temper. Centre-forwards like Joe Royle, Andy Lochhead. Alex Dawson and Bobby Gould tried to rough you up. Bobby did it at Arsenal so I flattened him. A right hook. I should have been sent off but got away with it. Then sometimes I'd be in a night-club. A lad would be out with his girlfriend. If she looked at me, he'd get jealous and come over and pick a fight. I never backed down."
And the drinking? "Revie was a disciplinarian and made sure we didn't touch a drop for two days before a game. But I did go out with Jack and Billy after a match. We'd have a few, though we didn't go looking for trouble."
By resurrecting his allegations about throwing matches, alongside his tales of throwing own goals and punches, Gary Sprake may have found it none the less.
Careless Hands: The Forgotten Truth of Gary Sprake by Stuart Sprake and Tim Johnson (Tempus Publishing, hardback), £18.99
Yorkshire years: Gary Sprake's Leeds life
THE PLAYER
Born: 3 April 1945, Winchwen (Wales).
Position: Goalkeeper.
Clubs: Leeds United (1 May 1962 to 1 October 1973); Birmingham City (1 October 1973 to 1 May 1976).
Transfer fee: Sold to Birmingham City for £100,000 in 1973.
Club appearances: Leeds (506); Birmingham (16).
International caps: Wales 37 full.
THE CLUB
Sprake's Leeds record: First Division champion 1969; Second Division champion 1964; FA Cup winner 1972 (sub); League Cup winner 1968; Fairs Cup winner 1967, 1971; First Division runner-up 1965, 1970, 1971; FA Cup runner-up 1965, 1970.
Register for free to continue reading
Registration is a free and easy way to support our truly independent journalism
By registering, you will also enjoy limited access to Premium articles, exclusive newsletters, commenting, and virtual events with our leading journalists
Already have an account? sign in
Register for free to continue reading
Registration is a free and easy way to support our truly independent journalism
By registering, you will also enjoy limited access to Premium articles, exclusive newsletters, commenting, and virtual events with our leading journalists
Already have an account? sign in
Join our new commenting forum
Join thought-provoking conversations, follow other Independent readers and see their replies