£100m debts, £4m cut in TV money and wages they now can't afford: The story of Blackburn's plummet over a precipice
As always with proprietors Venky's, the indignant have long found themselves shouting in an empty room - and it looks as if it can only get worse for a once-proud club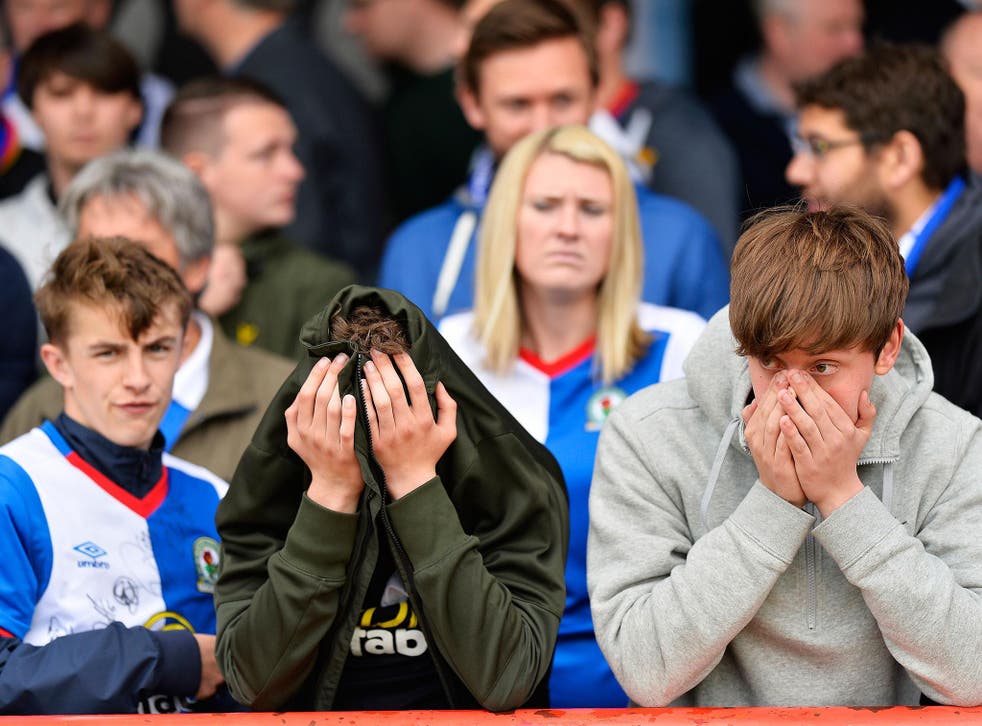 The Lancashire Evening Telegraph, a steadfast voice of reason amid Blackburn Rovers disappearance over the precipice into League One, where they will begin life with debts of over £100m, railed once again on Monday against the absent owners who have reduced the club to a state of penury. "Communicate, invest, or go," the title demanded.
There was communication of the briefest kind on Monday evening – a 227-word statement from "the owners" which gave the impression that they intend to stay, said they wanted manager Tony Mowbray to do the same but offered no commitment whatsoever to new investment. "This is indeed a very sad situation and we are deeply hurt by these events," it stated. "Teams have been relegated but have turned their clubs around and emerged stronger…. Work has already begun to make this happen."
No-one in Lancashire is aware of work beginning. Instead, director of football and operations Paul Senior, Mowbray's sole point of contact with management, who only took over in January, announced he is walking away. That was a surprise. No named individual spoke out from the Indian city of Pune, south west India where seven new managers have been invited to an audience with owner and matriarch Anuradha Desai at her "Venky Farm" bungalow in the past seven years.
Tony Mowbray, seventh occupant of their hot-seat, said he had received no contact from the Mrs Desai and her family, who are understood only to be willing to sell to foreign owners. The Indians are also thought to be weighing up the sale of the ground's rural Brockhall training ground. Their club managed to be relegated despite having the ninth highest wage bill in the Championship and with the TV money cut from £5m to £1m after relegation, cuts are going to come from somewhere.
It would be wrong to characterise Mrs Desai – or 'madam' as she is known to those who pay homage - as a wilful asset stripper. In the early years, when the football agent Jerome Anderson convinced her that owning Rovers was a very good idea – and thus earned himself the commission the Jack Walker Trust was offering to anyone who found a buyer - she took an interest in Blackburn. Mrs Desai had to be reined in from responding to all the hand-out requests which came piling in from North-west England: a £17,000 minibus needed here, hardship support required there. She even had ideas about funding a renovation of Blackburn Cathedral.
But she and her family, who thought the club would help them promote their new fast food outlets, knew nothing about football. The disastrous decision to remove manager Sam Allardyce when the side sat 10th in the 2010/11 Premier League was just the first proof of that fact.
You can take your pick of the public embarrassments which followed but the Henning Berg court case perhaps tops the lot. The former Rovers title winner was Venky's third manager, succeeding Steve Kean on financial terms which included no provision for an early parting of the ways – as football managers' contracts generally do. Berg had to pursue the club through the High Court for wages due when he was dismissed. He ended up with £2.25m or £39,473 a day - a larger reward than the daily earnings of the then highest paid Premier League player, Wayne Rooney. He has lasted just 57 days as manager and secured the club precisely six points.
At one stage, the club had spent £7.5m on players who had never kicked a ball and as the company name has become a source of deepening ridicule Ms Desai and her family have withdrawn, increasingly offended and unwilling to sell to any prospective local buyer of the club, as a result. Just one player has been bought in the past two years - £250,000 defender Derrick Williams from Bristol City, though the club's descent was accelerated by the disastrous decision to appoint Owen Coyle as manager last summer. Paul Lambert had vacated the position, declaring after six months that he was unable to work with the Desai family any longer.
Mowbray was unfortunate, given that Rovers managed 51 points and that 50 points had been enough to keep a side in the Championship in seven of the previous eight years. But Rovers were out of the bottom three for only 35 days all season. They had won 27 of their last 100 league games. The table didn't lie.
The Blackburn Rovers Supporters Trust met sports minister Tracey Crouch last month to discuss ownership reform and push Supporters Direct's idea of club licences to protect professional clubs from incompetent owners. "The whole thing is a shambles. We all wanted them to survive but even if they did stay up this miserable existence would have continued," said chairman John Murray.
It seems destined to suffer that in any case. It is difficult to see who might want to save a deeply indebted club, in an economically challenged former mill town, which may struggle to attract gates of 10,000 in the third tier.
Join our new commenting forum
Join thought-provoking conversations, follow other Independent readers and see their replies