Bolton vs West Brom: Kick-off delayed in Championship game after protesters flood pitch with tennis balls
Thousands of Bolton fans had already marched against the club's owner Ken Anderson before the match
Jack Pitt-Brooke
Monday 21 January 2019 21:14 Comments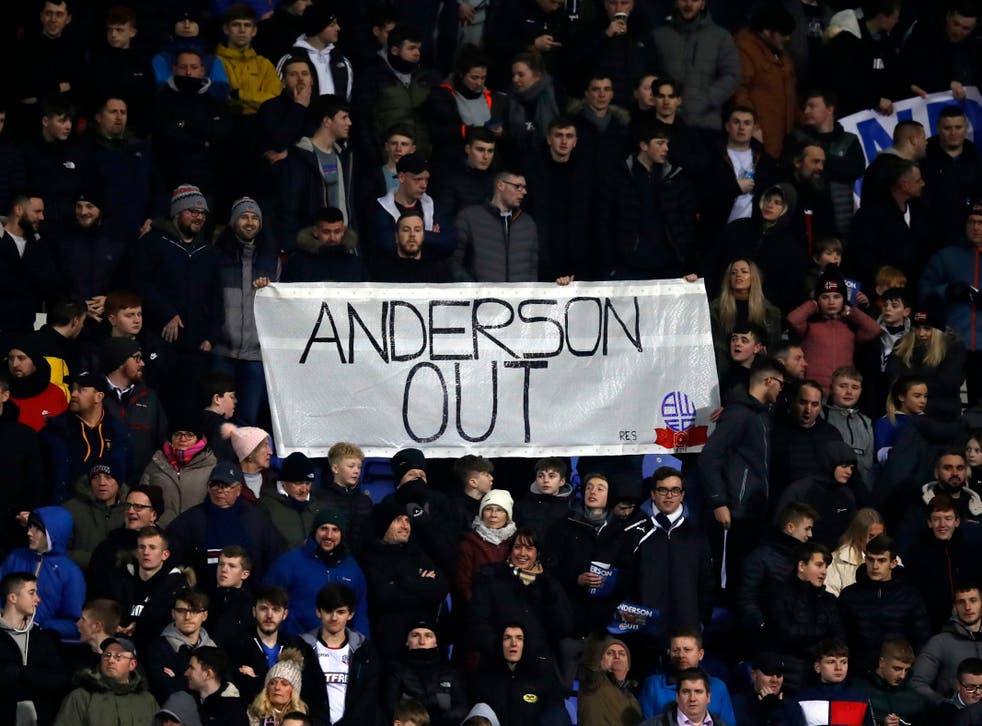 Bolton Wanderers fans successfully delayed the kick-off to their Championship game with West Bromwich Albion tonight by throwing tennis balls onto the pitch.
On a day of protest against Bolton's unpopular owner Ken Anderson, fans marched outside the University of Bolton Stadium before stopping the game from kicking off at its scheduled 8pm time. By throwing tennis balls onto the pitch, they stopped the kick-off as the balls had to be removed. The game did not start until 8.03pm.
Thousands of fans marched against Anderson beforehand, parading 'Anderson Out' banners, chanting for him to leave the club. Many of those banners made it into the ground and were visible throughout the game. Bolton have been in serious financial difficulty for years, struggling to pay players or staff this season and in dispute with other clubs over payments.
The protesting fans were joined by Bolton's legendary player John McGinlay, who had his media accreditation for this fixture revoked by Anderson because of his criticisms of the club. McGinlay told Sky Sports before kick off what he thought of the Anderson regime.
"There has been total mismanagement," he said. "There is a genuine fear for the club. You see the passion from the supporters, the genuine passion and love for the football club. The town is proud of the football club, but our good name has been dragged through the mud. I'm not so sure [Ken Anderson] will take notice, but if you don't do anything, nothing will ever happen."
Register for free to continue reading
Registration is a free and easy way to support our truly independent journalism
By registering, you will also enjoy limited access to Premium articles, exclusive newsletters, commenting, and virtual events with our leading journalists
Already have an account? sign in
Join our new commenting forum
Join thought-provoking conversations, follow other Independent readers and see their replies