Steve Morison accuses Millwall fans of 'ruining' the club's play-off final success after Wembley pitch invasion
Morison was left furious with the pitch invasion after the full-time whistle, while Bradford boss Stuart McCall claimed he had been 'verbally assaulted' by some supporters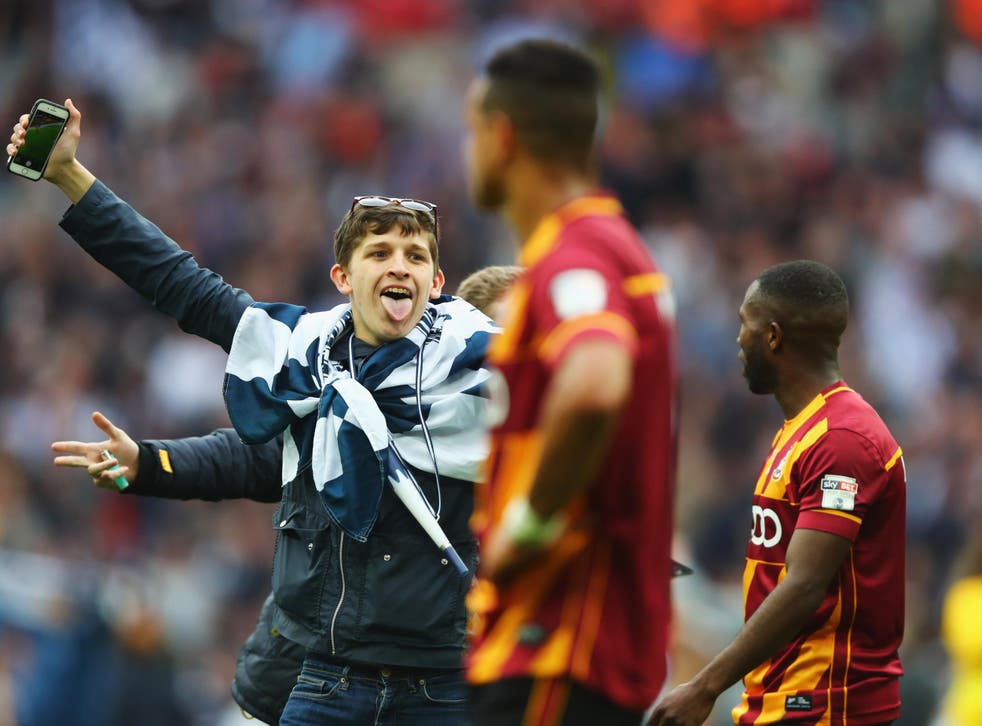 Millwall hero Steve Morison and Stuart McCall, the Bradford manager, voiced their anger at the pitch invasion that followed Saturday's League One play-off final.
Delighted Lions fans – whose side triumphed 1-0 thanks to Morison's late strike – poured onto the Wembley pitch to celebrate after the full-time whistle, despite the pleas of the stadium announcer.
The jubilation appeared to be good-natured in the main, but a minority of those who hurdled the barriers made their way over the beaten Bantams players staff to crow about the result. Others taunted the Bradford fans, raising Millwall flags and middle fingers.
Morison, asked about Millwall's win at pitchside as supporters ran on, was clearly annoyed at the intrusion. "It's brilliant but I can't lie: I can't really focus at the minute," he told Sky Sports. "It's ruined it for me right now, they've absolutely ruined it."
McCall seethed at the security measures that allowed so many people to evade stewards and said he had been tempted to take matters into his own hands after being "verbally assaulted" on the touchline.
"Wembley have got to learn now," he sighed. "Everyone in the whole place knew the fans were coming on. I don't understand supporters coming on to have a go at myself, my staff and the players when they've won a game. Just enjoy your moment.
"I was close to clocking a couple [of them] who were coming up in my face. That's not sour grapes; it's something we've got to learn from. Five or ten minutes after the event, an army of stewards walk on. Where were they straight after the game when they should have been on the halfway line?
"It's not just Millwall. Come on the pitch – that's fine. Stay in your own half, celebrate with your own players and your own team. You don't need to start goading. We feel bad enough as it is. It's not nice, is it?"
Millwall boss Neil Harris offered conciliatory words to his opposite number but insisted the invasion would not overshadow his celebrations.
"I don't condone the people coming onto the pitch," he said. "I apologise to Stuart, his staff and his players for them coming on. I hope they came on to get their selfies in good nature. I don't condone it and it won't take away my joy tonight though."
Join our new commenting forum
Join thought-provoking conversations, follow other Independent readers and see their replies