Brentford 0 Doncaster Rovers 1 match report: Sting in Rovers' tail stuns Bees
The Calvin Report: Doncaster crowned champions with 95th-minute winner — immediately after Brentford miss penalty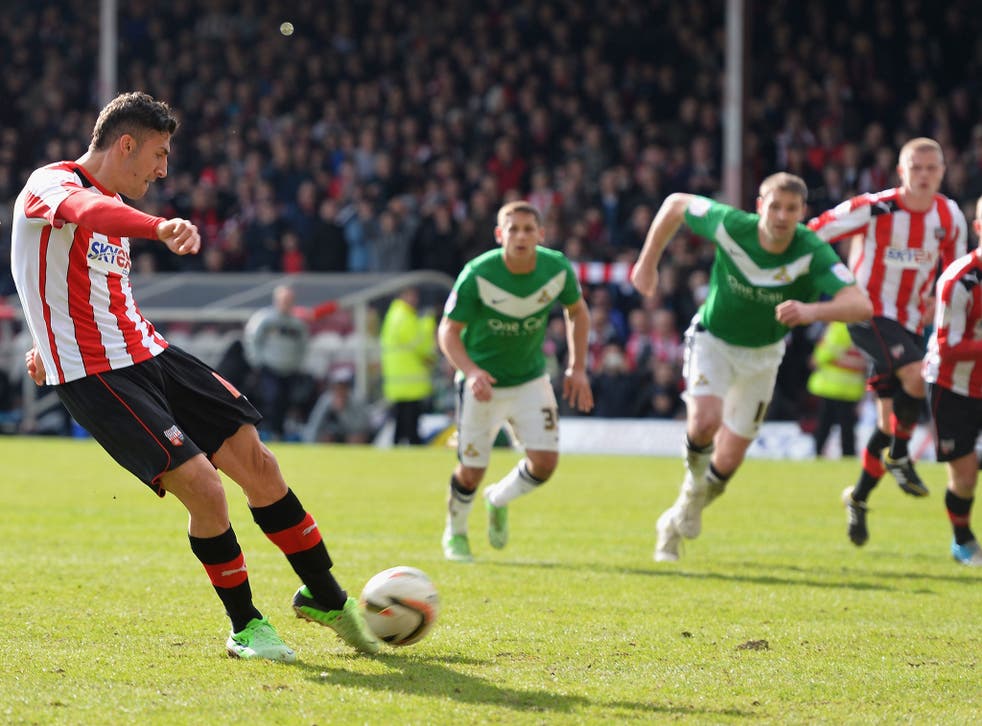 Six Brentford players lay, face down, in the opposing penalty area as James Coppinger scored the goal which made Doncaster Rovers League One champions. He stripped off his shirt, threw himself headlong into a seething mass of humanity at the other end of the pitch, and left them to their misery.
There, in a single image, was football's cruelty and seductiveness, its pain and its passion. Griffin Park's biggest crowd for 20 years watched in traumatised silence. The home fans were taunted by the sights of celebration, and the sweet smell of smoke from red flares which captured capering hordes, in silhouette.
A season's toil came down to ten improbably dramatic seconds, in the last of five minutes of added time. Promotion beckoned Brentford when referee Michael Oliver summoned the courage to award a penalty when Toumani Diagouraga was bundled to the ground in a frantic siege which seemed unlikely to be rewarded.
Many in the main stand could not bear to watch. They turned away, and clasped their hands in prayer, with good reason. Somehow Marcello Trotta, a Fulham loanee who had only been introduced as a 77th-minute substitute, was allowed to take the responsibility, against the apparent wishes of Kevin O' Connor, his captain.
His penalty was fiercely struck, against the underside of the crossbar. In the midst of a collective nervous breakdown, the ball was quickly worked to Billy Paynter, five yards into his own half. He had only goalkeeper Simon Moore to beat, and the latter was so distracted he had his head in his hands before he realised the sudden peril which confronted him.
Paynter drew Moore out of his penalty area, and then crossed for Coppinger to roll the ball into an empty net. Cue bedlam, in which Doncaster players were corralled behind a protective cordon of security guards and six police horses.
It is the modern way to use money to emphasise the differences in fate. Doncaster will receive a minimum of £6m in TV money next season. If Brentford fail to emerge from the play-offs, where they face Swindon in the semi-finals, they must make do with £238,000.
Yet the human aspects of the achievement have greater weight, and resonance. The diminutive figure of Brian Flynn, when he emerged to take a bow 20 minutes after the final whistle, told a special story. A season which began as a scout ended with promises of a long-term managerial contract. His opposite number was distraught. Brentford manager Uwe Rosler said he had not wanted Trotta to take the penalty "but I am not going to hold anyone out to dry. We will deal with the matter internally."
The beauty of such an occasion also lies in the idiosyncrasies and inadequacies of humble clubs at pivotal stages in their development. Doncaster know what it is like to walk on the wild side. This is a club that has been reborn and rebuilt. It has regressed, and then regrouped. A return to the Championship, the retrieval of the place lost through last season's disastrous experience with agent-driven expedience, was fully deserved. They were not pretty, but they were incredibly effective.
Brentford are another antidote to what football has become at the highest level: complacent, self-serving and distanced from reality. They are aspirational, socially aware, but not too proud to recognise their faults.
Griffin Park is an old school ground. The scoreboard goes on the blink, the narrow wooden seats compress the spine, and the fans have a fatalism born of bitter experience, but it is the perfect stage for a reaffirming experience.
The teams emerged to a howl of hope. This is not the sanitised emotion of their supposed superiors in the Premier League, and it was inevitable that the game would lack subtlety and poise. Players careered around, like dodgem cars driven by alcoholics, and for supporters of either side, it was exquisite agony.
There is much on which Brentford can build. They have a vibrant academy, a new stadium in the pipeline, and a manager of genuine stature in Rosler.
Yet all they can concentrate upon today is the bleak reality of six previous failures in play-offs at this level. Football's a bitch and then you cry.
Brentford (4-3-3) Moore; Logan (Forshaw, 65), Dean, O Connor, Bidwell; Douglas (Trotta, 77), Diagouraga, Adeyemi; Forrester (Saunders, 70), Wright-Phillips, Donaldson.
Doncaster Rovers ((4-4-2)Sullivan, Quinn, McCombe, Spurr; Coppinger, Furman, Lundstrum (Keegan, 62), Cotterill; Brown (Syers, 83), Hulme (Paynter, 77).
Referee Michael Oliver.
Join our new commenting forum
Join thought-provoking conversations, follow other Independent readers and see their replies