Championship play-off final: Whatever the outcome, Steve Bruce has shown that Aston Villa are in safe hands
Victory at Wembley would complete a healing process for a club that lay 19th in the Championship and felt quite broken when, in October 2016, Bruce became its fourth manager in 12 months
Simon Hart Comments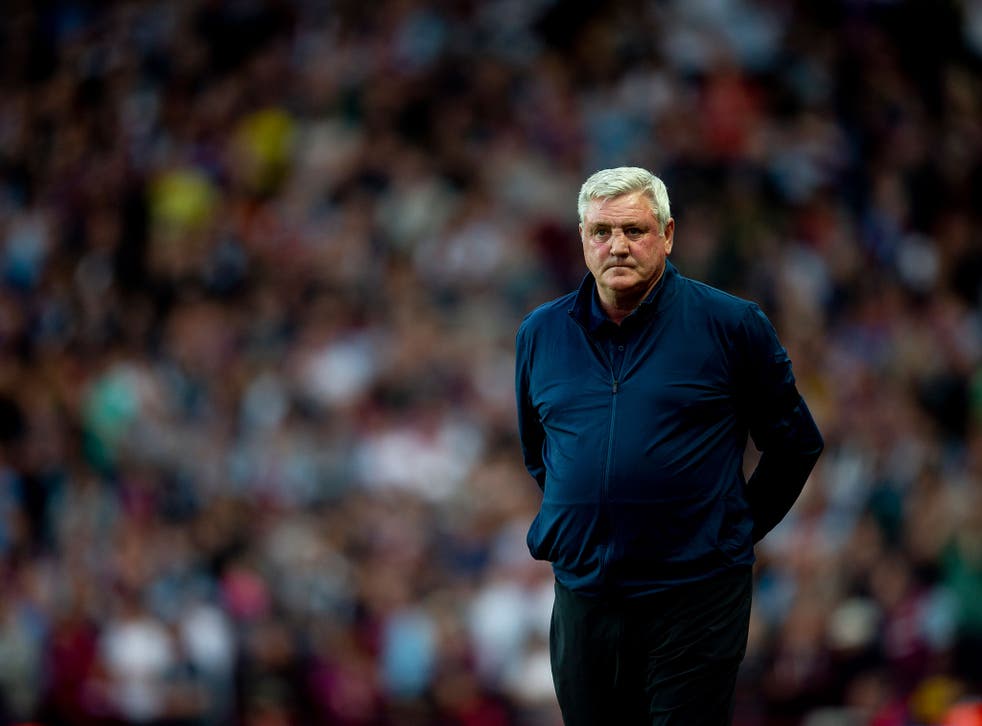 There was a moment in a classroom at Aston Villa's Bodymoor Heath training ground this week when football took a back seat. It came as Steve Bruce, the manager of a Villa team who face Fulham in Saturday teatime's Championship play-off final at Wembley, discussed the deeply painful personal backdrop to his side's resurgence – namely, the passing of his father Joe and mother Sheenagh in a shattering three-month period.
"In the industry we're in, there's so much negativity and so-called bad people around, but when something happens like what's happened to me, and how cruel it is, the number of messages of support and cards I've had has been quite remarkable," he reflected. "The football world feels for you because to lose your Mam and Dad has been the most traumatic experience that anybody could really cope with."
It was when Bruce remembered his mother Sheenagh's love of Wembley that his eyes welled up. "On a lighter note, my Mam always enjoyed Wembley so she'd have been getting her outfit," he began, before the words stopped in his throat.
It is little wonder the 57-year-old – who led both Birmingham City and Hull City to two promotions apiece – would view success with Villa as "maybe the most satisfying, with what has happened in my personal life". Moreover, it would complete a healing process for a club that lay 19th in the Championship and felt quite broken when, in October 2016, he became its fourth manager in 12 months.
This play-off final falls on the same date, 26 May, of Villa's 1982 European Cup final triumph. Bruce spoke of waiting 20 years to manage a side of Villa's size but the problem with big clubs – as Sunderland, one of his old teams, have just found out – is when they slide, the downward momentum can be unstoppable.
"My initial thought, and Steve Round [Villa's director of football] agreed with me, was 'We've got to stop the rot and just keep the club in the Championship'," he recalled. "Let's be fair, Aston Villa went down with a whimper. There was no association with the players anymore. It had broken, so to mend that the only thing you can do is try and get a bit of honesty, get a bit of endeavour back, and win a few matches."
Bruce has done that and more with a side who climbed from 13th last season to fourth in the table this term. He has done it despite selling nine senior players last summer to meet Financial Fair Play regulations. Of the incoming transfers only two, Ahmed Elmohamady and Glenn Whelan, involved fees.
"There were too many bad apples" is how Bruce regards the group he inherited, and an illuminating perspective on the turnaround comes from Danny Donachie, the club's head of medicine and sports science. A deep thinker who promotes yoga and meditation among the squad, he had worked successfully under David Moyes at Everton but found the staff at Villa "in a state of anxiety". He explained: "The first thing was the manager started to give them more of a sense of comfort and gradually over time that anxiety has lessened."
Bruce's relaxed, personable manner has had a positive impact. So too the senior players brought in, starting with John Terry. "He sets the tone for the rest of the players where before the players didn't really have anyone of that ilk," said Donachie. "They probably had a few people that were more negative and so the standard of the dressing room has completely changed.
"He was injured at one point so I spent a few weeks with him," he added of the 37-year-old. "One day he got me in at six in the morning to start and it was still dark. He's the most competitive person I've ever met – and I've met some competitive people. In the first [play-off] game against Middlesbrough, early on he injured his ankle, but he played the whole game, wouldn't come in the treatment room for two days after and played the second game even though he was injured. And he never said a word."
Hence Bruce's desire for Terry, who arrived on a 12-month deal last summer, to stay on another year. The former Chelsea and England captain has instilled an admirable resilience – since losing 2-0 at Fulham on 20 February, Villa have conceded only three second-half goals in 15 matches. He also symbolises the experience that should serve Bruce's side well against Fulham. Of the XI starters in the semi-final first-leg win against Boro, all had played at Wembley before.
Tellingly, only two were survivors of Villa's last Wembley trip for the 2015 FA Cup final loss to Arsenal, Jack Grealish and the rejuvenated Alan Hutton. The former has happier memories of the preceding semi-final win over Liverpool in which he showcased the rich promise he has finally begun to realise following his return from a serious injury – a split kidney – sustained in pre-season against Watford.
"He was always a lovely boy but he didn't have any focus really," said Donachie of the 22-year-old. "The issue with his kidney gave him a real scare and was probably the best thing that ever happened to him. Jack actually stays in most afternoons and does extra work, whereas you couldn't drag him into the gym last year. Part of that is also the shift in the general culture through JT and [Robert] Snodgrass and Whelan and Elmohamady."
Bruce has built his team around the attacking midfielder who plays on the left of a three-man midfield anchored by Mile Jedinak – and will aim to exploit any space left by Fulham's forward-thinking right-back Ryan Fredericks. Grealish, appreciative of his manager's visits to him in hospital, spoke a few days ago of Bruce's "lovely heart". Bruce repaid the compliment by saying: "He's likeable, and gullible. I haven't done anything really with him, apart from setting targets like 'Well, Beckham used to do 12K, you get nowhere near it'. All of a sudden, it's 'I bet you a fiver I can get there on Saturday' and he's away. Before he knows it, he's done 12K and tackling people like midfield players should. There's a trust and that's the way I like to try and manage.
"They're all talking about Ryan Sessegnon [Fulham's Championship Player of the Season], which I can understand, but if you've watched us since Christmas then [Grealish] has got that ability to get you off your seat and go 'wow', and go past somebody and create something, which is quite unique in this country. He does it so naturally, turns both ways."
If Villa fail to win today, Grealish's future at the club would be cast into doubt. "I hope we can give him the platform in the years to come," said Bruce. "He's a mad Villa fan." Saturday's so-called £280m match will impact on so many other lives. Bruce suggests his five loan signings would not be coming back, for a start. And there could be "difficult times ahead". He has endured plenty of those already, however, and the impressive fortitude shown suggests Villa are in safe hands, whatever the outcome.
Register for free to continue reading
Registration is a free and easy way to support our truly independent journalism
By registering, you will also enjoy limited access to Premium articles, exclusive newsletters, commenting, and virtual events with our leading journalists
Already have an account? sign in
Join our new commenting forum
Join thought-provoking conversations, follow other Independent readers and see their replies