Coventry City: A once great club enduring an 'unmitigated disaster' with no optimism or end in sight
Just over 10 years ago the club were bought out. What followed is widely regarded as some of the worst mismanagement and blind belligerence in English football this century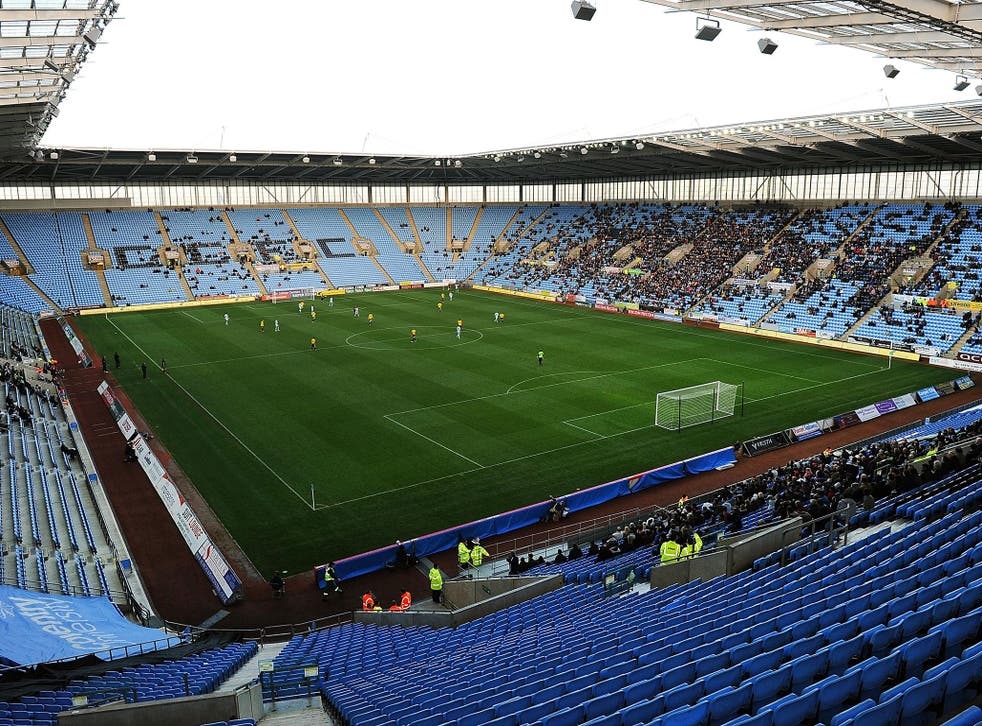 It is one thing to look back 30 years, back to when Coventry City held the FA Cup, and despair of their current state. Or you can look back just 10. In the 2007-08 season Coventry were competing in the Championship with Stoke City. They were averaging 20,000 crowds at the Ricoh Arena and for the last home game of the season, they drew 28,000.
Coventry stayed up that year, only just, but Stoke were promoted, and the two meet for the first time in 10 years this Saturday. Stoke have their own problems but they are an established Premier League side now.
Coventry, meanwhile, are powerless tenants in their own city, which at least is less awful than their year in exile in Northampton. They are in League Two, their first time in the fourth tier since the 1950s. They play in front of mutinous crowds of 7,000 or so, in an atmosphere so bad that their players prefer the away games. The only way things could get much worse is if the club was liquidated. Perhaps fortunately, the club is not thought to be worth liquidating in its current form.
So what happened? Just over 10 years ago, in December 2007, 90% of Coventry City was sold to SISU Capital, a hedge fund. And in the opinion of many, what followed is some of the worst mismanagement and blind belligerence in English football this century.
This was the height of pre-crash financial arrogance, and SISU believed at the start that it would be easy enough to get Coventry into the Premier League, at which point the investment would pay for itself. SISU appointed a Nigerian commodity broker, Onye Igwe, to run the club, although he had his own ideas about what that would involve. As is well known, Igwe brought Canadian digital guru Leonard Brody onto the board, who suggested that the club could raise money by getting fans to text advice on substitutions to a premium rate number. But Igwe also planned to get fans to buy replica shirts two sizes too big, so that they could wear them over their coats in cold weather, to make the shirt sponsorship deal more attractive.
Coventry City was only ever one of a slightly haphazard collection of investments from SISU's private equity fund under Igwe's control. An online search reveals they included Gantois, a French fabricated metal firm, Airinotec, a German air-conditioning manufacturer, a French designer eyewear manufacturer and a shoe shop in Paris. But the majority of the other investments went the same way as the football club and resulted in the loss of tens of millions of pounds. One source close to the football club said he could see little obvious connection between investments made seemingly at random and with no forethought as to their eventual profitability.
So when Coventry City needed the investment to help to push them into the Premier League, SISU were unwilling, or unable, to fund the purchase of quality players identified by management. In December 2010 Aidy Boothroyd's team were fifth in the Championship, and SISU were advised that with smart investment they could push for promotion. But SISU said no, they would be tightening belts instead. Boothroyd was sacked in March 2011, the core of the team left that summer and the team was relegated into League One the next season.
The following year Igwe was removed, as SISU's hedge fund arm took over from the now penniless private equity fund. Joy Seppala, the principle, took charge by appointing Tim Fisher to run the club. Seppala, a distressed debt specialist who set up SISU in the late 1990s, is still the most important figure at the club. The last few years have seen SISU throwing good money after bad, trying to recoup their losses even as the situation gets worse on and off the pitch. As one former senior club figure puts it, "trying to negotiate with SISU is like trying to have a constructive argument with a drunk in a bar."
Most notoriously of all, SISU managed to bungle their way out of Coventry playing in their own home. The company that ran the Ricoh Arena was joint-owned between Coventry Council and the Alan Higgs trust, but there was a plan in place for SISU to buy half of it then eventually do a deal for the rest of the shares. But instead SISU apparently tried to play the council and the Higgs trust off against each other, withholding rent and taking the stadium company to court. Even though the club had an offer from a fan to pay the rent at the Ricoh for them, which they turned down. This has led to years of court cases, Wasps rugby team taking control of the stadium, and Coventry briefly moving to Northampton. The court cases are still rumbling on.
For as long as SISU stay at the club, the atmosphere at the Ricoh will never be positive again. The crowds rarely get far beyond 7,000 and according to multiple dressing room sources, the players do not enjoy playing there. Moz Baker, the chair of the influential Sky Blue Trust, explains. "The atmosphere is pretty deathly. They have a 32,000 stadium with 6,000 or 7,000 people for most games. People who used to go no longer go. There is a die-hard element who are really trying to get an atmosphere going, but it is difficult to do so. People go out duty and loyalty rather than any pleasure."
It is an almost impossible environment in which to run a successful football team. SISU have long stopped investing in the playing staff. Fortunately for SISU, Coventry City still have an exceptional academy, where academy manager Richard Stevens continues to produce talented youngsters. With the money from these players they can plug the trading losses: they got £3m for James Maddison in 2016, £500,000 for George Thomas last year, and were due to get £750,000 for Ben Stevenson from Brentford before the move collapsed. Coventry would likely have got £1.5m from Leeds United for Jodi Jones this year but the deal collapsed due to a knee injury.
Despite all of this, the picture on the pitch is not all negative. Coventry have not finished in the top six of any division for 46 years, a remarkable record, but they had one of their great modern days on 2 April last year, beating Oxford United 2-1 at Wembley to win the EFL Trophy. It was Thomas, the academy product now at Leicester City, who scored the winning goal. But what was most impressive is that Coventry took 43,000 fans to Wembley. This is still a huge club.
Even this season, in difficult circumstances, Mark Robins is doing a good job with his band of youngsters and loan players. They are third in League Two, making a better fist than many expected of getting straight back into the third tier.
But if Coventry, who were approached for comment for this article, were to make it back to League One, what next? "There is a general malaise among fans, even though we are doing well at the moment," says Baker. "Nobody knows where the club is going. If we were to go back to League One, what would happen? Would we invest, or go straight back down? And where would we play our football?"
Ultimately Coventry fans can have no real optimism for the future under the current ownership. There is a consortium of fans keen to buy it off them, led by Gary Hoffman, the former club vice-chairman, and CEO of insurers Hastings. Hoffman's consortium have submitted four offers to SISU, the most recent in November, for an initial £7m potentially rising as high as £20m, but with no success. "We are a rock solid consortium of local businessmen who are life-long fans," Hoffman says. "We are not in it to try and make money. We have a plan to get the club back to the Championship. I am not going to publicly criticise SISU but of course we should not be where we are."
Estimates vary on how much money SISU have lost in Coventry – most say between £60m and £70m – but they now want £20m up front to sell the club. Even though the club has almost no assets. Portsmouth FC, a club of roughly similar size, but who play in League One, and who own Fratton Park, were just sold to former Disney chief executive Michael Eisner. For a price of £5.6m.
But then there is very little that the Coventry fans or the consortium can do to force SISU to sell. SISU have already shown that they are not averse to cutting off their nose to spite their face. So any deal will have to wait, especially with another court case concerning the stadium still ongoing. "We've got to be patient," says Richard Overson, another member of Hoffman's consortium. "I'm not going anywhere, and I've got three boys who support Coventry. And when the time is right for us and for SISU, I'm sure we can come to some kind of agreement. We don't want to fall out with anybody."
So for now at least, the fans are stick with SISU, 10 years after the worst thing to ever happen to their club. "It has been an unmitigated disaster," Baker says. "The big question that Coventry City fans ask is why they are still here? Nobody seems to know the answer to it. They have taken us to this point. I don't know if they think that they're going to get their money back."
Join our new commenting forum
Join thought-provoking conversations, follow other Independent readers and see their replies