Crystal Palace's latest jewel Wilfried Zaha ready to sparkle for adopted country
Zaha's surprise England call-up is culmination of careful nurturing by south London club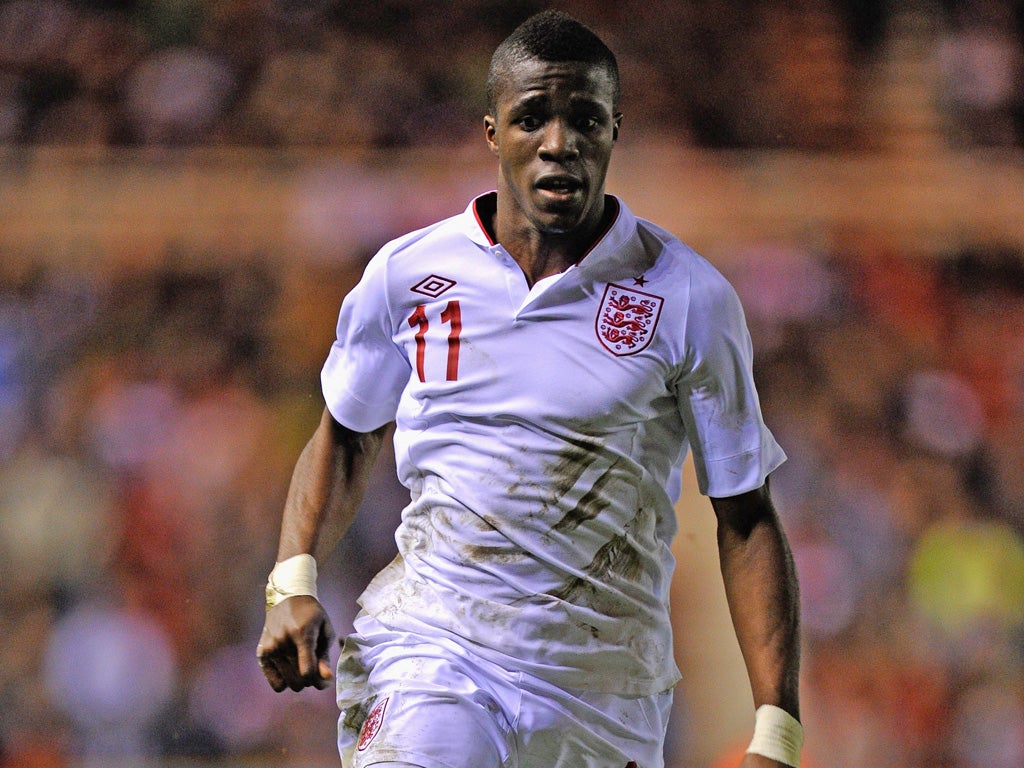 By the time Victor Moses was 14, the experts at Crystal Palace had already marked him down as a future first-team player. But at the same age Wilfried Zaha, England's newest recruit, was just another young hopeful. Gary Issott, Palace's academy manager and the man who brought on both players, told The Independent yesterday that "you knew Victor would make it, but Wilf was a late developer. He was doing OK at 14, 15. At 16, he was doing better, but no one called it that as soon as he went full-time he would take off."
Zaha's breakthrough came under George Burley in the summer of 2010. "George said 'give me your best youngster to train with us for two weeks in pre-season'," remembered Issott. "We sent Wilf. He never came back."
Two and a half years later, Zaha is poised to make his international debut and is on the January shopping list of clubs such as Arsenal and Liverpool. Zaha, 20, came to Britain from the Ivory Coast at the age of four, the youngest of eight children. "That has probably helped him," said Issott. "Younger siblings often benefit from playing with their elder brothers and their brothers' peers. And I'm sure he had to fight for every scrap at meal times."
He joined Palace at 12, progressed slowly, then had his first taste of life around the first team under managers Neil Warnock and Paul Hart as Palace slid into administration. "I brought him in to train with the first team at times just as I had Victor Moses," said Warnock. "I'd never seen kids like them. He had tremendous ability, like Victor, he had so much natural talent – he didn't have to practise anything. He was also quiet, well-mannered, all the young lads at Palace were, Gary had done a great job with them."
"Flair players... often learn from playing," said Issott. "Wilfried would get the ball and I'd be on the touchline muttering 'set it Wilf' and he'd go and beat three people and score. He's a great lad, a bit shy, easy to manage. His dad has been first class. You get some problem parents in youth football but his dad didn't interfere.
"Then when he became a regular, [manager] Dougie Freedman shielded and protected him. He was very conscious of the pitfalls and stopped Wilf doing things that would raise his profile before he was ready. He's done a very good job on that. Like Sir Alex Ferguson did with [Ryan] Giggs and [David] Beckham."
Freedman, now managing Bolton, said: "He trusted me, the family trusted me, I trusted them. I'd been coaching Wilfried since he was 14, I was coaching him as reserve-team manager. I know him inside out and it's been a long process of development. I remember certain games when we were in relegation battles when I've felt it wasn't the right stage to put him on. It is so tempting but I needed to look at the bigger picture for the kid's development and for the club."
It is a process that has paid off. If Zaha stays, he could lead Palace into the Premier League. If he goes in January, Palace should earn in excess of £10m. And just as important for a club with an emphasis on developing their own, his call-up this week has shown other aspirants what can be achieved by staying at Palace.
There is still sadness at Selhurst Park at the fate of John Bostock, who became the club's youngest player at 15 years, 287 days in October 2007 but walked out to join Tottenham in a £700,000 deal seven months later. Ten months older than Zaha, Bostock has yet to feature in the Premier League for Spurs and is currently on loan and in and out of the team at League One Swindon. Palace subsequently held on to and developed Moses and Nathaniel Clyne before selling them to Premier League clubs who put them straight into their first XIs. "Wilf saw a pathway here," said Issott. "At other clubs, you go into their youth system, here you can be an established Championship player while still 17, 18. Players learn off coaches, but they also learn off other players."
Even Issott doesn't know where Zaha will finish up playing on the pitch. "In the youth team, he played as a No 10. In the first team, he began wide left, and can now play wide right. He can go both ways so maybe being in the centre might help him." And wherever he plays, added Issott, he does the "dirty" side of football. "Some flair players take time to get that part of the game, but he does the defensive work willingly, he would track back and do all that was asked of him.
"It is great for us to have an academy graduate who has stayed at the club and still been called up by England," he said. "It is a proud moment for us and Wilf, and – on his performances this year – quite deserved."
League of their own: second-tier caps
* Jay Bothroyd: Cardiff striker was capped by Fabio Capello for the 2010 friendly defeat against France, but despite a move to QPR, has been unable to add to his tally of caps.
* David Nugent: Preston form resulted in cap against Andorra in 2007 under Steve McClaren. Not recalled, despite scoring.
* David James: Held on to goalkeeping jersey despite West Ham's relegation in 2003.
* Stuart Pearce: Already a regular as Nottingham Forest went down in 1993, the left-back maintained his place in side.
Join our commenting forum
Join thought-provoking conversations, follow other Independent readers and see their replies