Former Everton stalwart Nick Chadwick knows FA Cup glory with Tamworth can prolong his career
Life beyond the Premier League
Simon Hart
Friday 06 December 2013 00:00 Comments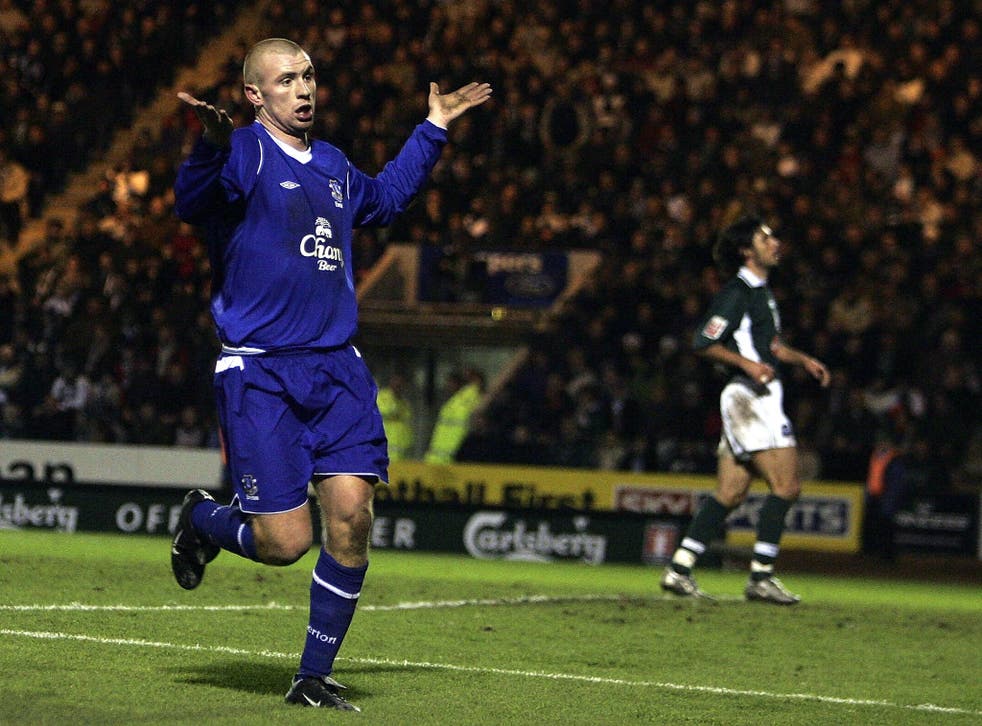 The magic of the FA Cup may be a cliché but the old tournament's transformative powers should not be underestimated. Just consider the case of Nick Chadwick, once a promising young forward at Everton and now leading the line for Conference team Tamworth who face Bristol City in front of the ITV cameras on Sunday.
The 31-year-old is unwanted by his parent club Plymouth yet since embarking on a three-month loan at Tamworth he has scored twice against Solihull Moors in the final qualifying round and then his goal secured a 1-0 first-round win over League Two side Cheltenham. With his Plymouth contract up next summer, every single game matters. "It could be the difference between me retiring in January and me retiring three years down the line," he tells The Independent. "You're not thinking that two minutes before kick-off but you'd be a fool to not recognise that if you go and score and knock Bristol City out of the FA Cup, career-wise it does you good. The missus will be telling me that's the contract sorted for the next couple of years."
A Costa coffee shop in a retail park in Tamworth is a long way from Wembley but it is a fitting meeting place: after all, Chadwick's insecure existence as a journeyman striker is equally far removed from the carefree life he knew as a Premier League player when he last scored against the Bristol club for Everton in a League Cup victory in 2004. "I came on the pitch and within minutes I'd scored," he recalls. "I almost found it easy, it was weird. Whenever I came on, I was playing with that good a quality of players I just got chances."
Chadwick was on the fringes of Everton's first team from 2001, making 21 appearances (albeit just six starts) and hitting six goals, the last in a 2005 televised FA Cup tie at Plymouth, the club he would join soon afterwards. While his best friend Leon Osman persevered, Chadwick was restless. "I was in such a rush to go out and prove to David Moyes and myself that I should have been in Everton's first team. Looking back, I was 21 and was playing or coming on as a substitute for Everton. If I was giving advice to myself now, I'd have said 'just keep doing what you're doing'. I was offered a new contract but was thinking I'm best dropping down, going somewhere to score goals and moving back up. But football isn't easy."
It certainly isn't. From the "family feel" of life at Everton, it was welcome to the school of hard knocks. "Why's he done that to me?" he would wonder as elbows flew his way. With his progress stalled by a succession of injuries, his ambition became less about returning to the top flight than "walking off having not been injured." He managed it with spells at Hereford and Shrewsbury before dropping into the Conference with Chester, Barrow and Stockport, then returning to Plymouth two winters ago.
"You go from the Premier League and all that goes with that to lads queuing outside the chairman's door waiting to be paid in cash," he says of his highs and lows. The biggest low came after he tore a cartilage at Barrow. "Two nights before the operation I had a call from the chairman to say the club weren't insured and weren't going to pay for it and I might have to wait on the NHS. I found the money myself, paid for the operation and had the rehab done at Lilleshall through the PFA.
"It was three and a half grand, not massive money, but it just shows the different levels – the top boys are flying here, there and everywhere and they told me they couldn't afford to pay the local surgeon. Scoring in the FA Cup and doing interviews is great but after I took that phone call, there were probably only four or five people I could really rely on."
Chadwick is planning for a future in coaching – he hopes to get his Uefa A Licence next summer – yet, after 10 clubs and just as many operations, the simple joy of kicking a football has not left him. "It's not quite been at the levels I would have wanted but I think I've been privileged," he says cheerfully. "At times you look at your peers, see the money they've made and the clubs they've played for and you think 'if only' but I am not that sort of person, to be honest. I am just fortunate that I am fit and playing at 31." And scoring. "You still enjoy that feeling. Of course there is not the same buzz when there are 40,000 people as when there are 400, but it is still playing football." That old buzz may not be his only reward if he scores on Sunday.
Register for free to continue reading
Registration is a free and easy way to support our truly independent journalism
By registering, you will also enjoy limited access to Premium articles, exclusive newsletters, commenting, and virtual events with our leading journalists
Already have an account? sign in
Join our new commenting forum
Join thought-provoking conversations, follow other Independent readers and see their replies