Fulham played 'close to perfect' to win first-ever play-off game to earn a trip to Wembley
Slavisa Jokanovic was thrilled to end the club's play-off curse
Jack Pitt-Brooke
Tuesday 15 May 2018 09:30 Comments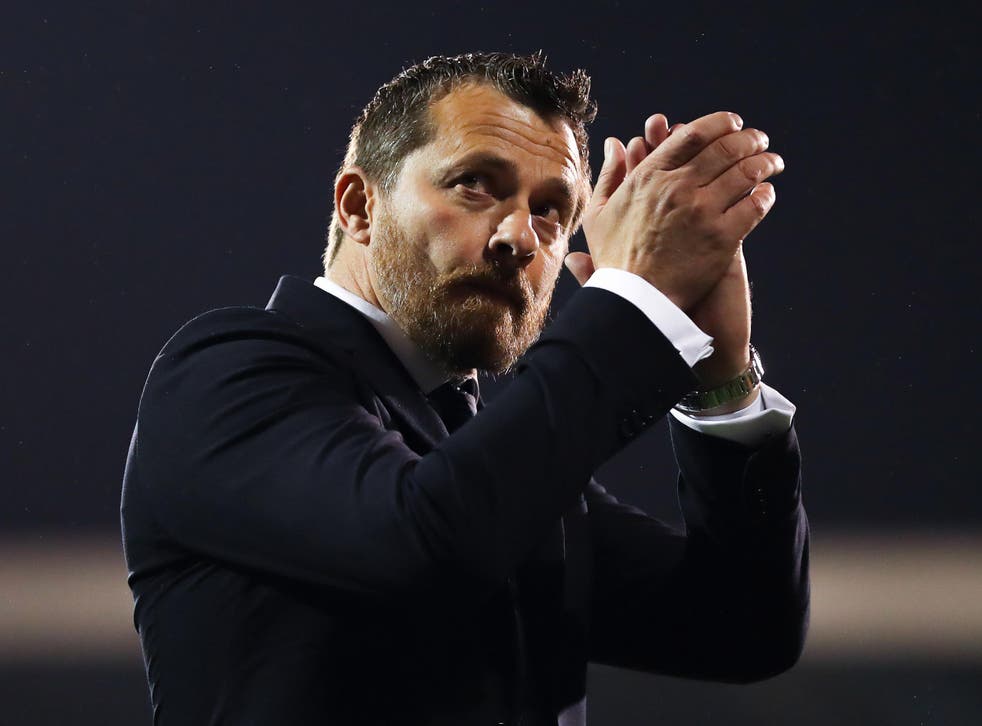 Slavisa Jokanovic hailed Fulham's performance as "close to perfect" as they beat Derby County 2-0 at Craven Cottage to reach the play-off final at Wembley in 12 days' time.
Jokanovic was delighted with his team as they ended their play-off curse, winning their first ever play-off match.
"The team played fantastic football, controlled everything, and created many chances," Jokanovic said. "They were really focused, were organised to stop their defensive transitions and not give them many opportunities to make defensive situations in front of goal. In the first half we created many things without being lucky enough to score a goal. In the second half we pushed stronger, scored two fantastic goals. I'm really satisfied for the team and for our supporters: these people deserved one of these nights."
Fulham have faced questions about their mentality but Jokanovic was thrilled with their performance under the highest pressure of the season. "You ask me many times about trust, self-belief and confidence," he said. "We can play some bad games, but today we were really focused and organised. And at the end we played very good football from my point of view. Many times we played close to a brilliant level, and today we were really close to being perfect. At the end, I must be satisfied with the work on the field."
Jokanovic also hailed the performance of Ryan Sessegnon, the teenager who put Fulham ahead with the opening goal two minutes into the second half. "In the last two years working with us he has shown focus to improve himself, he has shown a great level of self-belief and confidence," he said. "He wants to be at the top level, to push himself and arrive at the highest level possible. I'm sure he will be at this level soon."
Derby manager Gary Rowett said his team did not show enough composure on the ball to go through. "I can't complain, Fulham created enough opportunities, we knew there was a good chance they would score at some point," he said. "The big disappointment for me was that we could not seem to show any composure. The decision making and composure on the ball was not good enough to through against a very, very good idea.
"That was my disappointment, the way we moved the ball and the decision making. There were some good moments, but the final pass, the final decision, the final bit of quality, it looked a bit rushed every time. You've got to handle the game and show nerves of steel. I can't fault the players effort or their character, but we can all admit tonight we didn't show enough quality to win."
Register for free to continue reading
Registration is a free and easy way to support our truly independent journalism
By registering, you will also enjoy limited access to Premium articles, exclusive newsletters, commenting, and virtual events with our leading journalists
Already have an account? sign in
Join our new commenting forum
Join thought-provoking conversations, follow other Independent readers and see their replies