Germany vs Gibraltar: As if by magic Farsley striker Adam Priestley finds himself taking on the World Cup winners
Life Beyond the Premier League: If we can limit it  to seven goals then we are just as good as Brazil!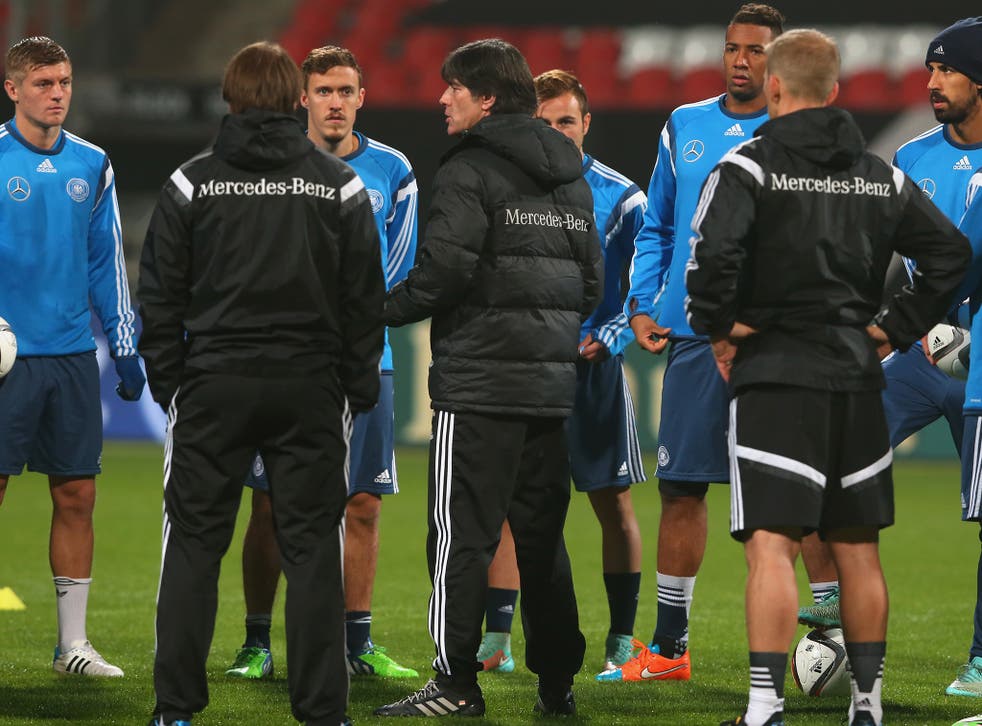 In the classic 1970s cartoon series Mr Benn the eponymous hero would take off his suit and bowler hat, don a fancy-dress costume and walk through a magic door into a new adventure. Adam Priestley, a PE teacher at Morley Academy in Leeds, will experience something similar on Friday evening when he leaves the away dressing room in Nuremberg's Grundig-Stadion and steps out in front of a 43,000 crowd to face the world champions Germany.
Priestley is a forward in the Gibraltar team competing for the first time in European Championship qualifying. At home he plays part-time for Farsley in the Northern Premier League First Division North – English football's eighth tier – and last Saturday turned out against Prescot Cables in front of 129 people. He will miss Farsley's derby with Ossett Albion on Saturday but as he told The Independent: "To be missing a local derby to play Germany is not a bad swap."
There was no fez-wearing shopkeeper involved in Priestley's transformation. The 24-year-old was born in Gibraltar, where his father was posted with the RAF, and says: "I received a tweet in June last year about me being qualified to play for Gibraltar, so I contacted the person who tweeted me and they pointed me in the right direction."
He made his full debut in Gibraltar's first official international against Slovakia and has featured as a substitute in two Group D qualifiers – the 7-0 defeat against Poland and 3-0 loss to Georgia. Now comes an even bigger test. If Germany could put seven past Brazil, it begs the question how many they might get on Friday night, but Priestley offers a wry reply as he recalls his feelings watching that World Cup semi-final back in July: "What I was thinking was, if we can limit it to seven then we are just as good as Brazil!"
He spells out their task: "You know you are there to work hard, keep your shape, try to knock them off their stride as much as possible. We can prepare for a team who are going to come at us. Ireland and Poland have put seven past us so I think Germany can potentially see that as the benchmark."
As a non-league footballer who trains twice a week, he believes mental, rather than physical, power marks the difference at the elite level. "The decision-making is so much quicker, it is so much better, it is very rare they make wrong decisions. If you make a bad pass then without a doubt there is a higher chance you are going to get punished". Gibraltar are paying dearly for "lapses in concentration", not least in Poland, where "it was only 1-0 at half-time".
Priestley adds that playing alongside the likes of Preston's Scott Wiseman and Liam Walker, once of Portsmouth, "whets your appetite" and makes him wonder "what could happen if you have a few good games and a team sees you and asks you for a trial".
Yet it will be back to school once international week is over – and back to more questions from his pupils. "They are constantly asking: 'Have you played Germany yet, have you done this and that?' It is constant questions and me having to tell them to get back on with their work."
Register for free to continue reading
Registration is a free and easy way to support our truly independent journalism
By registering, you will also enjoy limited access to Premium articles, exclusive newsletters, commenting, and virtual events with our leading journalists
Already have an account? sign in
Register for free to continue reading
Registration is a free and easy way to support our truly independent journalism
By registering, you will also enjoy limited access to Premium articles, exclusive newsletters, commenting, and virtual events with our leading journalists
Already have an account? sign in
Join our new commenting forum
Join thought-provoking conversations, follow other Independent readers and see their replies